The 5 Best Biodegradable Cat Litters
This page contains affiliate links. We may earn money or products from the companies mentioned in this post through our independently chosen links, which earn us a commission. Learn More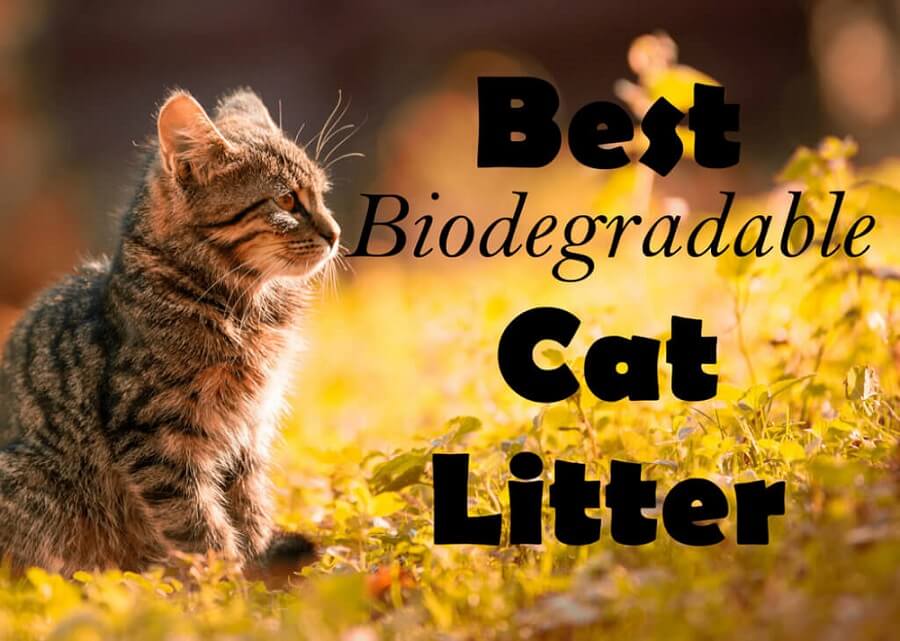 Whether you have an indoor or indoor-outdoor cat, cat litter is a must. If you are environmentally concerned about the impact and toxicity of the cat litter you're buying, switching to a biodegradable cat litter is a step in the right direction.
Many clay litters are derived from earth damaging processes like strip mining. Whereas, biodegradable cat litter comes from plant sources such as wheat, pine, corn, and recycled paper.
You can find both non-clumping and clumping varieties with a range of odor control. Some brands are compostable as well but it is not recommended for your fruit and vegetable garden.
Best Rated Biodegradable Cat Litter Comparison Chart
Top 5 Recommended Biodegradable Cat Litter Reviewed
#1

World's Best Cat Litter
Product Info:
Price Range: ~$1/ Ib
Litter Type: Corn
Made In: USA
Features: Clumping, Multi-Cat, Flushable
The Good
Low tracking

Dust free

Clumps easy
The Bad
May not control odor as well as advertised
Price on the high side
---
This non-toxic, clay-free litter is made with whole white corn kernels, that contain micropores to absorb odors and bacteria. You can choose from unscented or an infused with natural lavender oil type to keep odors at bay and also has a pleasant  smell. All are made with concentrated corn, and all-natural plant ingredients for even more outstanding odor control
#2

sWheat Scoop Scoopable Cat Litter
Product Info:
Price Range: ~$0.8/ Ib
Litter Type: Wheat
Made In: USA
Features: Clumping, Unscented, Odor Control,
The Good
Flushable
No chemicals
No dust
The Bad
Clumps not solid
May not absorb large amounts of urine
---
sWheat scoop is made from — you guessed it! — wheat. It is also non-toxic and 100% biodegradable and also safe for flushing. The natural wheat enzymes neutralize odor on contact, and wheat starches clump firmly for easy scooping. This company also donates their litter to Best Friends Animal Society (BFAS), which has saved the lives of over 8,300 kittens.
#3

ökocat Super Soft Natural Wood Clumping Litter
Product Info:
Price Range: ~$0.8/ Ib
Litter Type: Wood
Made In: Germany
Features: Biodegradable, Flushable, Odor Control
The Good
Dust free
Controls Odor
Clumps well
The Bad
Lightweight making tracking an issue
Some cats do not like texture
---
Okocat is an extra lightweight litter with a soft texture making it perfect for declawed cats, seniors and kittens. True to it's name, it is similar to the texture of clay litter, which makes it easy to transition your cat when making the switch to natural. It is made from natural fallen trees or lumber materials and the pellets absorb 5 times their weight.
#4

Green Tea Fresh Cat Litter by Next Gen Pet
Product Info:
Price Range: ~$1.2/ Ib
Litter Type: Wood
Made In: USA
Features: Flushable, Unscented, Odor Control,
The Good
Light weight
Dust free
Controls Odor
The Bad
Lightweight so tracking can be an issue
Very pricey
---
Made with recycled wood and green tea powder, this biodegradable and compostable lightweight litter is a great choice for your cat's health and the environment! The wood and green tea powder act as a natural odor and bacteria suppressant.
#5

It's A Tea Potty ! Hinoki Wood & Green Tea Natural Cat Litter
Product Info:
Price Range: ~$2/ Ib
Litter Type: Wood
Made In: USA
Features: Clumping, Scented,, Odor Control,
The Good
Clumps well

Low Dust

Flushable
The Bad
Large pieces tracked
Strong wood smell
---
It's A Tea Potty! is made with Hinoki Wood and Green Tea from responsible and sustainable sources. This litter is clay and grain-free and has a pleasant green tea aroma to keep away odors. It is low dust and clay free.
What Is Biodegradable Litter?
In general, biodegradable cat litter is:
​Eco-friendly
Flushable
Low in dust
Leaves no crumbs or trails throughout your house
Slightly more expensive than traditional litter (but you're getting quality)
Biodegradable cat litters are plant-based, so they should decompose naturally. Biodegradable litter can be made from grasses, walnut shells, corn, wheat, pine and paper. Many of the biodegradable options available have low dust levels and control odors well.
One thing to consider when looking into biodegradable litters is the source of the material used. Whether the product is the remnant by-products of another industry or produced specifically for cat litter is another factor to think about.
Some cat owners prefer to buy cat litter that isn't made from potential food sources for humans like corn and wheat. Price is another big factor when it comes to biodegradable litter, as most biodegradable litter is considerably more expensive than clay or silica litter.
What To Consider When Choosing A Biodegradable Cat Litter?
Odor Control – Keeping the smell of cat box odors under control is at the top of any cat owner's wish list. Artificially scented litters aren't a good solution, as cats often reject litters with strong scents.
Low Dust – Clumping clay litter can produce a lot of dust, which is an irritant for both cats and their humans. Dust can create a mess around the house and on the paws. Natural litters usually produce little or no dust.
Granule Size – Cats tend to prefer a fine textured litter because it's softer on their paws. A more coarse litter is less likely to get tracked around the house. Kittens under three months old are better off using coarse litter, so that they do not inhale or swallow it.
Good Clumping – Clumping litters usually control odor better than non-clumping ones. Clumping litters also require less work, since scooping a litter box daily is easier than dumping out and replacing the contents every week.
Reasonable Cost – Clumping clay litters are more popular because they are usually much cheaper than other types. A cheap litter that you have to change every week can end up costing you more in the long run than a pricier litter that keeps working for a longer period.
For more information on some of our recommended biodegradable cat litter choices, read the reviews below.
Is Clay Cat Litter Bad?
There is some concern about clay cat litter among cat owners. Although it hasn't been fully documented, some people and a few veterinarians say that pets have died from ingesting or inhaling the clay or clay dust while using the clay cat litter.
There have been some studies done on the subject but nothing conclusive has been found. The concern is that when clay dust is inhaled it may harden when by the lungs and cause multiple breathing problems such as allergies, bronchitis, pneumonia, to name a few. The same concern has been expressed about the humans who clean the cat litter.
Conclusion
Biodegradable cat litter is a much healthier and eco-friendly option over conventional clay litter. The biggest benefit is that they can be recycled or composted and will not end up in landfills for years.