The 5 Best Cat Foods For Senior Cats
This page contains affiliate links. We may earn money or products from the companies mentioned in this post through our independently chosen links, which earn us a commission. Learn More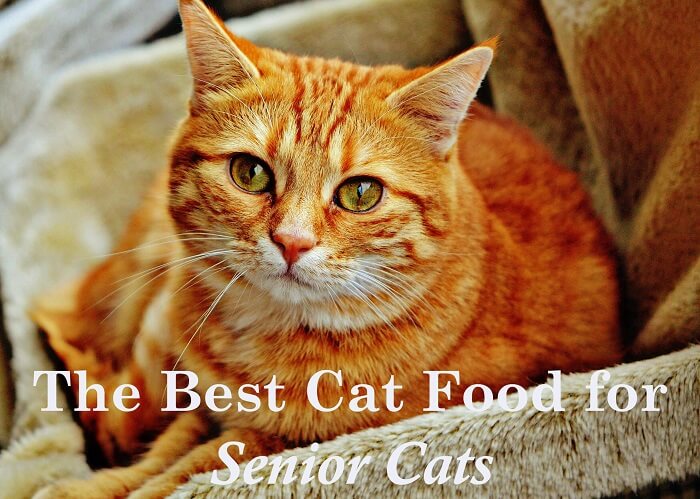 As your cat ages, his nutritional needs change. Once your cat reaches the age of nine, you may want to consider altering your cat's eating habits and finding the best cat food for senior cats.
These days cats are living into the late teens and some even past twenty years old. Since cats are living longer, it is important to ensure that they enjoy their health throughout their senior years.
Why Should You Trust This Review?
I am a certified pet nutritionist
I've been a cat mom for 30 plus years
I have volunteered at cat shelters for over 15 years
I did 48 hours of research on these cat food brands
The Best Cat Food For Senior Cats Comparison Chart
IMAGE
PRODUCT
 

Soft for sensitive teeth
Supports joints
Low in phosphorus

VIEW LATEST PRICE →

High quality proteins
Low in carbohydrates
No fillers, grains or artificial flavors

Get 25% Off →

Natural Ingredients
Great for sensitive stomachs
Helps reduce hairballs

VIEW LATEST PRICE →

First ingredient is chicken
Helps cats put on weight
All natural ingredients

VIEW LATEST PRICE →

Contains no by products
Helps with shiny healthy coats
Assists with weight gain

VIEW LATEST PRICE →
Best Cat Food For Senior Cats Reviewed
#1

Royal Canin Feline Health Nutrition Aging 12+
Product Info:
Price: ~$0.5/ Oz
Food Type: Canned
Made In: USA
Protein: 9% Min
Fat: 2.5% Min
The Good
Soft for sensitive teeth
Supports joint health
Low in phosphorus
The Bad
On the pricey side
May not smell inviting enough for senior cats
Royal CaninFeline Health Nutrition Adult Cat Food  is formulated to provide your adult cat with an appealing formula they will enjoy as well as features a moderate energy level to help maintain your adult cat's ideal weight.
Royal Canin is formulated to be instinctively preferred by adult cats. High levels of essential fatty acids, EPA & DHA helps support a senior cat's healthy joint function. Reduced phosphorus levels help support kidney health in older cats. Also the tender thin slices in gravy are easier on the sensitive teeth and gums and other dental problems in older cats.
#2

Smalls Cat Food
Product Info:
Price Range: ~$2.00 – $3.50/ per meal
Food Type: Fresh
Made In: USA
Protein: 21.2% Min
Fat: 8.05% Min
The Good
High quality proteins
Grain free recipes
Plans for every budget
The Bad
The food must be refrigerated
Website is hard to navigate
Food packaged in large portions
Smalls offers premium-quality recipes right here in the USA. Not only are their products made with fresh ingredients, they are prepared the same day they are purchased and frozen at the peak of freshness.
Smalls currently offers only three different recipes that include protein sources from beef, turkey and chicken. They also provide customers with many meal plan options for those who are on a tight budget but want the best for their cat.
The price of Smalls depends on your cat's needs, the recipes you choose, and your delivery schedule. With this in mind you will be paying about $2.00 to $3.89 per day per cat depending on the plan you choose and not entirely on cat size.
Their goal is to provide cats with a meal plan that is good for both nutrition and affordability. Smalls offers plenty of options to customize your cat's meal plan to keep you on budget.
#3

Hill's Science Diet Adult 11+ Indoor Chicken Recipe Dry Cat Food
Product Info:
Price: ~$2.5/lb
Food Type: Dry
Made In: USA
Protein: 29% Min
Fat: 16% Min
The Good
Natural Ingredients
Helps with heart, bladder, kidney, skin, coat, and digestive health
Small size kibble for sensitive mouths
The Bad
Price on the high side
Weak scent may not attract senior cats
Hill's Science Diet Adult Cat Food is for cats 11+ but there are other options depending on your cats age. This dry cat food comes in a crunchy kibble that contains natural ingredients plus vitamins, minerals and amino acids, as well as fiber for easy digestion and easier litter box cleanup.
The natural fiber blend in this cat food for indoor cats helps reduce the formation of hairballs, and protein helps build and maintain lean muscle while keeping cats at an ideal weight.
#4

Nutro Indoor Senior Dry Cat Food
Product Info:
Price: ~$2.8/ lb
Food Type: Dry
Made In: USA
Protein: 36% Min
Fat: 17% Min
The Good
First ingredient is chicken
Helps cats put on weight
All natural ingredients
The Bad
Large size kibble
Includes meal products
Price on the high side
Nutro Indoor Senior Farm-Raised Chicken & Brown Rice Recipe Cat Food ingredients start with chicken and contains a unique blend of whole grains. This natural cat food provides natural fiber for healthy digestion and essential antioxidants, such as vitamin E, for a healthy immune system, plus vitamins, minerals and other nutrients.
This recipe is also crafted with taurine to help support the heart of senior cats and is made with natural fiber to promote proper digestion. NUTRO Cat Food  is always made with Non-GMO ingredients and is made with no artificial flavors, colors or preservatives.
#5

Blue Buffalo Healthy Aging Cat Food
Product Info:
Price: ~$3/ lb
Food Type: Wet [Limited Ingredient Diet]
Made In: USA
Protein: 32% Min
Fat: 15% Min
The Good
Contains no by products
Helps with shiny healthy coats
Assists with weight gain
The Bad
Kibble is hard to chew
More expensive than other dry food
Some cats don't like the taste
Blue Buffalo Healthy Aging Cat food provides essential amino acids and vital nutrients your cat needs every day. It is made with hearty whole grains like brown rice, barley and oats that will keep your cat supplied with the complex carbohydrates needed for energy.
Also formulated with whole carrots, sweet potatoes, parsley and cranberries that contain phyto-nutrients that help your cat stay healthy. This formula is highly digestible and can provide your mature cat with the complete and balanced nutrition she needs every day.
What To Look For In A Cat Food For Seniors?
Senior cats are generally less active than younger cats. Therefore, your senior cat's calorie requirements are slightly less than it was when he was younger. Continuing to serve meals with the same caloric content, to your senior cat, can cause obesity.
To prevent obesity and maintain a healthy weight, you may consider a feeding schedule, rather than allowing food to sit out for extended periods of time. This gives you more control over the senior cat's food intake. The best cat food for senior cats on the market are specifically designed just for older cats. These often have fewer calories and added essential vitamins, than other cat foods.
Here are some things to look for on your senior cats food label:
Protein – Animal-based protein sources are needed to obtain taurine, an amino acid that their bodies can't produce naturally. A whole meat should be the first ingredient of any food you feed a senior cat .
Antioxidants – Vitamin E and beta-carotene help to slow the signs of aging by fighting free-radicals in the body that can cause tissue damage.
Dietary Fiber – Fiber is essential in maintaining gut health. Dietary fiber supports the transit of food through the gut.
Low Fat – Senior cats do not absorb fat as well as younger cats. Older cats may need to consume fat that is more digestible to get the same amount of energy. Monitoring your cats weight is best.
Problems In Senior Cats
Some problems associated with aging can be helped with special dietary needs for your senior cat. Older cats have an increased risk of certain health conditions, like urinary tract infections, and a specialized food or supplements can help with one or more of these issues.
Decreased Kidney or Liver Functions – Your veterinarian may suggest a special diet if your senior cat has one of these problems. Diabetes mellitus and hyperthyroidism often occur in senior cats. Hyperthyroidism can increase your senior cat's appetite.
Arthritis – Though arthritis is common in people, arthritis in cats cannot be treated with the same medications. There are medications available to help a cat with arthritis. Glucosamine and chondroitin have been shown to help a senior cat's arthritis.
Dental Disease – If your cat is showing signs of experiencing dental issues or is refusing to eat, he should be seen by a veterinarian. Refusing to eat could be a sign of other serious conditions. A veterinarian can rule out other physical problems and help you care for the dental disease.
Gastrointestinal Problems – The most common gastrointestinal problem for senior cats is constipation. The constipation can be worsened by the presence of hairballs. Your veterinarian may recommend cat food for senior cats or cat food to reduce the impact and occurrence of hairballs. Senior cats should be encouraged to drink plenty of water to help fight constipation. If constipation becomes a problem, a veterinarian should be consulted.
Weight Loss – Your veterinarian should examine your cat to determine the cause of the weight loss and the proper diet for your senior cat experiencing weight loss. Since weight loss can be a symptom of disease, a veterinarian needs to rule out any conditions that could be causing the weight loss such as those mentioned above.
Final Thoughts
You should always follow your veterinarian's recommendations to help your senior cat's diet be as healthy as possible. Senior cats may have specific diet needs related to medical conditions or concerns. Your cat may need high protein content, prebiotics, probiotics, vitamins and supplements (like Omega 3 fatty acids and Omega 6 fatty acids) as well as other nutrients to maintain heart health, muscle mass and overall wellness.