Best Cat Food for Hairball Control
This page contains affiliate links. We may earn money or products from the companies mentioned in this post through our independently chosen links, which earn us a commission. Learn More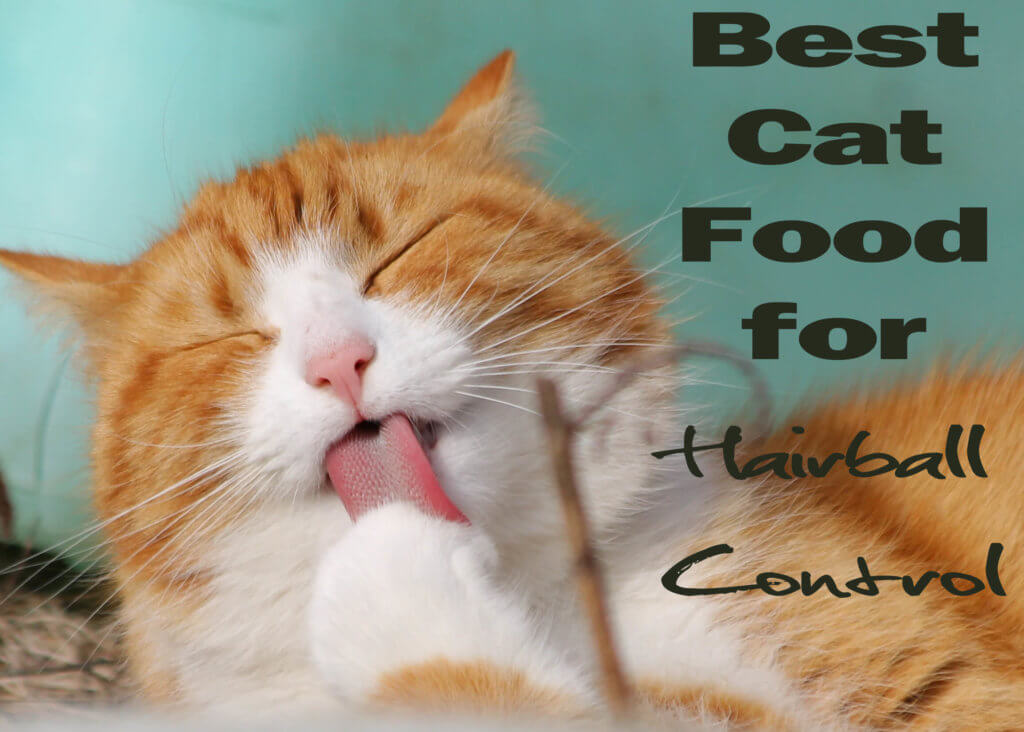 Any cat owner will tell you that hairballs are a common problem. Your cat's constant cleaning and licking of her fur causes the fur to pass into the digestive tract, attach to food and form a hairball. Hairballs are usually harmless unless your cat is hacking them up frequently.
Young cats are less likely to develop hairballs than older cats. Since older cats are experienced groomers, they are more likely to spend a good portion of the day actively licking their fur. Some cats, by nature, are more meticulous than others in their grooming habits.
Long hair breeds, such as Persians and Maine Coons, are at greater risk of developing hairballs than short-haired breeds. Also, hairball development is more frequent in seasons of the year when your cat sheds her coat.
Best Cat Food for Hairball Control
#1

Ziwi Peak Canned Cat Cuisine
Product Info:
Price: ~$0.7/ OZ
Food Type: Wet
Made in: New Zealand
Protein: 9%
Fat: 4.5%
Ziwi Peak originated in New Zealand and is made from grass-fed,  free-range 100% lamb sourced from ethical and sustainable New Zealand farms. The wild-caught New Zealand Blue Mackerel is high in Omega 3 and 6 fatty acids.
This cuisine includes 3% New Zealand green mussels, which are a natural source of Chondroitin and Glucosamine that supports joint health. The food is a chunky loaf style, with a high level of all-natural protein and moisture to entice even the most finicky cat.
This cuisine does not have grains, rice, corn, soy, potatoes, wheat, fillers, sugars, glycerin's, rendered meals, preservatives, TSPP, BPA, Guar Gum, Agar or Carrageenan.
The Good
Grain free
High amounts of amino acids
All natural
The Bad
Thick consistency
High priced
#2

Hills Science Diet Hairball Control Cat Food
Product Info:
Price: ~$2.45/ Ibs
Food Type: Dry
Made in: USA
Protein: 32%
Fat: 6%
Hill's Science Diet Adult Hairball Control pet food is made with a blend of natural fibers that lets your cat comfortably remove hairballs while reducing the formation of new ones.
Science Diet Hairball Control dry cat food is made with no artificial colors, flavors or preservatives. Hill's uses only high-quality ingredients including real chicken, lamb or salmon protein. Hill's dry pet foods have quality protein as the first ingredient and provide clinically proven antioxidant benefits.
The Good
No artificial colors, flavors, preservatives
No by-product meal
Made specifically for hairball control
The Bad
Contains wheat
Some cats refuse to eat
Large size kibble
#3

NUTRO Wholesome Essentials
Product Info:
Price: ~$1.75/ Ibs
Food Type: Dry
Made in: USA
Protein: 21%
Fat: 13%
NUTRO Wholesome Essentials Hairball Control Adult Cat Food starts with the 1st ingredient, chicken and contains a unique blend of whole grains. This natural cat food provides a fiber blend to help minimize hairball formation and essential antioxidants, such as vitamin E, for a healthy immune system, plus vitamins, minerals and other nutrients.
This formula also contains omega 6 fatty acids in order to promote healthy skin and a soft, shiny coat. NUTRO Food for Cats is always made with Non-GMO ingredients and has no artificial flavors, colors or preservatives. 
The Good
Contains natural fiber
Non GMO
Controls hairballs
The Bad
Price on the high side
Complaints of loose stools
#4 Blue Buffalo Adult Hairball Control Food
Product Info:
Price: ~$3/ Ibs
Food Type: Dry
Made in: USA
Protein: 32%
Fat: 15%
Blue Buffalo Adult Hairball Control Food is a natural holistic cat food that provides essential amino acids and vital nutrients they need every day. Formulated with hearty whole grains like brown rice, barley and oats that will keep your cat supplied with the complex carbohydrates needed for energy.
Healthy garden veggies and fruit like whole carrots, sweet potatoes, parsley and cranberries contain phytonutrients that help your cat stay healthy.  De-boned Chicken is the first ingredient on the label and you will not see chicken (or poultry) by-products meals.
The Good
Chicken is first ingredient
Contains no fillers
Controls shedding
The Bad
Pricey
Contains meal
Strong odor
#5 IAMS Proactive Health Dry Cat Food
Product Info:
Price: ~$1.5/ Ibs
Food Type: Dry
Made in: USA
Protein: 30%
Fat: 11%
IAMS is veterinarian recommended. It is formulated with essential nutrients including calcium & potassium to help keep your cats heart strong. This cat food is made for indoor cats and controls weight and reduces hairballs.
High quality protein from chicken helps maintain healthy muscles and provides the amino acids essential to carnivorous animals. The high fiber blend, including beet pulp, not only helps reduce hairballs but a mix of protein and carbs contribute to healthy energy levels for your cat.
The Good
Helps control hairballs
Contains no fillers
High quality food for the price
The Bad
Sensitive stomachs may not handle well
Contains grains
Contains by products
#6 Purina One Hairball Formula Cat Food
Product Info:
Price: ~$1.4/ Ibs
Food Type: Dry
Made in: USA
Protein: 34%
Fat: 14%
Purina ONE Hairball Formula adult dry cat food is made with real chicken as the #1 ingredient. This dry cat food provides 38 grams of protein per cup. The easily digestible formula contains 0% fillers and contains vitamins and minerals for well-rounded nutrition, to meet 100% of your adult cat's requirements. The special blend uses natural fiber to help control hairballs.
The Good
Helps control hairballs
Veterinarian recommended
Low cost
The Bad
Sensitive stomachs may not handle well
Contains meals
What Are Hairballs ?
A hairball is a mass of hair and/or food that did not digest and forms inside a cat's body. Loose hair often collects on your cats tongue when he grooms himself and the hair comes together to form a ball in his stomach, instead of passing through his body.
Since these hairballs aren't able to break down and be digested, cats often cough them up to get rid of them.
A cat's gut is designed to process fur, its own as well as the fur attached to prey animals, which is why hairballs should not be an ongoing issue.
Hairballs are often seen as a result of increased grooming due to issues like skin problems, anxiety or seasonal changes like shedding.
Of course long haired cats, like the Persian and Maine Coon, are more likely to suffer from hairballs because they have more hair than short haired kitties.
Some cats just instinctively groom more often than others as well, which makes them more likely to suffer hairballs.
Symptoms
The most common symptoms of hairballs in cats are:
Retching or hacking
Vomiting up hairballs and food
Loss of appetite
Swollen abdomen
Constipation
Vomiting with food or fluid in a cylindrical shape is an indication your cat has dislodged a hairball. If you hear a dry cough, wheezing, or gagging sound it could mean your cat is struggling to hack up a hairball. Loss of appetite, diarrhea or constipation could be a sign of an intestinal blockage and must be treated immediately.
The symptoms could be signs of another condition, so your veterinarian will need to perform a physical exam to confirm if a hairball is involved.
Causes
The main cause of a hairball is loose hair that your cat ingested but it did not pass through the intestinal tract. Because your cat spends hours licking and grooming her fur she tends to swallow the loose or dead fur that sticks to her tongue.
Under normal circumstances the fur is digested and eliminated through the feces. However, there are times when the hair builds up in the stomach, creating a hairball that is vomited up with food or fluid. Excessive grooming, long coats and shedding also play a factor in swallowing loose fur.
What to Look for on the Cat Food Label
If your cat suffers from frequent hairballs a change of diet may help your cat pass and eliminate the swallowed hair.
A high fiber diet will help some cats with hairballs. Different types of fiber can either sweep hair through the intestinal tract or promote the overall health of the gut. Some pet food manufacturers have added fiber to their formulations creating "hairball" diets that work well for come cats.
But don't assume it is a quality cat food because it offers hairball control. A healthy diet is your cat's best defense for a long life that is free of many issues, not just hairballs. A cat's nutritional requirements are relatively simple.
These basic ingredients should be listed on the label; protein from meat, taurine, vitamins, minerals, enzymes and fatty acids.
Prevention & Treatment
Of course, it is much better to prevent hairballs than to treat them after they have formed. One of the easiest ways to keep your cat from developing a hairball is to groom him frequently, especially if he has long hair.
Thoroughly comb or brush his hair each day to remove excess hair. If you begin this routine when he is a kitten, he will actually look forward to being groomed.
If your cat doesn't care for brushes and combs, try a grooming glove like the the Grooming Glove which enables you to lift away cat hair with soothing strokes while wearing it on your hand.
Otherwise the silicone FurBliss brush is great for massaging, removing tangles and bringing out the shine of your cat's coat.
If your cat still seems to form occasional hairballs, there are several dietary aids that you may want to try. One is dry cat food that was developed to help prevent hairballs.
Be sure that it is high in protein and fiber, as well. Most of these foods feature a high fiber because it helps keeps the gastrointestinal tract moving normally.
If your cat already has a hairball, you may want to shop for a gel that can be added to his food that will help the hairball pass through his body.
This gel is actually a lubricant and a laxative, flavored to make them palatable for your cat. coat the swallowed hair and stool, allowing it to pass through your cat's digestive system. Tomlyn Laxatone is a safe choice in treating and preventing hairballs in cats.
There are many high rated hairball control cat foods that are designed to reduce hairballs in cats. These high fiber formulas help reduce the amount of shedding and improve the health of your cat's skin. Hairball formula food also helps your cat pass ingested hairs before he form hairballs.
Nothing is more important to your cat's digestion than fresh, clean water. To optimize water intake consider a fountain that continuously recirculates water at the flow rate you set.
Cat grass is another preventative option that grows fast and is easy to care for. It costs very little, and provides a renewable resource of enjoyment for your cat.
Try a Cat Grass growing kit that is not only organic but also a source of fiber, to aid in preventing hairballs for your indoor cat.
Hairball Remedies
Nothing can be done to completely eliminate hairballs. But there are ways to minimize and prevent the development of hairballs in cats.
Grooming – The more fur you remove from your cat, the less fur that will end up as hairballs in her stomach. Combing or brushing your cat on a daily basis can be an effective way to minimize hairballs, and it can also provide a fun way for you to bond with your cat. If you can't get your cat accustomed to grooming, think about taking her to a professional groomer every six months or so.
Water – Nothing is more important to your cat's digestion than fresh, clean water. To optimize water intake, provide water in the fashion your cat prefers:
Hairball formula cat food – As discussed, many cat food manufacturers now make hairball control cat foods. These high-fiber formulas are designed to improve the health of your cat's coat, minimize the amount of shedding, and assist hairballs to pass through the digestive system.
Hairball laxative – There are a number of different hairball products on the market today, most of which are mild laxatives that help hairballs pass through the digestive tract.
Cat grass – This stuff grows fast and is easy to care for. It costs very little, and provides a renewable resource of enjoyment for your cat.Since it is a chemical-free and controlled source of fiber, indoor cat grass is a worry-free option.
Conclusion
You and your cat don't have to suffer from frequent hairballs. By grooming your cat and choosing the best cat food for hairballs, you can keep her coat healthy while also keeping the hair moving naturally through her digestive system.