IAMS Cat Food Review
This page contains affiliate links. We may earn money or products from the companies mentioned in this post through our independently chosen links, which earn us a commission. Learn More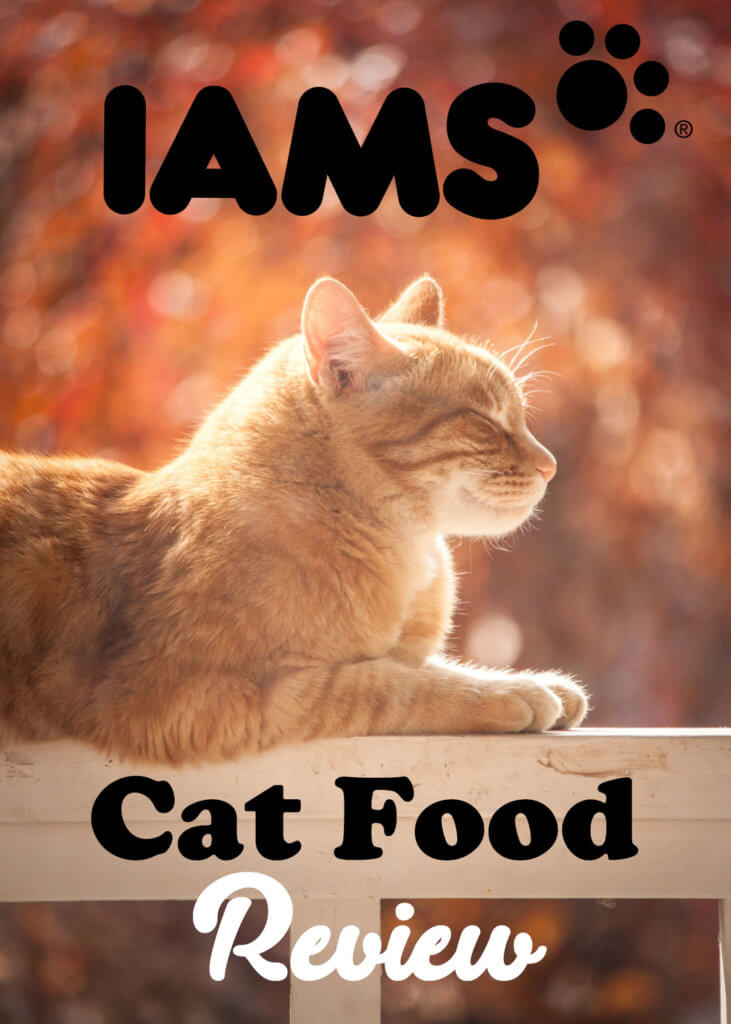 In the 1950s, IAMS was the first pet food manufacturer to use animal-based protein as the primary protein source. At present, IAMS is a subsidiary of Mars Inc Company, and their website states Iams provides " nutrition that is tailored to bring out their unique best".
If you're wondering which line of IAMS is best for your cat, there are several options to choose from depending on age, activity level or health issues, including a line of natural foods. Here we are reviewing the most popular foods purchased from the Iams cat food lines.
Our Review Process
We purchased all of the cat food for this review
We did not accept free products in exchange for a favorable review
We did extensive research and hands on testing
When you make a purchase through one of our links, we receive a percentage of the proceeds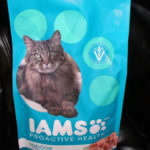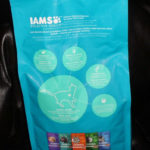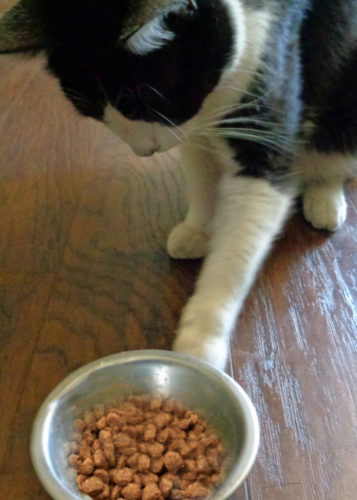 ---
About Iams
Iams sells pet food for cats and dogs formulated for all ages and stages of life. Its products are developed by nutritionists and veterinarians and can be found in three main formulas: ProActive Health, Healthy Naturals and Premium Protection. Veterinary formulas for pets with special dietary requirements are also available.
Pet food was not available in stores and pets were predominantly fed homemade food and table scraps. The Iams Company was founded in 1946 in a small feed mill near Dayton, Ohio by animal nutritionist Paul Iams. In 1950, he developed the world's first animal-based protein, dry dog food and later developed cat food recipes. Prior to founding Iams, he worked for a number of companies including his father's feed business.
How IAMS Ranks
Rating:
Ingredients: 
Pricing:  
Variety:  
Quality:  
Overall Rating:  
Manufacturing and Sourcing
Iams manufactures their food in Ohio, Nebraska, and North Carolina. They also have a European manufacturing plant in Coevorden, Netherlands.
Iams does not provide information on where their ingredients are sourced, just that they are high quality. All Mars subsidiaries work with Mars' Responsible Sourcing program and their Supplier Code of Conduct, meaning that the company uses third-party supplier risk assessment to choose ethical, reliable suppliers.
Mars Inc and Iams claims their food safety program is one of the most rigorous in the business, and it exceeds FDA and USDA standards. The company also states they have received superior ratings from the American Institute of Baking, an independent certification authority for the human food industry.
Analysis and Review
Iams Proactive Health Indoor Formula
Nutritional Info:
Protein – 30% Min
Fat – 13.5% Max
Fiber – 8.3% Max
Moisture– 10% Max
Caloric Content: 3,313 kcal/kg
The well-known IAMS Proactive Health makes a dry food that is formulated especially for indoor cats. It has 10% less fat than the regular IAMS and is designed to help your cat maintain healthy weight and control hairballs.
This recipe starts with Chicken as the first ingredient which is a good start. The second ingredient is chicken by product meal, a high-protein commodity, used as a major component in cat food. It is made from grinding clean, rendered parts of carcasses. It can provide a rich source of protein and healthy fats in addition to essential vitamins and minerals. Fish oil is a nice addition which can help with inflammation of the heart, kidneys, skin, and joints.
Corn grits, corn gluten meal, ground whole grain corn are among some of the top ingredients. Cats do not digest corn well. They can eat corn, but get very little nutritional value from it. Even though corn gluten meal does have protein, it's not the kind of protein that cats can use very well. Cats have to eat twice as much corn to get the same amount of protein that they would from meat or egg protein.
Whole grain sorghum is sometimes considered a filler but it is a whole grain, rich in antioxidants, and a good source of various vitamins and minerals. It has been said to be gluten free and should not affect cats with digestive issues.
Other concerning ingredients would be caramel coloring which contains 4-methylimidazole (4-MIE), a known animal carcinogen. Powdered cellulose is wood pulp or sawdust and used as a filler.
The Good
Chicken is 1st ingredient
Added fish oil
The Bad
Contains caramel color
Contains meals and fillers
High in carbohydrates
Iams Perfect Portions
Nutritional Info:
Protein – 9.5% Min
Fat – 5% Min
Fiber – 1% Min
Moisture– 78% Min
Caloric Content: 1,233 kcal/kg
IAMS Perfect Portions Grain Free cat food is grain free and contains no artificial preservatives. There are several flavors to choose from like : Chicken, Salmon, Tuna or choose a variety pack with multiple flavors. These are formulated to help maintain a healthy immune system.
The first four ingredients are promising with chicken, chicken broth, chicken liver and dried egg. All are good sources of protein and have high levels of taurine.
Guar gum is in the top five ingredients and is a controversial ingredient. It is used as a thickening agent in both pet and human foods and has been known to make you cat feel full longer. It has been known to help cats with diabetes or who maybe overweight by slowing digestion.
Added color is not an ingredient we like to see in any pet food. It is usually added to make the food look more appealing to pet owners. Without knowing exactly which color was added it is hard to determine the negative affects specifically. Many colors are considered carcinogens and can have serious consequences.
Fish oil is a nice addition which can help with inflammation of the heart, kidneys, skin, and joints.
The Good
Grain free
No artificial preservatives
First ingredient is chicken
High moisture content
The Bad
Contains added color
Small portions
Iams Proactive Health Daily Cat Treats
Nutritional Info:
Protein: 33% (Min)
Fat: 16.5% (Min)
Fiber: 3% Max
Moisture – 70%
Caloric Content: 1,372 kcal/kg
These IAMS Cat Treats feature a crunchy shell and a soft center and are created to treat prevent, protect and support your adult cat when it comes to digestion and hairballs. In addition to hairball treats, they also come in oral care. They come in two flavors, chicken or salmon and a convenient package for easy storage.
The first ingredient is chicken by product meal. This is not bad and can be considered a form of protein. Since this is a treat and not a meal it is not your cats source of protein entirely. It does go on to list other by-products in the list as well.
Ground corn is the second ingredient and this is a filler your cat does not benefit from. Cats do not digest corn well and is not part of their diet in the wild. There are several other fillers on the list as you read on and are equally useless.
Another ingredient high on the list is brewers rice and is considered useless in a cats diet. It is high in carbohydrates and some cats are allergic to it.
The Good
Cats enjoy treats
May help with oral care
Provides some protein
The Bad
High in carbohydrates
Contains a lot of fillers
Low amounts of fiber
IAMS Recall History
In March 2007, the FDA issued a recall for several Iams Flakes canned cat food recipes and three canned dog food recipes: Iams Chunks, Iams Select Bites, and Iams Small Bites , due to potential melamine contamination.
In June 2010, the FDA issued a recall for Iams ProActive Health canned cat and kitten food due to low levels of thiamine.
In July 2010, the FDA issued a recall for Iams Veterinary Formulas Feline Renal recipe due to potential salmonella contamination.
In August 2010, the FDA issued a recall for Iams Indoor Care Weight Control with Hairball Care dry cat food due to potential salmonella contamination.
Is IAMS Good Cat Food?
IAMS is considered a respectable cat food manufacturer and has been producing food for pets for over 50 years. With the exception of some formulas being heavy on meals and fillers, IAMS cat food is acceptable in your cats diet.
I personally prefer the wet food formulas over the dry because they have a much higher protein content with less fillers. As for the Iams treats, they are a nice way to reward your kitty in small amounts, but the low amounts of fiber make it less likely to help much with hairballs.