The 5 Best Non-Clumping Cat Litters
This page contains affiliate links. We may earn money or products from the companies mentioned in this post through our independently chosen links, which earn us a commission. Learn More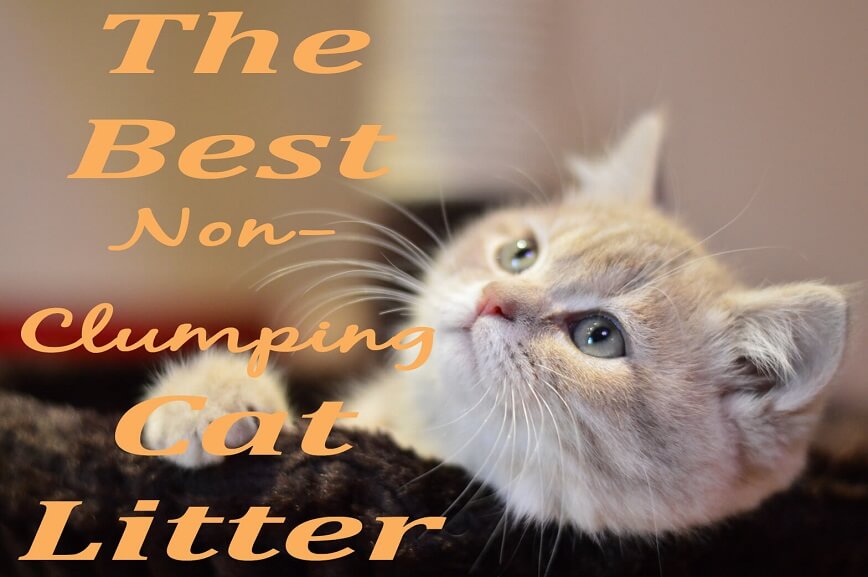 When it comes to cat litter, it usually comes down to choosing clumping or non-clumping material. Non-clumping litter is the oldest commercial cat litter on the market. It was created back in the late 1940's and due to its great absorption capabilities it gained in popularity fast.
Non-clumping cat litter were typically made from clay. Today there are many different types of material offered in the non-clumping litter department.
Best Non-Clumping Cat Litter Comparison Chart
Some examples include pine, wheat, grass, corn, wood as well as crystals. For those cat owners who are on a tight budget, non-clumping clay litters are usually the cheaper choice.
If you decide to forgo the clumping litter, non-clumping cat litter is generally less maintenance over clumping types.
Even though non-clumping litter is no longer as popular as it once was, non-clumping cat litter is still used by many cat lovers. It is still very effective at removing odors and absorbing cat urine. With all this in mind, read on to review 5 of the best non-clumping cat litter brands on the market today.
Top 5 Best Non-Clumping Cat Litters Reviewed
#1

Cat's Pride Fresh & Clean
Product Info:
Price: ~$0.2/ Ib
Litter Type: Clay
Made in: USA
Features:Non-Clumping, Odor Control, Scented
The Good
Budget friendly
Pleasant scent
Easy clean-up
The Bad
Odors not hidden well
Doesn't adsorb liquids
Dusty
---
This fresh-scented, non-clumping clay litter prevents the growth of odor in your cat's litter box, using safe and effective ingredients. It is super-absorbent and sponge-like granules to keep neutralizing odors.
The odor elimination and cleanup abilities of this product are simple. It contains no harsh chemicals or overpowering fragrances.
The price is reasonable compared to other non clumping litters. It is available in 10, 20, and 30 pound bags and is comprised of clay. This litter claims to be the most cost effective in it's class.
#2

Purina Yesterday's Cat Litter
Product Info:
Price: ~$0.6/ Ib
Litter Type: Paper
Made in: USA
Features: Unscented
The Good
Soft pellets
3x more absorbent than other litters
Low dust & tracking
The Bad
Does not control odor well
Not easy to clean
Price is on the high side
---
Purina's Yesterdays News cat litter is made from compressed pellets of recycled newspaper. It is considered environmentally-friendly since its biodegradable. It also absorbs well, and is often recommended by vets for use by post-surgical cats, since it doesn't cling to paws or fur like clay or other clumping litters.
Pellets also won't get tracked around the house. In the worst case scenario, a few dry pieces will get flung out of the litter box, but they are easy to see and clean up.
Since Yesterday's News cat litter is not a granule, it's a good choice if you have hardwood in your house because it won't be prone to getting scratched due to tracking like traditional clay litter.
This litter won't get stuck in your kitty's paws, so it won't be licked off and ingested. One of the most obvious reasons people choose Yesterdays News cat litter, is because its dust free and fragrance free. Yesterdays News absorbs 3 times more moisture than clay, however it doesn't clump.
#3

Purina Tidy Cats
Product Info:
Price: ~$1/ Ib
Litter Type: Clay
Made in: USA
Features:Non-Clumping, odor control
The Good
Nice scent
Budget friendly
Low dust & tracking
The Bad
Liquids pool up
Not easy to clean
---
This letter claims to control tough litter box odors in your household using Glade Tough Odor Solutions Clear Springs in the non-clumping cat litter.
This non-clumping formula makes cleaning your cats' litter boxes a quick, simple task, and the integrated odor erasers help neutralize strong ammonia, fecal and urine smells.
Glade Tough Odor Solutions technology assists this cat litter in defending against unpleasant odors, leaving every litter box in your home smelling fresh and clean. The Clear Springs scent adds a light fragrance that will not offend your cat. It is also ideal for multiple-cat homes.
#4

Jonny Cat Complete Multi-Cat Clay Litter
Product Info:
Price: ~$0.75/ Ib
Litter Type: Clay
Made in: USA
Features: Odor Control, Multi-Cat, Scented, Clumping
The Good
Nice scent
Good odor control
Budget friendly
The Bad
Dusty
Not easy to clean
Heavy formula
---
Jonny Cat Complete litter is great for households with multiple cats or need extra odor control. Its claims its triple action formula provides odor-fighting power from a revolutionary system that combines three technological advancements in odor control.
The ammonia odor eliminator immediately controls urine smells, but without the use of harsh chemicals leaving a fresh and clean litter box for your cat.
It works 24/7 to reduce the development of fecal odors in the litter box as well. The high speed deodorizer goes to work on odor instantly, leaving a scent that's clean and refreshing, yet safe and gentle for your your home and your cat.
#5

CatSpot Litter
Product Info:
Price: ~$3.6/ Ib
Litter Type: Coconut
Made in: USA
Features: All-Natural, organic
The Good
Zero chemicals
Good odor control
No dust
The Bad
Very lightweight
Cats may not like smell
Tracks and sticks to paws
---
CatSpot is made with one simple ingredient: coconut! There are no harmful allergens or chemicals for your cat to ingest. CatSpot is a 100% all-natural product that's both odor-eliminating and hypoallergenic. That means zero chemicals, no dust, lightweight and incredible absorbency.
It claims the one 5-lb bag of CatSpot has the same absorbency as 20 pounds of clay litter. This cat litter comes from the earth and goes right back to it. That means zero chemicals and zero waste back into our landfills.
Benefits
Kitten Safe – Kittens under 4 months of age are likely to ingest litter. Non-clumping litter will not expand in their stomach. This also applies to older cats who ingest while grooming.
Dust Control​ – Non-clumping litter is known for being less dusty compared to clumping cat litter. This is a good choice for cats and owners who may suffer from respiratory problems. Non-clumping litter is also safe to use in cats with asthma. Its one of the main reasons people still choose non-clumping litter today.
Less Expensive – Non-clumping litter is usually cheaper than clumping litter. Non clumping cat litter products can be cheaper by at least 50 percent compared to clumping litter counterparts.
Low Maintenance​ – Non-clumping cat litter has been known to stay fresh in the litter box for a week. There's no need to regularly change the non-clumping cat litter with fresh litter. Non-clumping cat litters also have additives like charcoal and baking soda to minimize unpleasant odors associated with cat litter.

Cats Preference – 

If your cat has used non-clumping litter in the past, this maybe his preference. Cats are known for being picky, and if she will not use a litter box filled with of clumping litter, its best to try non clumping. Cats tend to like the feel and the way they can dig into the granules.
What To Consider When Choosing A Non-clumping Cat Litter?
Price – Non-clumping cat litter is usually the least expensive of litter types.
Dust Free – Clumping cat litters can be very dusty, which can create messes and health issues in humans and cats.
Age of Cat – Kittens have been known to eat litter or ingest while grooming. Clumping litter can expand in the tummy and cause major issues for your kitties.
Ingredients – Some ingredients in clumping litters, are known carcinogens for both humans and household pets when inhaled. Non-clumping litters have additives, such as baking soda or charcoal.
Odor Control – Non-clumping litters have been known to not control urine smells as well as clumping litter. Clumping litters have become the most popular because they are known for controlling smells.
Absorption – When non-clumping litter becomes saturated, urine may pool in the bottom of the litter box. Non-clumping litter is often difficult to clean up without changing the entire box. Some say non-clumping litter needs to be replaced and the litter box cleaned at least once a week.
Conclusion
Choosing a litter that your cat prefers makes it more likely your cat uses the litter box correctly. The best way to determine if non-clumping litter is the best litter, is to give your cat the choice. Once you have determined which litter your cat prefers, it is important to stick with it.