The 31 Best Automatic Cat Feeders
This page contains affiliate links. We may earn money or products from the companies mentioned in this post through our independently chosen links, which earn us a commission. Learn More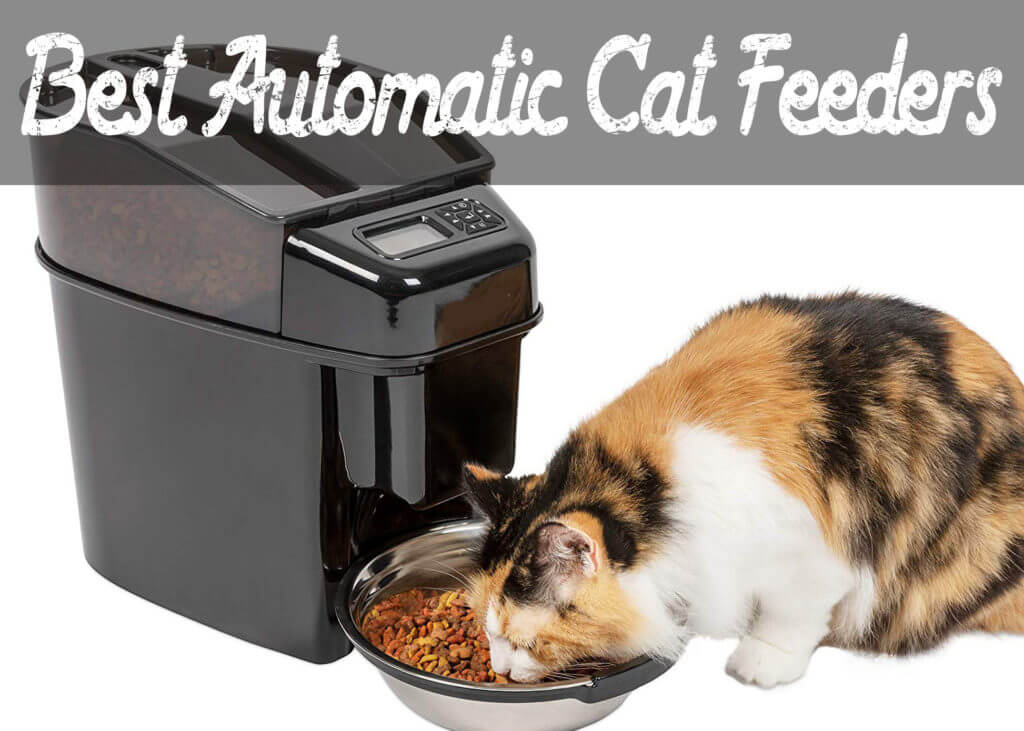 Technology is so useful in today's world and can help the most attentive cat owner with feedings. Although pet feeders are not meant to replace care and attention, they can help when you need to leave the fur babies home for a day.
They can also assist with a cat who may be an over-eater, by dispensing smaller portions throughout the day.
Pet feeders are usually made up of two parts: an air tight hopper (glass or plastic) that holds the food and a container (stainless steel, plastic or ceramic) that the food is dropped into. Once it's programmed with times and portions, the food is automatically dispensed.
Let's look at some of the best automatic cat feeders on the market today.
The Best Automatic Cat Feeders Comparison Chart
We highly recommend looking at the comparison table we have below where we highlighted the features of each product.
What To Consider In An Automatic Cat Feeder?
If you have read this far you're most likely considering buying an automatic cat feeder and you are just not sure which type or brand will suit you and your cat's needs. Here are a few things to consider:
Will you need it for long or short term feeding period
Do you need timers, cameras or phone apps to operate
Does you cat eat dry or wet food
How big is your cats kibble
How many meals do you need to program daily
Your cats personality or patience level
How many cats you own
Our Top Picks: Best Rated Automatic Cat Feeders Reviewed
#1

Currens Automatic Pet Feeder
---
This feeder by Currens provides flexible meal portions from 1 to 39. With a food container capacity of 3 pounds for dry food,it can be scheduled up to 4 meals per day. This offers a 10 second voice recorder to call your cat to eat when programmed. It also has a built in infrared detection to prevent food locking.
#2

PetSafe Automatic Feeder
---
The PetSafe Smart Feed Automatic Feeder for iPhone & Android is a convenient feeding solution for the high tech cat owner. The Wi-Fi-enabled feeder connects to your home's wireless router and works with your Android or Apple smartphone, giving you the ability to feed your cat no matter where you are.
You can use the app to customize and schedule up to 12 meals a day with flexible meal portions from 1/8 cup up to 4 cups. This unit is powered by a plug in adapter and has a battery back up.
#3

Arf Pets Automatic Feeder
---
Arf pets automatic feeder is an innovative dispenser. If you are a busy pet owner and can't be home to feed your fur baby all day, this is the feeder for you. This food distribution system helps you personalize your cat's dry meal portions and routine.
All you need to do is set the clock, pick up to four meal times, customize the serving size, and you are done. You have the option to plug the feeder into an ordinary wall outlet, or go cord-free with three "D" batteries. You are also able to record a voice command or meal call to let your cat know its time to eat.
#4

Westlink Automatic Pet Feeder
---
This automatic food dispenser makes feeding your cat hassle free with a capacity of up to 4 meals a day. Each meal can dispense one to 39 portions and can handle many sizes of dry kibble. You are also able to record your voice for up to 10 seconds to notify pets of feeding time.
Also has a built in infrared detection which can prevent the food from locking which in turn lets your pet enjoy their meals. 
#5

Aspen Pet LeBistro Food Dispenser
---
This feeder by Aspen Pets reliably delivers portion-controlled meals to pets while the pet parent is away. Meals can be easily programmed for up to three meals a day. It automatically delivers portion-controlled sizes to your cats whenever you choose.
The transparent hopper lets you monitor food levels, and the feeder bowl is removable and dishwasher safe. The top load feature makes refilling your feeder convenient and easy. 
#6

Van Ness Medium Auto Feeder-Gravity Cat Feeder
---
This feeder is bottomed angled, allowing easy flow of food as your cat eats to his/her fill.The feeder requires no power source to operate. Thus,your cat's meal is available all the time.
This simple auto feeder comes in three different sizes of small, medium, and large.It can hold food from 1.5 to 10 pounds.It makes a good auto feeder for those looking for no refills.
#7

Bergan Gourmet Feeder-Gravity Based
---
 Bergan food dispenser comes with a waterer and food dispenser. The waterer can hold up to 3 gallons of water.The bowl can hold 1 cup of feed. It has enough space for your cat to eat and drink for a long period.
This feeder has an airtight lid,thus spill-proof. It also has a wide mouth for easy refills and cleaning. The gourmet feeder also comes with an extra-wide base to prevent toppling.
#8

BELOPEZZ 6-Litre Smart Pet Automatic Feeder-Timed Cat Feeder
---
The feeder has a sturdy design with an automated system. Once you've set it up, it will recognize mealtimes and dispense the correct portion. You can set-up up to four meals a day. With its 6 liters capacity, it's suitable for small, medium, and large cats. It also comes with 10 seconds of voice recording. It also has 3D sized batteries that can last up to two years.
#9

PetnetSmartFeeder-Timed Cat Feeder
---
This feeder allows you to feed your cat automatically using your smartphone. You can adjust the feeding times and meals on your smartphone. It has inbuilt rechargeable batteries that can last for two days. It comes with durable materials and the cap is lockable making it pet-proof.
#10

 WOPET Automatic Pet Feeder-Timed Cat Feeder
---
This automatic feeder comes with an inbuilt timer, LCD, and control panel. You can be able to program upto four meals a day. It can dispense controllable portions of 2 teaspoons to 4.5 cups.You can easily remove the lid and the food container
This feeder also has an inbuilt speaker and recorder to record your voice for 10 seconds. The speaker calls your cat during mealtime. It also has a smart infrared-based food lock system preventing spillage. This feeder operates on both batteries and electricity.The batteries act as a power back up during electricity shortage.
#11

Super Feeder Automatic Cat Feeder-Timed Cat Feeder
---
This feeder comes with a transparent container to let you monitor feed levels without opening the lid.It also has standard-sized bowls to hold more food. The bowl size also allows the medium to large-sized cats to eat with ease.
You can be able to monitor your cat via a wireless system connected to a high definition camera. Besides, it has an analog timer to assist you in programming. The dispenser can be able to feed your cat in desired portions as many times in a day as possible. The feeder also has an adjustable electronic controller that calibrates food size, making it possible for you to determine pellet and portion sizes.
#12

Petsafe 5-Meal Pet Feeder-Programmable Cat Feeder
---
This feeder is a fully automated feeder with digital timers. You can schedule the feeding times up to five meals a day.
The feeder has five components with a capacity of 1 cup of dry food
The feeder's tray is made up of strong and durable material.You can easily detach the tray from the feeder. You may also use the dishwasher to wash the feeder's tray.
#13

PetSafe Analog 2 Meal Programmable Pet Feeder
---
PetSafe Analog 2 Meal Programmable Pet Feeder is an automatic flip-type battery operated feeder. It allows you to feed your cat twice a day. It has a programmable timer of up to 48 hours in advance with a minimum of a two-hour interval between the meals.
Each compartment in this feeder can hold 1.5 cups of dry food. The feeder also has a special compartment under the tray with an ice pack for wet foods.  It's highly suitable for your cat,who requires meals at a specific time.
#14 Lentek Connected Pet Food Dispenser
---
This feeder enables your cat to get six meals while you're away. Each of the six food compartments holds 2/3 cups of dry food. You may program the feeding intervals to 6,12, and 24 hours. The feeder operates on 9v batteries.
#15

Cat Mate C500-Wet Food Cat Feeder
---
This feeder has two inbuilt icepacks to keep your cat food fresh for hours.The twin ice packs last between 12 to 15 hours. It comes with five components allowing you to program up to five meals for your cat.You can serve both dry and wet food thanks to the twin ice packs. The hermetic lid helps seal the food tightly.
You can easily disassemble the feeder and wash the lids and bows even with a dishwasher. The feeder uses rechargeable batteries only, which last up to one year.
#16

Surefeed Microchip Pet Feeder-Microchip Cat Feeder
---
This automatic microchip feeder is ideal for your cat that needs protection from other pets who steal its food. The feeder ensures only your cat gets access to food. It's also suitable for cats on special diets or those who are on medication.
The feeder scans and recognizes your cat's microchip on the SureFlat RFID collar tag and opens up its lid for authorized cats. Once your cat has finished eating and moves away, the lid automatically closes. It's ideal if you have multiple pets in your house and would like to ensure each pet gets a fair share of food. You can register several cats to eat from the same feeder since the microchip can take up to 32 IDs. It uses batteries that can last up to twelve months.
#17

Wireless Whiskers Auto Pet Feeder-Microchip Cat Feeder
---
This automatic cat feeder keeps cats away from each other's food. It also has a wireless feature to warn you if your cat is not eating enough food. It allows you to program portion intervals in 1, 4, and 24 hours.
It works with RFID wireless collar tag, which activates the wireless whiskers to open when it's time for your cat to eat. You can also program the feeder to greet your cat by its name. This feeder can feed up to 8 cats.It can also control the food intake of your cat.
#18

SureFeed Sealed Pet Bowl-Multi Cat Feeder
---
The SureFeed sealed pet bowl keeps your cat's wet food fresh. It reduces food smell and keeps flies off. It uses infrared sensors to detect when your cat approaches and opens up and closes once your pet is done feeding. The bowl needs to be refilled and cleaned daily.
The bowl doesn't have a timer.Thus, you cannot restrict how many times it opens up. It uses rechargeable batteries and has an indicator to warn you when the battery is low.
#19

Petmate Pet Café Feeder- Multi-Cat Feeder
---
This gravity feeder allows your cat never to go hungry. It doesn't run on any form of modern technology. It's durable and very pocket-friendly
This auto cat feeder is suitable for a household with multiple cats. It comes in different sizes 3lb, 6lb, and 12lb.You can choose the right size, depending on the number of cats you have. The food container has a wide mouth making cleaning easier.
#20

Lusmo Automatic Pet Feeder-Outdoor Cat Feeder
---
Lusmo automatic feeder allows you to feed your cat up to 3 times a day. You may customize the meal times and portions according to your cat's needs. The feeder also allows you to program meal portions from 1/16 to 1 cup. The feeder can dispense up to 10 days for an adult indoor cat.
#21

Pet Feedster PF-10 PLUS CAT-Automated Pet Feeder-Outdoor Cat Feeder
---
This pet feeder comes with a chute to make sure your cat doesn't get extra meals. The feeder can be programmed to dispense from 1 to 5 meals per day. Each meal size ranges from one teaspoon up to 6 cups of food. You can also adjust the meal size.
The unit doesn't lose its programming when it's unplugged. The timer on this feeder shows you when the meal has been served.
#22

Crown Majestic Diamond Series V3 Cat Automatic Pet Feeder-Slow Feeder
---
Crown Majestic V3 automatically feeds your cat and supplies her water at the same time. It allows you to record your voice for 12 seconds, which helps you to call your cat during feed time. It can dispense up to four feeding times in a day. It works with both batteries and AC 6V adaptor.
This feeder can also be programmed to dispense ¼, 1/2, 3/4, 1, or 2 cups of dry foods. It's stable and does tip over.
#23

PETKIT Element Smart Pet Feeder-SlowFeeder
---
Petkit smart feeder connects to your smartphone via wifi, enabling you to manage all the functions of the feeder. The feeder can be programmed to dispense up-to 10 meals a day. You may also customize the meal portions from 20g to 400g.  You'll be able to get notifications on the time and portion of the meal dispensed. The feeding tray is quite large and can feed two cats.
#24

Catit Senses 2.0 Food  DiggerInteractive Cat Toy-Interactive Cat Feeder
---
Cats are true hunters.This toy feeder encourages your cat to have fun while hunting for her food.The feeder comes with large green tubes. You may place small treats or kibbles on the lower reservoir of the unit.
The multiple tubes stimulate your cat sniffing and pawing behavior. Your cat will be able to paw smaller food portions reducing binge eating.It also has a stable base. You are always encouraged to change the toy set up to keep your cat interested.
#25

CatitSenses 2.0 Food Tree-Puzzle Cat Feeder
---
Make feeding time hunting time for your cat with this interactive feeder.It keeps your cat active and entertained. Its narrow opening prevents your cat from accessing food from the top. With this type of feeder, your cat will not be able to cheat or steal food but rather work for it.
This feeder dishes out small portions of foods at a healthier pace. You're able to manage your cat's weight using this feeder, and the stray pellets collect at the bottom of the tray.
#26

DotPet Slow Feeder Bowl-Slow Feeder Cat Bowl
---
This slow feeder turns your cat's feeding into a challenging game. The maze-like obstacles encourage your cat to eat slowly. The bowl prolongs eating time, reducing health risks associated with fast feeders.The feeder comes with four rubbers on the base making it very stable.
#27

Interactive Cat Feeder-Slow Feeder Cat Bowl
---
This interactive feeder slows down your cat eating at the same time stimulating her brain. The toy feeder will turn mealtime to a challenging and time consuming game. It provides a solution to your overweight fast-eating cat who often throws up.
You may also use the toy feeder as a food bowl as the feeder stimulates and manipulates your cat's instincts making her catch food with its paws. The bowl can serve two cats. The feeder comes with hard phthalate-free plastic, and it is suitable for both indoor and outdoor use.
#28

Raised Cat Food Bowl-Elevated Cat Feeder
---
This elevated cat feeder allows your cat to use a natural feeding position. It reduces the amount of air your cat swallow sand lowers the risk of regurgitation.
This feeder is an ideal solution for your flat-faced cat who has hard time reaching food on the ground. It has a wide dish to prevent whiskers' stress. Its base is steady and it doesn't slide while your cat is eating. The bowl is also wide and tall enough for a cat of any size. The wide bowl keeps food at the center and the inner lip prevents spillage.
#29

Iris Small Elevated Feeder withAirtight Storage-Elevated Cat Feeder
---
Isis small feeder saves space in your kitchen. This raised pet feeder comes with an airtight storage compartment, keeping food dry and fresh. The unit makes it easy to refill the food bowls. It comes in three sizes-small, medium and large with a capacity of 5,13 and 47 pounds respectively.
This feeder assists your cat in having healthy eating habits. It improves digestion and reduces muscle tension. It's also perfect if you're going on trip or camping.
#30

PortionPro Automatic Pet Feeder-Dog Proof Cat Feeder
---
This automatic feeder makes feeding your feline friend much easier and convenient.It comes in different models, and it is suitable for your cat,who is on a special diet. It also allows only the assigned cat to get access to food blocking other pets from stealing your cat's food.
It uses a collar tag with RFID(radio frequency identification) technology. The motorized food door opens when your authorized cat who is wearing the collar tag approaches the feeder within a 3 feet distance. When your cat has finished eating and leaves the feeder, the sliding door closes. This feeder comes with only one collar tag.
Besides with this feeder, you may be able to program food from 1/4 cup to 4 cups in a day. The stainless steel bowl can hold up to 2 cups of food.You may also be able to program the time, amount, and the number of meals to dispense in a day. The feeder can dispense up to 6 meals in a day.
#31

Wonder Bowl Selective Cat Feeder-Dog Proof Cat Feeder
---
This auto feeder is for households with multiple pets. It works perfectly if you want to feed your cat,who is on a special diet. It uses infrared technology and only opens when your cat who is wearing a unique collar tag, approaches the feeder.It keeps unwanted pets from getting to your cat's food and the bowl keeps your pet's food fresh. It works on 3D batteries.
Pros And Cons Of Using An Automatic Cat Feeder
Using an automatic cat feeder is a great choice if you work long hours or travel frequently.
There is no need to hire a pet sitter for your next overnight trip, because an automatic feeder will ensure your cat has access to scheduled feedings throughout the day and night.
Cat feeders can also benefit cats requiring frequent small meals due to diabetes or other health problems. Programmable feeders allow you to control exactly how much food your cat has access to which can prevent overeating for over weight cats.
Another added benefit to an automatic feeder is that there is no food sitting to attract insects or rodents.
One of the downsides of automatic food dispensers is they can be noisy.
Although most cats will learn that the noise is associated with feeding time, it can be distracting to owners.
Another issue is the dispenser can jam if you put the wrong size of kibble in or a piece gets caught. Some cats may never be a good fit for an automatic feeder and will learn to tip it over, shove a paw in the opening or pry open parts.
Conclusion
All the mentioned models have a variety of custom settings, features and styles. Automatic cat feeders are a great investment for regulating your cat's eating habits and feeding them while away. More importantly it's about choosing an automatic cat feeder that suits you and your cat's needs.