Best Cat Food for Shedding Control
This page contains affiliate links. We may earn money or products from the companies mentioned in this post through our independently chosen links, which earn us a commission. Learn More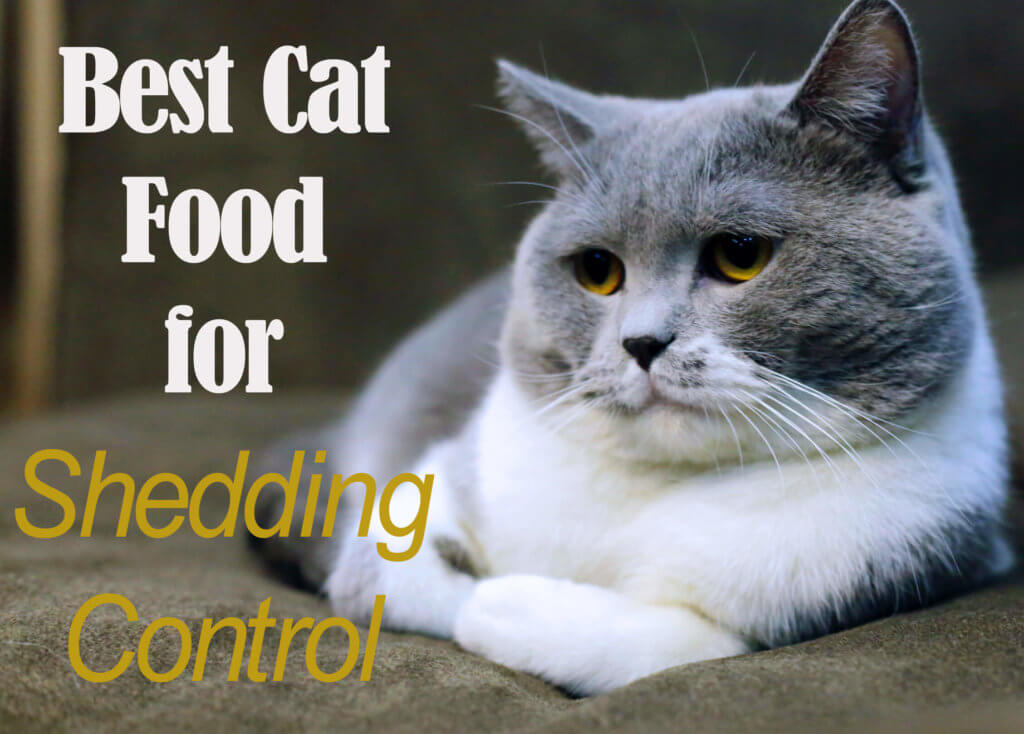 Some cats are prone to shedding more than others, but it is completely normal for your cat to shed. Shedding is a the natural process of losing dead hair and all cats do it, except hairless breeds.
An outdoor cat might lose more hair in the spring and fall but preserve more fur in the winter, but indoor cats usually shed all year round.
However, if you see bald spots in your cat's fur or notice a considerable amount of  hair loss, the underlying cause may be a health related issue and should be inspected by a veterinarian.
The Best Cat Food for Shedding Control Comparison Chart
Best Cat Food for Shedding Control Reviewed
#1

Blue Wilderness Dry Cat Food
Product Info:
Price: ~$2.6/ Ib
Food Type: Dry
Made in: USA
Protein: 40%
Fat: 18%
The Good
High Protein
Healthy carbohydrates
100% grain free
The Bad
Price on the high side
Pieces maybe very hard to chew
---
For cat owners who want to feed your cat high protein without grains, there's few other quality choices than BLUE Freedom Cat Food. It is free from grains and gluten's and there is food formula for all ages and breeds of cats.
Blue Wilderness Dry Cat Food is made with natural ingredients and a precise blend of vitamins, minerals and antioxidant-rich kibble.
It contains no by-product meals, no corn, wheat or soy and nothing artificial. It is also made with high-quality protein and natural fiber sources, meaning the BLUE Freedom recipe is made to support weight control in cats.
With the addition of vitamins, minerals and antioxidants, this cat food formula is made to support your cat's healthy immune system no matter the age or breed.
#2

NUTRO Wholesome Essentials
Product Info:
Price: ~$1.5/ Ib
Food Type: Dry
Made in: USA
Protein: 21%
Fat: 13%
The Good
Contains omega 6 fatty acids
Non GMO
Controls hairballs
The Bad
Price on the high side
Complaints of loose stools
---
NUTRO Wholesome Essentials Hairball Control Adult Cat Food starts with the 1st ingredient being chicken and it contains a unique blend of whole grains.
This all natural cat food provides a fiber blend to help minimize hairball formation and essential antioxidants, such as vitamin E, for a healthy immune system, plus vitamins, minerals and other nutrients.
This formula also contains omega 6 fatty acids in order to promote healthy skin and shiny, soft fur. NUTRO Food for Cats is always made with Non-GMO ingredients and has no artificial flavors, colors or preservatives.
#3

Blue Buffalo Hairball Control Food
Product Info:
Price: ~$2.4/ Ib
Food Type: Dry
Made in: USA
Protein: 32%
Fat: 15%
The Good
High protein content
Contains no fillers
Controls shedding
The Bad
Price on the high side
Contains meal
Strong smelly kibble
---
Blue Buffalo Adult Hairball Control Food is a natural holistic cat food that provides essential amino acids and vital nutrients they need every day.
Formulated with hearty whole grains like brown rice, barley and oats that will keep your cat supplied with the complex carbohydrates needed for energy.
Healthy garden veggies and fruit like whole carrots, sweet potatoes, parsley and cranberries contain phytonutrients that help your cat stay healthy.  De-boned Chicken is the first ingredient on the label and you will not see chicken (or poultry) by-products meals.
#4

AvoDerm Wild By Nature Cat Food
Product Info:
Price: ~$0.5/ Oz
Food Type: Dry
Made in: USA
Protein: 13%
Fat: 2%
The Good
No by products
All natural ingredients
High quality fats and oils
The Bad
Some cats refuse it
Pricey
Soupy texture
---
Wild By Nature's Avoderm Consommé is made with wild caught fish and is grain free. It provides a healthy balanced meal for your cat by using high quality ingredients that ensure that you are providing the optimum nutrition your cat needs.
It also has vitamins, minerals and antioxidant nutrients to help support your cat's immune function. AvoDerm Wild By Nature is formulated to be rich in high quality fats and oils with a balanced Omega-6 to Omega-3 fatty acid ratio.
These nutrients, in the right proportions, are important to keeping your cat's skin healthy.
Avocado and avocado oil is included and can help support the skin and coat from the inside out for the protection your cat needs.
#5

Purina One Hairball Formula Cat Food
Product Info:
Price: ~$1.3/ Ib
Food Type: Dry
Made in: USA
Protein: 34%
Fat: 14%
The Good
High protein
Veterinarian recommended
Low cost
The Bad
Sensitive stomachs may not handle well
Contains meals
---
Purina ONE Hairball Formula adult dry cat food is made with real chicken as the #1 ingredient. This dry cat food provides 38 grams of protein per cup.
The easily digestible formula contains 0% fillers and contains vitamins and minerals for well-rounded nutrition, to meet 100% of your adult cat's requirements.
The special blend uses natural fiber to help control hairballs while the omega-6 fatty acids help keep skin and coat healthy.
How to Control Shedding
Cats spend around ten percent of the day grooming themselves and not only swallow hairs but send it flying around.
There are a few things you can do to reduce the amount of hair covering your clothes and furniture. If your cat seems to be shedding a lot and your veterinarian has determined that there is no underlying medical reason.
Here are a few ways you can minimize his hair loss:
Feed him a high quality cat food and balanced diet. A balanced diet will provide your cat with a shiny and soft coat.
Groom him regularly by using a soft bristle brush or grooming glove.
Bathe your cat every 2 to 4 weeks. If your cat absolutely hates baths try using grooming wipes.
Supplement your cat with omega-3 and omega-6 fatty acids. They are particularly important to keeping a cat's skin and fur healthy.
Take him to a groomer or consider having long haired cats shaved down.
Check for hair loss, redness, bumps, cuts, fleas, ticks or other parasites. Keep your cat on a monthly flea-control treatment.
Make sure your cat has access to fresh, clean water. Cats who lack water tend to have dry skin and fur.
Use a sticky roller, vacuum and cat hair remover brush to keep the shedding hair off furniture and clothing.
What to Look for on the Label
Cats need more protein in their diets in comparison to other species and most of that protein needs to come from animal rather than plant-based sources.
If your cat does not get enough protein in his diet, or the protein he takes in is of low quality, then their coat may suffer. When selecting a food that helps reduce shedding look for a food that contains at least 45% protein on a dry matter basis (minus any water).
Dietary fat also plays an important role in slowing down the shedding process. Look for cat food for excessive shedding with omega-3 and omega-6 fatty acids. These fatty acids promote the development of a healthy coat and skin.
Look on the cat food label for the presence of cold water fish oils in the ingredient list. Vitamins and antioxidants like beta-carotene, bioflavonoids, vitamins C and E, selenium and amino acids, also help provide the nutrients needed to support all functions.
A nutrient rich diet is your cat's best defense for a long life that is free of many issues including excessive shedding.
Conclusion
While there is no way to prevent your cat from shedding entirely, there are ways to keep him from shedding excessively. Be sure to provide him with a high quality cat food that is specially formulated for his lifestyle.
Consider adding a daily grooming routine as well as a bath at least once a month. Remember that adding supplements to your cat's diet will help to at least slow the shedding and keep his coat shiny and soft.