The 5 Best Clumping Cat Litters
This page contains affiliate links. We may earn money or products from the companies mentioned in this post through our independently chosen links, which earn us a commission. Learn More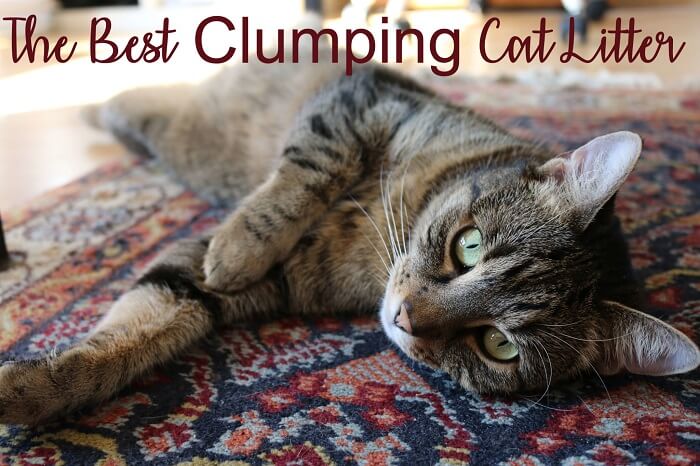 Cat litter has come a long way in recent years with the introduction of clumping cat litter. With so many kinds to choose from, the decision isn't always easy.
There are a number of factors to consider when making a clumping litter choice that pleases both you and your cat.  Most of them do a great job of neutralizing unpleasant odors and making the cleaning process quick, safe and easy.
Clumping litter is often made from a clay base that pulls or clumps together into balls when wet. You can remove not only the feces, but the odor-causing urine as well. Different brands have different levels of clumping and some pull together more solid than others.
The Best Clumping Cat Litters Comparison Chart
The Top 5 Best Clumping Cat Litters Reviewed
#1

sWheat Scoop Natural Cat Litter
Product Info:
Price: ~$0.8/ Ib
Litter Type: Wheat
Made In: USA
Features: Flushable, Unscented, Odor Control,
The Good
Litter smell is subtle
Does a good job of hiding odors
Minimal Dust
The Bad
Strong ammonia smell
Clumps are not firm
More pricey than other litters
---
Made from wheat and other grains, the sWheat Scoop Natural Cat Litter has been improved to better eliminate odors, clump faster, and outlast other litters. It does not contain chemicals, silica dust, or sodium bentonite (clay).
It is unique in that it is farmer-owned and the ingredients are also farmer-grown. This is what makes this company unique, and their commitment to improving their product through technology has helped them stand out.
The Noble Ion® Technology means they use wheat enzymes and starches to create a litter that uses positive ions in order to eliminate the negative ions that can be found in pet odors. The granular texture of the litter makes it highly absorbent, and easy to sift.  sWheat Scoop is also flush-able and compo-stable.
#2

Dr. Elsey's Precious Cat Respiratory Relief Clumping Clay Cat Litter
Product Info:
Price: ~$0.75/ Ib
Litter Type: Clay
Made In: USA
Features: Clumping, Odor Control, Unscented
The Good
Good odor control
Flushable
Absorbs liquid waste
The Bad
Very lightweight and tracks easily
Some cats find it tasty enough to eat
Not the most economical, price-wise
---
This natural litter is made out of finely shredded clay. It is treated with heat to increase absorbency and reduce dust and allergens  These maybe easy to scoop out but do nothing to control odor or make the surface of the litter box look inviting.
This pine litter absorbs from the bottom up from both solid and liquid waste while it traps the odor more effectively. The clumped material is both scoopable and flushable.
#3

World's Best Cat Litter
Product Info:
Price: ~$0.9/ Ib
Litter Type: Corn
Made In: USA
Features: Unscented, Flushable, Odor Control
The Good
Affordable
Multi cat formula
Solid odor control
---
What makes World's Best different from other litters is what it's made out of: natural, non-toxic, ground corn husks. First time users are usually shocked by how light weight it is and while the aroma (of corn) is unique, it isn't over-powering and is easy to adapt to.
Some cats, and other animals if you have them, have been caught eating this litter. World's Best can be a bit more costly than other brands among flushable litters. Many avid users claim the price is worth it since this product lasts longer than other litters, meaning little goes to waste.
World's Best also has superb clumping abilities. Also, the corn is excellent at absorbing moisture which reduces the amount of bacteria, the main cause of litter box odor, left behind.
#4

Garfield Cat Litter Ultimate Clump
Product Info:
Price: ~$1.5/ Ib
Litter Type: Corn
Made In: USA
Features: Biodegradable, Flushable, Odor Control
The Good
Clumps solid
Natural litter scent
Long lasting
The Bad
Can have an ammonia smell
Minor tracking
---
Petfive proudly presents its innovative, all-natural and uniquely hygienic Garfield Cat Litter. The exclusive formula provides instant clumping and eliminates the strong odor associated with cat urine.
The tiny grains version is biodegradable, made 100% from renewable ingredients, flush-able, and extremely soft on your cats paws. Garfield's litter is completely dust-free, making it not only nice for you, but also for your beloved cats who may suffer from asthma or Feline Allergic Bronchitis.
There are no chemicals added to this formula, so this litter presents no danger to your cats if ingested. The white color allows for the indication of potential health problems which may be indicated by the presence of blood in your cat's urine.
#5

Scoop Away Super Clump Cat Litter
Product Info:
Price: ~$0.4/ Ib
Litter Type: Clay
Made In: USA
Features: Clumping, odor control
The Good
Good odor control
Solid clumps
Less frequent box cleaning
The Bad
Scent maybe too strong
Dusty
Clumps stick to anything
---
Scoop Away Super Clump properly consolidates every last bit of  litter which is then scooped away and the litter can be cleaned off easily. This Super Clump formula will even transform liquid waste into super tight clumps. But of course, that is not all this cat litter is good for.
In addition to clumping up the waste and making it easier to dispose of, it is also reinforced with Ammonia Shield which blocks out any bacterial odors. That makes the cleaning process so much safer and more convenient.
Before shopping for the best clumping cat litter, there are a number of things to keep in mind. Keep reading to find out what we chose for the best clumping cat litter.
What To Consider When Choosing A Clumping Cat Litter?
Price – Cat litter prices vary according to type, brand and where it's purchased. Clumping litter is usually the most less expensive of litter types.
Biodegradable –  Clay-based cat litter is not biodegradable and has a huge impact upon the environment. More than 2 million tons of cat litter is dumped into our landfills yearly and most of the litter isn't biodegradable.
Flushable –  Some plant-based litters can be flushed right down your toilet. Not only convenient, but also environmentally friendly.
Odor Control – Clumping litters have become the most popular because they are known for removing the offending smell and are considered one of the best odor control methods.
Dust Free – Many commercial brand cat litters are quite dusty, posing health issues for both owners and cats alike. Look for litter that says dust free. This will help keep you and your cat safe as well as keep your floors clean.
Texture – Cat are picky when it comes to their paws. They may find larger granules irritating on their sensitive paws. This could result in your cat refusing the litter box. Fine litter with soft texture is usually more appealing to cats.
Benefits Of Clumping Cat Litter
Availability – Clumping litter is readily available and can be purchased at any pet supply store, online, as well as at most grocery stores.
Affordable – While not always the least expensive option, there are brands of clumping cat litter that are very affordable.
Clean-up – Unlike some other types of litter, you do not need to change the entire pan of litter every time you clean the box. Instead, you simply scoop out the waste clumps and add a bit more litter to the box. This gives you more time between litter box changing time and makes your litter go a lot further.
Preferable – Most cats are willing to use as well as prefer to use this type of litter.
Conclusion
Clumping cat litter is the most popular type of litter on the market today. Unlike other litter alternatives out there, clumping litter is cheap, effective and easy to use. It is also more environmentally friendly than the clay litters. A clumping litter allows you to scoop urine and fecal ball clumps without having to dump the whole box.