The 5 Best Crystal Cat Litters
This page contains affiliate links. We may earn money or products from the companies mentioned in this post through our independently chosen links, which earn us a commission. Learn More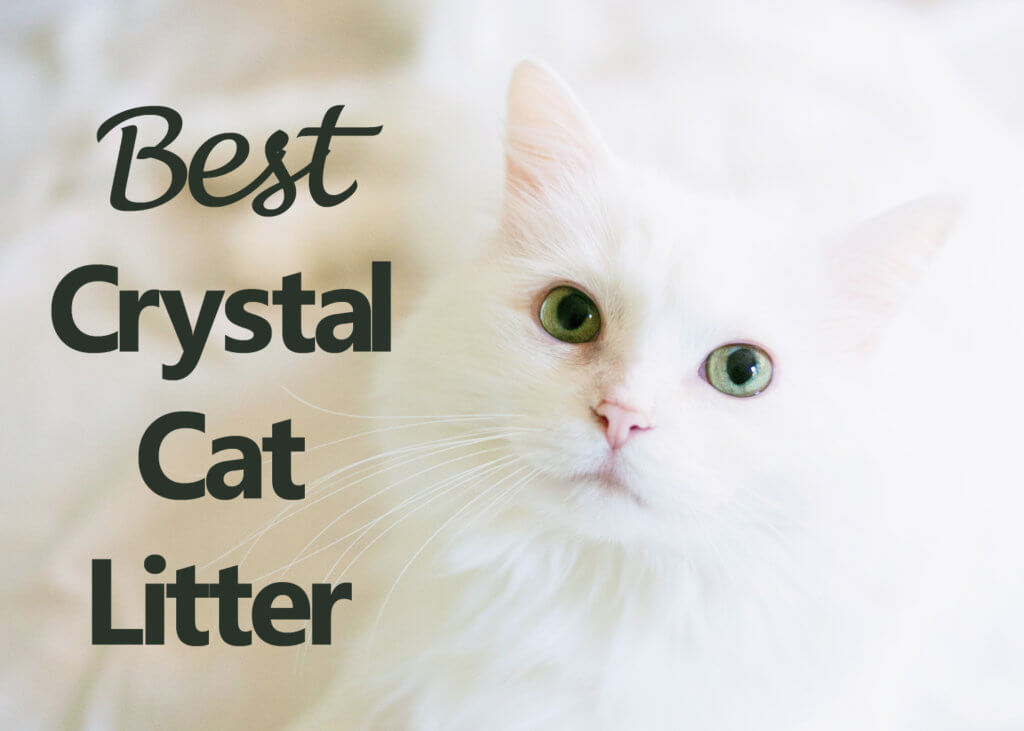 Crystal cat litter is becoming more popular among cat owners. Its popularity is likely due to less frequent litter box changes.
And because your litter box does not need to be changed as often, the manufacturers of crystals cat litters package more conveniently sized bags. In addition, crystal cat litter also offers the benefit of being virtually dust-free and some are even flush-able and biodegradable.
What Is Crystal Litter?
One of the more recent developments in the litter world, is crystal or pearl litter which is made of small granules of silica sand.  Silica litter is similar to those little packets of beads you find in your new shoes that says "do not eat".
These beads or granules are covered with tiny pores that absorb urine, while it evaporates over time. Silica litter is typically sold as a one month supply and at the end of the month you completely dump the litter then clean and replace. You will still need to continue with daily scooping and stirring the crystals.
As mentioned, this litter is also virtually dust free. Also, silica crystals are less likely to encourage growth of mold and bacteria in the litter box.
Advantages
Most scented cat litters mask odor rather than eliminate it, which does not solve the odor issue. Crystal litter is highly absorbent, which helps control odor. Since cats have a more sensitive sense of smell, it's safer to choose a cat litter that isn't heavily scented in the first place.
Some cats may also be allergic to certain ingredients in clay litters, including scented particles, additives, and minerals. Crystal litters offer cats and their owners some health benefits, most notably the lack of dust that's created by traditional clay litters.Bacteria is less likely to grow in crystal litter than with other types of litters.
The Best Crystal Cat Litters Comparison Chart
The Best Crystal Cat Litters Reviewed
#1

Fresh Step Crystals Cat Litter
Product Info:
Price Range: ~$1.5/ Ib
Litter Type: Crystal
Made In: USA
Features: Odor Control, Non-Clumping, Scented
The Good
Controls odor well
Litter only needs changed monthly
Crystals adsorb urine
The Bad
Some cats do not like the texture of crystals
Strong scent
---
Fresh Step is a well known brand among cat owners and their crystal litter is one of the most popular on the market. The crystals are blue and safe for your cat, containing no cobalt chloride.
The crystals keep your litter box smelling fresh while absorbing moisture. This long lasting litter will also mean less litter box changes and is said to only need to be replaced once a month.
#2

PetSafe ScoopFree Premium Crystal Cat Litter
Product Info:
Price Range: ~$2/ Ib
Litter Type: Crystal
Made In: USA
Features: Non-Clumping, Odor Control, Scented
The Good
Small portioned bags
Controls odor well
Long lasting
The Bad
Some tracking
Price on the high side
---
The PetSafe ScoopFree Premium Blue Crystal Litter comes with two pre-portioned light weight bags of original scent crystal cat litter. The crystals absorb moisture on contact to quickly remove odors instead of masking them, and can be used with any litter box or as refills for the PetSafe ScoopFree reusable litter tray.
When used with the PetSafe ScoopFree Self-Cleaning Litter Box and Reusable Litter Tray, one bag can last up to 30 days in a single-cat household. You will also have the option of scents or sensitive when purchasing.
#3

Ultra Pet Ultra Cat Litter
Product Info:
Price Range: ~$2.1/ Ib
Litter Type: Crystal
Made In: USA
Features: Odor Control, Unscented, Non-Clumping
The Good
Great odor control
Unscented
Soft on paws
---
Ultra Micro Crystals are a sand-sized crystal cat litter that is more comfortable on your cats paws. The crystals dry solid waste helping to eliminate the associated odors. This litter is not scented and is non-toxic and safe for cats. One bag will last one cat one month if properly maintained.
#4

Precious Cat Dr. Elsey's Long Haired Cat Litter
Product Info:
Price Range: ~$2.2/ Ib
Litter Type: Crystal
Made In: USA
Features: Non-Clumping, Odor Control, Unscented
The Good
Controls odor well
Crystals change color
Does not stick to cats fur
The Bad
Needs changing sooner than it claims
Tracking is a common complaint
---
Dr. Elsey's Precious Cat Long Haired Litter is safe, biodegradable, hypo-allergenic and non-toxic. It is an amorphous silica gel infused with hydrolyzed herbs to draw cats to the litter box.
This litter for long haired cats traps urine and odor on contact and has the right particle size that will not adhere to your cat's long fur. The crystal do change color once "used" but it will not color your cats coat.

#5

Fresh Magic Premium Crystal Litter
Product Info:
Price Range: ~$0.35/ Ib
Litter Type: Pine
Made In: USA
Features: Unscented, Flushable, Odor Control
The Good
Great odor control
Good price point
Very absorbent
The Bad
Crystals too large
A little dusty
---
Fresh Magic Crystal Litter is a relatively new product whose primary benefit is odor control and killing bacteria. It is made from silica sand (SiO²) in chunk form.
The larger sized crystals pull moisture from the droppings and urine, which further minimizes odor and lasts longer between changes. The chunk shape has an irregular shape and does not roll far if it escapes the litter box. This litter is non toxic as well as biodegradable.
Disadvantages
You may love crystal cat litter, but your cat may not. Some cats do not like the feel of the crystals on their paws. In addition, the crystals eventually reach their absorbency limit and urine starts to pool up in the litter box.
Compared dollar for dollar as far as weight, crystal litters are around three times more expensive than a traditional clumping clay litter. However, crystal cat litter does last much longer, up to 2-3 times, so you will not have to buy it as often.
There is also an argument that crystal litters still end up sitting in landfills, and causing considerable damage to the environment.If you want to be environmentally friendly, you may want to consider a biodegradable cat litter that is not crystal litter.
These litters are often made from materials that naturally decompose, such as wood pellets, recycled newspapers and sawdust. Some manufacturers make a biodegradable cat litter can actually be safely flushed down the toilet and as mentioned above, some do come in crystal form.
Crystal cat litter is not recommended for declawed cats because their paws tend to be more sensitive and the crystals may irritate them. Kittens should also not use crystal litter due to them being prone to eating things they should not. If your cat does happen to eat litter crystals, it could be life threatening.
Conclusion
If you and your cat are not ready to try crystal cat litter other options include using silica gel pearls in clay, recycled newspaper, pine or cedar sawdust, corncob litter, and wheat husks. It is a personal preference for you and your cat. With regular changing, stirring and removal of solid waste, crystal cat litter could be a great choice in keeping your cat's litter box odor-free.