The 13 Best Wet, Soft And Canned Cat Foods Of 2022
This page contains affiliate links. We may earn money or products from the companies mentioned in this post through our independently chosen links, which earn us a commission. Learn More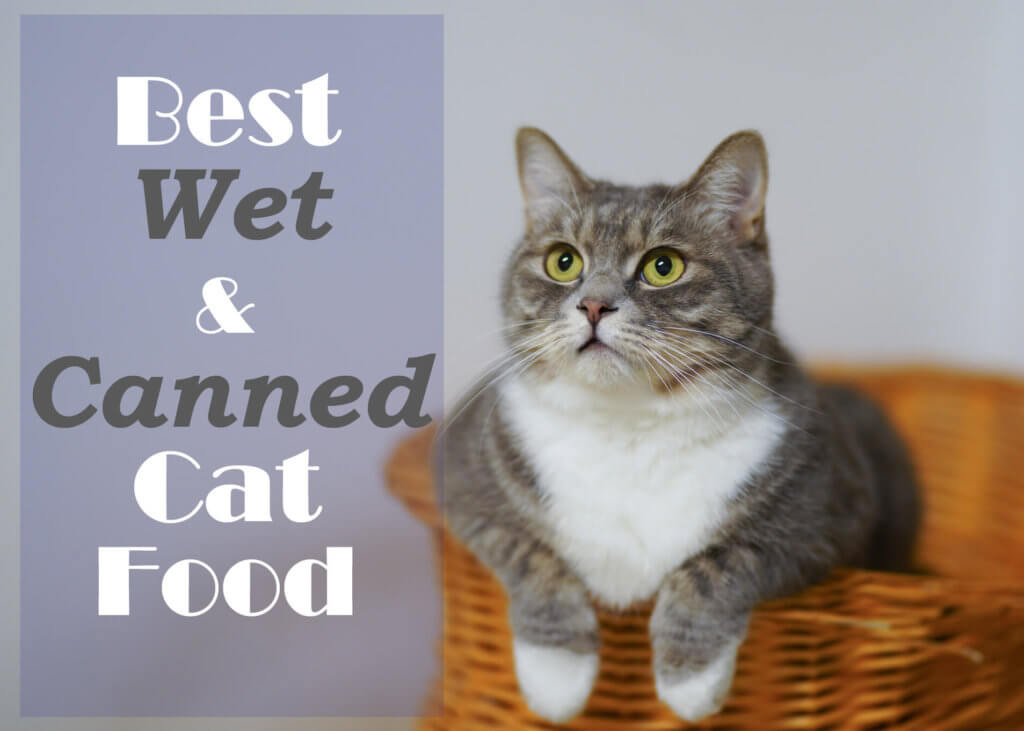 Many cat owners rely on dry cat food because it is less expensive, easy to store and it can be left out all day for your cat to nibble on. Wet, soft and canned foods tend to be more expensive than dry food, but both are great sources of nutrition.
The higher moisture content in most wet cat foods gives cats with urinary and kidney issues more water, which helps to flush urinary crystals more easily and reduce the risk of crystal formation as a result, as well as combating dehydration with kidney issues. Wet cat foods may also be a good way to help your cat stay hydrated if she has other health problems.
In this article we have summed up what you need to know so you can decide what wet food is best for your cat.
How We Researched The Best Wet, Soft And Canned Cat Foods?
We spent several days researching the best wet, soft and canned cat foods
We considered over 20 cat foods and fine tuned it down to the 13 reviewed in this article.
We did this by reading hundreds of reviews, watching videos and comparing the features of each cat food.
What To Look For In The Best Wet, Soft And Canned Cat Foods?
Quality wet, soft or canned cat food is rich in nutrients and usually more so than a quality dry cat food. Today there is a wet food formula for nearly every feline diet including organic, high protein, weight-maintenance, diabetic, sensitive-stomach and more.
In general, wet and canned foods should contain less wheat, grains, and other carbohydrates that are found in mass produced dry cat food. These carbohydrates, in large amounts, are not healthy for your cat's diet and can cause problems for some cats.
Wet and canned cat foods should be similar to food your cat would eat in the wild and they usually have higher levels of animal-based proteins. Wet and canned foods are not exposed to as much heat, as dry food during the cooking process, so it maintains more of its nutrients.
The best wet, soft and canned cat foods should contain the following ingredients:
Quality meat as the first ingredient
Single source of protein
Grain-free
No fillers
High in protein
Low in carbohydrates
Novel protein for meat allergies (venison, duck, kangaroo, and rabbit)
Cats do best when fed a diet that is free from artificial coloring, flavors, preservatives, and ingredients such as dairy, grains, corn, and soy which have been known to cause allergic reactions.
The Best Wet, Soft And Canned Cat Foods Comparison Chart
The Best Rated Wet, Soft And Canned Cat Food Reviewed
#1

Overall Best: Raised Right Cat Food
---
Raised Right is a subscription cat food delivery service that delivers customized meals to your door, whether you need to help an overweight cat or help with your kitty's urinary tract health. They guarantee to provide restaurant quality ingredients that are considered human grade, in every meal.
The food contains no fillers or grains, no preservatives or artificial flavors, and they only use the highest-quality, responsibly sourced meats.
Raised Right recipes are prepared in a human-grade kitchen that is 100% designed and dedicated to making fresh pet food.
There are four meal recipes that you can choose for your cat. The first is the Original Turkey Adult Cat Recipe which is full of ingredients to keep your cat's eyesight razor sharp for stalking. The second is Turkey & Pumpkin Paté for Adult Cats and it is packed with turkey thigh and turkey heart to guarantee a softer and shinier fur coat for your cat.
#2

Runner Up: Smalls Food for Cats
Smalls food for cats is a subscription service, prepared with 100% human grade ingredients. You can create a customized meal plan for your cats based on their age, health goal, and current food and have freshly prepared food delivered to your door.
Smalls buys all of their ingredients the same day they cook it and then freeze it right away. They also cook on a weekly basis so the food coming to you is never old. All of Smalls ingredients are sourced from 100% USDA certified human grade suppliers.
Smalls currently offers 3 fresh recipe flavors in pate or minced, and can mix and match the foods depending on your cats preference. Their food is free from preservatives, fillers, grains, and artificial flavors.
#3

Best Human-Grade Food For Cats: Open Farm Wet Cat Food
---
Open Farm wet cat food is made with ethically-sourced proteins. The Canadian company also uses local produce such as non-GMO cranberries to promote urinary tract health. Other ingredients in their wet foods include healthful superfoods such as dandelions, turmeric, and coconut oil.
Open Farm's ingredients are 100% traceable so you always know where they come from. This is part of the company's commitment to ethical and transparent sourcing practices. The company's wet cat foods are certified humane. They contain no grains and no potatoes.
The company offers their wet cat food in several formulas: Harvest Chicken Rustic Blend, Homestead Turkey Rustic Blend, Chicken & Salmon Rustic Blend, Wild-Caught Salmon Rustic Blend, Grass-Fed Beef Rustic Blend, and Herring & Mackerel Rustic Blend. The foods can be fed as an easy-to-eat topper or as a complete meal.
These foods are formulated to meet the nutritional levels established by the AAFCO Cat Food Nutrient Profiles for maintenance.
#4

Best Grain-Free: Primal Freeze-Dried Nuggets Raw Cat Food
---
Primal Freeze-Dried Cat Food offers a diet packed with naturally derived vitamins and minerals. It is made with antibiotic, hormone and steroid-free chicken meat and chicken organs along with real salmon and incorporates certified organic produce, certified organic minerals and unrefined vitamins.
This food also has added optimum levels of amino acids, essential fatty acids, natural-occurring enzymes and necessary vitamins and minerals supply the building blocks for healthy biological functions.
This freeze dried raw food is crafted in the USA with sustainably-sourced ingredients and contains no grain, gluten, corn, wheat or soy. It can be served straight from the bag or with added water.
#5

Best For Weight Management: Royal Canin Adult Instinctive
---
Royal Canin Adult Instinctive Cat Food  is formulated to provide your adult cat with an appealing formula they will enjoy as well as features a moderate energy level to help maintain your cat maintain an ideal weight.
Royal Canin is formulated to be instinctively preferred by adult cats while maintaining a healthy coat and skin. With high levels of essential fatty acids, EPA & DHA, it helps support an adult cat's healthy joint function.
#6

Best For Sensitive Stomach: Just Cats Fish & Chicken
---
Just Cats is the top vet-recommended fresh pet food on the market, and two independent universities conducted year-long trials proving their recipes boost the immune system of pets in a healthy way. The Fish & Chicken recipe is a low-carbohydrate, high-protein diet for cats that's perfect for adult cats of all breeds. This fresh recipe contains yuca root to absorb and retain moisture, to help ensure your cat is always fully hydrated and chicken liver for cats to obtain the nutrients they need.
Just Cats recipe includes USDA inspected and approved meats, as well as quality ingredients intended for human consumption. These ingredients are even supplied by the same farms that provide the food humans eat at home and sold at restaurants.
#7

Best For Senior Cats: Purina Pro Plan FOCUS Adult 11+
---
This formula features real salmon and tuna, along with other high-quality ingredients for your 11 + aging cat. This wet cat food is specially formulated to meet the needs of senior cats, providing the extra-care nutrition your favorite feline needs to maintain an active and healthy life.
Each serving provides 25 essential vitamins and minerals plus taurine, an amino acids, to help support overall health and wellness.
#8

Best For Kittens: Nutro Indoor Cat Food
---
Nutro Max Kitten Wet Canned Cat Food is a natural cat food that provides natural fiber for healthy digestion and essential antioxidants. Since it is for indoor cats, it helps control weight. It also contains vitamin E for a healthy immune system, plus vitamins, minerals and other nutrients.
This cat food also is made with Omega 6 fatty acids, to promote healthy skin and a soft, shiny coat. All Nutro cat food is made with Non-GMO ingredients and has no artificial flavors, colors or preservatives. Every cup of cat food is nutrient dense so your kitten gets the right amount of calories.
#9

Best For Gassy Cats: Ziwi Peak Canned Cat Cuisine
---
Hailing from New Zealand and grass-fed, this free-range cat food is made with 100% lamb sourced from ethical and sustainable New Zealand farms.
The wild-caught New Zealand Blue Mackerel is high in Omega 3 and 6 fatty acids. This cuisine includes 3% New Zealand green mussels, which are a natural source of Chondroitin and Glucosamine that supports your cats joint health.
The food is a chunky loaf style, with a high level of all-natural protein and moisture to entice even the pickiest eater. This cuisine contains no grains, rice, corn, soy, potatoes, wheat, fillers, sugars, glycerin's, rendered meals, preservatives, TSPP, BPA, Guar Gum, Agar or Carrageenan.
#10

Best Hypoallergenic: Evangers Grain Free Rabbit Cat Food
---
This grain free cat food is a great mixer with other dry foods or a vegetarian formula. This is an excellent choice for pets with other food allergies. Evanger's formula is made with rabbit and is grain-free and gluten-free. Evanger's grain-free game meats food is unique in its simplicity and can be fed to both dogs and cats.
Because this is 100% meat, the product is not intended to be fed as a complete and balanced diet. This as a meal lacks essential nutrients, and should not be fed continuously or as the sole meal in your cats diet.
#11

Best For Constipation: Royal Canin Feline Health Nutrition
---
Listed as our best canned cat food for constipation, Royal Canin Adult Instinctive is formulated to provide your adult cat with an appealing formula they will enjoy at each feeding as well as features a moderate energy level to help maintain your adult cat's ideal weight. Royal Canin has formulated to be instinctively preferred by adult cats.
That means your cat gets a formula it loves while getting the precise nutrition it needs at each and every feeding. Reduced phosphorus levels help support kidney health in older cats. Also the tender thin slices in gravy are easier on the sensitive teeth and gums of cats.
#12

Best For Diabetic Cats: Purina Veterinary Diets DM
---
Purina Pro Plan Veterinary Diets DM Dietetic Management Feline Formula offers a high protein/low carbohydrate formula with high levels of antioxidants.
This texture has a palatability cats like and includes  beneficial supplements such as biotin, folic acid, as well as vitamins A, B-12 and D-3. It is available by the case and specifically made for diabetic cats.
#13

Bonus Pick: Cat Person Cat Food
---
Cat Person is a high protein and healthy cat food with simple, clean ingredients that meet your cat's carnivorous needs. They also offer a variety of products for cats. In addition to dry and wet cat food, they sell a many items for serious cat people, including beds, bowls, toys, and more.
Cat Person's food contains no fillers, corn, soy, grain, wheat, rice, or potatoes. Cat Person cat food contains at least 50% more protein than the industry standard and every recipe is clear, straightforward, and full of real meat flavor your cat will love.
If you want the convenience of having your cats food delivered Cat Person does ship products for free and once ordered it should be received within 5 days.
Conclusion
Cats are carnivores who thrive on a diet of animal proteins and animal fats. Plant-based proteins, cereals, grains, carbohydrates and sugars are biologically unsuitable ingredients that are used in processing dry cat food. Also, cats tend to prefer the taste of wet and canned food diets over dry food diets as well.