7 Best Cat Food For Diabetic Cats
This page contains affiliate links. We may earn money or products from the companies mentioned in this post through our independently chosen links, which earn us a commission. Learn More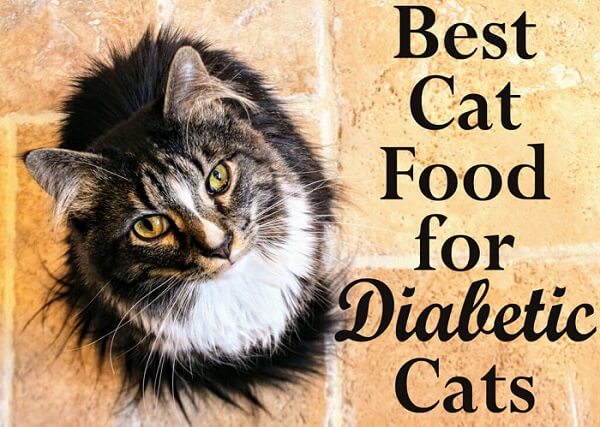 Diabetes mellitus is a condition that develops when your cat cannot use sugar adequately and control the sugar or glucose level in her blood.
There are two types of feline diabetes, and while there is no cure, cats with either type can be successfully managed through nutrition, exercise, and if necessary, regular insulin medication. With the best cat food for diabetic cats and guidance from your veterinarian, your cat can enjoy a happy, healthy life.
The Best Cat Food For Diabetic Cats Comparison Chart
IMAGE
PRODUCT

Human-grade cat food
Fresh to order every week
No fillers, grains or artificial flavors 

Get 25% Off →

The meat and produce are sourced from US suppliers
Grain free recipes
Plans for every budget

Get 25% Off Your First Order →

best wet food for diabetic cat

High protein formula
Low carbohydrates
Contains omegas 3 & 6 for skin health 

VIEW LATEST PRICE →

Best dry food for diabetic cat

Specifically formulated for diabetic cats
Helps with weight
Great for free feedings

VIEW LATEST PRICE →

Grain free
High quality protein
All natural

VIEW LATEST PRICE →

Best low carb dry cat food

No fillers
100% grain free
Supplemented with  Omega-6 and -3 Fatty Acids

VIEW LATEST PRICE →

High levels of carnitine
Low in fat
High fiber food

VIEW LATEST PRICE →
#1

Raised Right Cat Food
Product Info:
Price Range: ~$2-3$/ Per Meal
Food Type: Fresh
Made In: USA
Protein: 20% Min
Fat: 9% Min
The Good
Human-grade cat food
Fresh to order every week
No fillers, grains or artificial flavors
The Bad
Price on the high side
Food needs to be refrigerated
Raised Right is a subscription cat food delivery service that delivers customized meals to your door. They guarantee to provide restaurant quality ingredients that are considered human grade, in every meal.
The food contains no fillers or grains, no preservatives or artificial flavors, and they only use the highest-quality, sourced meats. Raised Right's protein and low -carb recipes and honors your diabetic cat's dietary needs
Raised Right recipes are prepared in a human-grade kitchen that is 100% designed and dedicated to making fresh pet food.
#2

Smalls Cat Food
Product Info:
Price Range: ~$2.00 – $3.50/ per meal
Food Type: Fresh
Made in: USA
Protein: 21.2% Min
Fat: 8.05% Min
The Good
The meat and produce are sourced from US suppliers
Grain free recipes
Plans for every budget
Free shipping
The Bad
The food must be refrigerated
Website is hard to navigate
Food packaged in large portions
---
Smalls offers premium-quality recipes right here in the USA. Not only are their products made with fresh ingredients, they are prepared the same day they are purchased and frozen at the peak of freshness.
Smalls currently offers only three different recipes that include protein sources from beef, turkey and chicken. They also provide customers with many meal plan options for those who are on a tight budget but want the best for their cat.
The price of Smalls depends on your cat's needs, the recipes you choose, and your delivery schedule. With this in mind you will be paying about $2.00 to $3.89 per day per cat depending on the plan you choose and not entirely on cat size.
Their goal is to provide cats with a meal plan that is good for both nutrition and affordability. Smalls offers plenty of options to customize your cat's meal plan to keep you on budget.
#3

Purina Veterinary Diets DM Dietetic Management For Cats
Product Info:
Price: ~$0.4/ Oz
Food Type: Wet
Made in: USA
Protein: 11.5% Min
Fat:5% Min
The Good
High protein formula

Contains omegas 3 & 6 for skin health 

Low carbohydrates
The Bad
Some cats won't eat it
Price on the high side
Purina Pro Plan Veterinary Diets DM Dietetic Management Feline Formula offers a high protein/low carbohydrate formula with high levels of antioxidants.
This texture has a palatability cats like and includes  beneficial supplements such as biotin, folic acid, as well as vitamins A, B-12 and D-3. It is available by the case and specifically made for diabetic cats.
#4

Purina Pro Plan Veterinary Dietetic Management Dry Food
Product Info:
Price: ~$6.2/ Ib
Food Type: Dry
Made in: USA
Protein: 51% Min
Fat: 15% Min
The Good
Specifically formulated for diabetic cats
Helps with weight
Great for free feedings
Here is another Purina Veterinary Diets DM (Dietetic Management) Feline Formula that is specifically formulated for diabetic cats.
This is for cats who prefer kibble. It is nutritionally balanced to be a high protein, low fat food for your diabetic cat and optimized with ingredients which meet the special dietary needs of cats. This food can help reduce the fluctuation in your pet's glucose levels. Taurine is a top ingredient as well as vitamins A, E and D-3. The bag comes in two sizes, 6 lbs or 10 lbs.
#5

Wellness Complete Health Natural Grain Free Canned Cat Food
Product Info:
Price: ~$0.25/ Oz
Food Type: Canned
Made in: USA
Protein: 10.5% Min
Fat: 7% Min
The Good
Grain free
High quality protein
All natural
The Bad
Some complain texture too soupy
Some cats refuse to eat
Wellness Complete Health Natural Grain Free Wet Cat Food is an excellent sources of protein and essential fatty acids. They're made with high quality proteins, are free of added growth hormones and steroids and also include other key ingredients like sweet potatoes and carrots, essential vitamins, minerals, and fresh, whole cranberries and blueberries which are added to help maintain proper urinary tract health.
In addition, hydration is extremely important to your cat's overall health, wet canned cat food recipes are a delicious and healthy way to increase your cat's moisture intake. These pâtés are made with premium meat, fresh fruits and vegetables and come in a variety of flavors.
#6

Solid Gold High Protein Dry Cat Food
Product Info:
Price: ~$2.9/ Ib
Food Type: Dry
Made in: USA
Protein: 42% Min
Fat: 20% Min
The Good
Supplemented with  Omega-6 and -3 Fatty Acids
No fillers
100% grain free
The Bad
Contains meal
Some cats refuse certain flavors
Price on the high side
This high protein formula provides a combination of nutrient dense ingredients & healthy fats, all packed in a unique kibble. This recipe is crafted with 20 super-foods and packed with nutrient dense chicken & egg proteins. At 42% protein, this recipe is sure to provide the protein and energy your cat needs.
This high protein, low carbohydrate recipe can also be beneficial for cats with diabetic health concerns when fed under veterinary supervision.  Balanced Omega-6 and -3 Fatty Acids from natural sources like salmon oil and ocean fish support a soft and shiny coat and provide immune system support. Prebiotics and living probiotics ensure your cat has balanced levels of beneficial bacteria to support optimal gut health, healthy digestion and proper nutrient absorption.
#7

 Hill's Prescription Diet w/d Feline Low Fat
Product Info:
Price: ~$3.9/ Ib
Food Type: Dry
Made in: USA
Protein: 34% Min
Fat: 10% Min
The Good
High levels of carnitine
Low in fat
High fiber food
The Bad
Pricey
Some cats refuse to eat
Contains rice and corn
Hills Diet w/d Feline Low Fat-glucose management gastrointestinal canned cat food with chicken flavor is made to help your cat maintain its weight, once the ideal weight is achieved. In addition, Hills w/d feline cat food has the capability to increase energy and metabolism as well as help burn fat.
The high levels of carnitine help increase lean muscle mass. This cat food is ideal for diabetic cats which will help them maintain an appropriate weight. With added antioxidants to support a healthy immune system, Hills w/d feline cat food will help keep your cat fit and healthy.
What To Feed your Diabetic Cat?
Since the dietary requirements of diabetic cats depend upon numerous factors, discuss your cat's diet with your veterinarian. Do not change your cat's diet except under the direction of your veterinarian.
Wet food –  You and your veterinarian should choose the type of food prior to the start of insulin regulation. Most wet brands contain insignificant amounts of carbohydrates. Wet cat foods are already high in protein and low in carbs. Many dry cat foods are made with starch, which makes them higher in carbohydrates.
Raw food – Raw food for cats will have zero or the least amount of carbohydrates compared to other types of cat foods. Many cat owners report their diabetic cats going in to complete remission after switching to a raw diet.
Essential fatty acids –  Omega 3 fatty acids and GLA have been shown to both enhance glucose metabolism and protect against secondary cardiovascular problems in diabetics. While the diet should be lower in dietary fat overall, the supplementation of Essential Fatty Acids can often be beneficial. It is also useful in preventing diabetes.
Prebiotics – Prebiotics are fibers that promote the growth of healthy bacteria in the gut. These fibers, especially fresh greens from the soil for humans, are often soluble fibers. Prebiotics may increase survival of probiotics.
High fiber – High amounts of fiber in the diet can affect the absorption and metabolism of glucose and fat in the diet. The fiber will slow glucose absorption from the digestive tract so there is not a high peak in blood glucose level right after eating. High fiber diets also promote weight loss. To be most effective, diets with high fiber must also contain significant amounts of complex carbohydrates. These diets can decrease the need for insulin.
High protein/Low carbohydrate – The most recent studies have suggested that a diet high in protein and fat, and low in carbohydrates may be more beneficial for most cats than high fiber diets. High protein and fat levels are typically found in diets made specifically for diabetic cats.  In comparing canned high fiber diets versus low carbohydrate diets, cats fed low carbohydrate diets were 10 times more likely to discontinue insulin injections.
Common Causes Of Diabetes
Diabetes in cats is believed to be caused by too many calories in the diet and too little activity. Sedentary and over weight cats develop Type 2 diabetes, which is the insulin-resistant type also seen in humans.
Type I diabetes (insulin dependent diabetes mellitus) occurs when the body is completely unable to manufacture insulin but quite rare in cats. A diet with fewer calories per ounce, less fat, fewer carbohydrates and more protein, will  help cats lose weight and regulate their blood sugar.
Diabetes is one of the most common feline endocrine diseases. Many diabetic cats cease needing insulin or have their insulin needs significantly decreased once their carbohydrate level is lowered.
While some cats are more sensitive to carbohydrate rich diets, the bottom line is that, by nature, cats are not designed to consume a high carbohydrate diet or one that is water-depleted. Lack of exercise is also an issue and to prevent diabetes in your cat you should focus on keeping your kitty lean. Feed a portion-controlled, high moisture diet and make sure she gets some exercise daily.
Symptoms Of Diabetes
Symptoms commonly seen with diabetes are:
Excess urine production
Weight loss
Poor skin and hair coat
Liver disease
Vomiting
Weakness in the rear legs
Dehydration
Prone to bacterial infections
Blindness (cataract formation)
Kidney failure
In unregulated cases of diabetes, a life-threatening disease known as keto-acidosis can develop. This occurs due to the cat's body utilizing fat as an energy source, instead of glucose (sugar). As the fats are metabolized, ketones are formed, resulting in high ketone levels in both the blood and the urine.
Keto-acidosis results in extreme lethargy, vomiting and a lack of appetite. This is an emergency situation when it occurs and will require intensive treatment by your cat's veterinarian, including fluid therapy, insulin treatment, and correction of electrolyte balances.
Diagnosis Of Diabetes
Your cat's veterinarian will need to examine your cat and perform some routine blood and urine tests in order to diagnose diabetes. These tests are also necessary to rule out other disease conditions which can cause similar symptoms.
Specialized blood tests may be necessary both to diagnose diabetes and to monitor the progress of treatment.
Treatment Of Diabetes
Despite extensive research (especially in the field of human medicine), there is no known cure. Therefore, once it has been diagnosed, all medical attempts are to control the disease. This usually involves daily administration of insulin for the remainder of the cat's life. The oral medications frequently used for humans are often not effective in animals, although they have been tried in some cases. Once properly regulated, the majority of diabetic cats can maintain normal lives.
Home care involves daily administration of insulin and feeding a well-regulated high quality diet.  A high-protein, low-carbohydrate commercial food should be fed at a constant time and quantity level. The amount of food ingested will affect the amount of insulin required.
The diabetic cat should be fed twice daily, or in small multiple feedings to coincide with the peak insulin levels. You may consider an automatic cat feeder with a timer if you are away during the day. Constant moderate exercise is important to properly maintain the daily insulin requirement. For female diabetic cats, ovariohysterectomy (spaying) should be performed as soon as possible due to complicated interactions between insulin and the female hormones secreted by the ovaries.
During the first few weeks of treatment, several consultations and blood and urine tests with your cat's veterinarian may be necessary to properly regulate the patient to insulin therapy. Changes in insulin dosage, frequency of injection, diet, or exercise may be required.
Notify your cat's veterinarian if any of the following complications occur:
You are unable to administer the medication as directed.
Your cat develops weakness or fatigue after exercise, begins to shake or tremble, or seems mentally confused. These symptoms may be the result of a low blood sugar. This may result from refusal to eat, sudden vigorous exercise, or from vomiting of the most recent meal. Excessive insulin dosage may also cause these problems. Giving several tablespoons of corn syrup, Karo syrup or honey may control the low blood sugar episodes.
Your cat experiences difficult breathing, weakness, depression, or will not eat.
Your cat develops diarrhea or vomits.
Home Care For Cats With Diabetes:
There is no cure for diabetes. Treatment will be required for the rest of your cat's life. It is important you understand your role in therapy to insure success.
Exercise – Allow your cat to determine how active he/she will be. The important key to remember is to be consistent every day. Heavy exercise affects blood sugar and insulin requirements. If you allow your cat to run around for many hours over the weekend when he/she normally sleeps all day, you may find it extremely difficult and frustrating to determine the correct insulin dosage from day to day. On the other hand, consistent amounts of exercise make this task much easier to accomplish.
Diet – Normally, the body monitors the amount of sugar in the blood at each moment and determines how much insulin the pancreas should produce. Since you can only "guess" the amount of blood sugar based upon glucose measurements, you must carefully regulate how much sugar your cat receives. This is where most cat owners have the greatest problem.
Your cat's veterinarian may recommend a special diabetic cat food diet. Follow any feeding instructions from your veterinarian closely. Generally, your cat should receive a small meal (1/3 daily amount) in the morning and the main meal 6-8 hours later, unless your cat's veterinarian advises otherwise. There absolutely cannot be any snacks, biscuits, or people food at other times. If you waver or deviate from this feeding regimen, you may upset your cat' internal metabolism by failing to regulate the blood sugar. Adherence to this program will make controlling your cat's disease much more successful.
Blood testing – Home blood testing is increasingly becoming the preferred way to monitor diabetes in cats. Obtaining blood glucose readings at home can eliminate the possibility of measuring high glucose readings due to stress which may occur in the veterinarian's office. Home glucose monitors are now available which can measure blood glucose with only a tiny drop of blood.
Insulin – Your cat's veterinarian will instruct you on the proper use of the syringes and medication.
While insulin may be necessary in managing diabetes in your cat, you can also take a natural approach to diet and lifestyle changes following a diabetes diagnosis. A low-carb diet without the addition of grains, sweet potatoes, potatoes, and green peas. In addition to natural dietary changes,  your cat may also benefit from a cranberry based urinary supplement since diabetic cats can be at a higher risk for bladder infections.
Complications
Occasionally, complications may arise with your diabetic cat. The most serious is an insulin over-dosage. The signs are weakness & occasionally seizures. Keep Karo syrup on hand and if weakness is observed, give your cat 2-3 tablespoons per 10 pounds of body weight and offer food. If seizures or collapse occurs, massage Karo syrup onto the your cat's gums and call your cat's veterinarian immediately. Do not force an unconscious animal to swallow the syrup.
Another problem can occur if your cat is sick from some other illness and does not eat for a day. If your cat is not eating and not feeling well, contact your cat's veterinarian. If your cat is not eating, do not administer insulin.
Finally, if your cat jumps during the injection, or if you accidentally push the needle all the way through the skin so that some of the insulin is "lost," or if you are not sure whether your cat received the total dose, do not repeat the injection or try to supplement with additional insulin. There is more danger from too much insulin than not enough.
Conclusion
A low carbohydrate/ high protein diet can help in controlling the blood glucose level in diabetic cats, and in reaching and maintaining ideal weight. A diet high in dietary fiber may serve as an alternative. Managing your cat's diabetes requires diligence and communication between you and your veterinarian.