Cat Mania's mission is to provide cat owners with accurate and in-depth information on any feline related subject that is based on evidence, testing and years of experience.
We try to provide all content straight from professionals like veterinarians, trainers, groomers, scientists and industry insiders. When it comes to cat food and supplies, our editors buy, test, review and rank them to help you find the right products to keep your fur baby happy and healthy for years to come.
---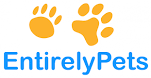 ---
Cat Health & Care
As your cat gets older, he may develop arthritis, chronic pains, or even cancer. Younger cats may suffer as well, with issues like...
As pet parents, we always think of our pets as family members. So, just like any other family member, the health of the...