Top 5 Outdoor Cat Enclosures And Cages
This page contains affiliate links. We may earn money or products from the companies mentioned in this post through our independently chosen links, which earn us a commission. Learn More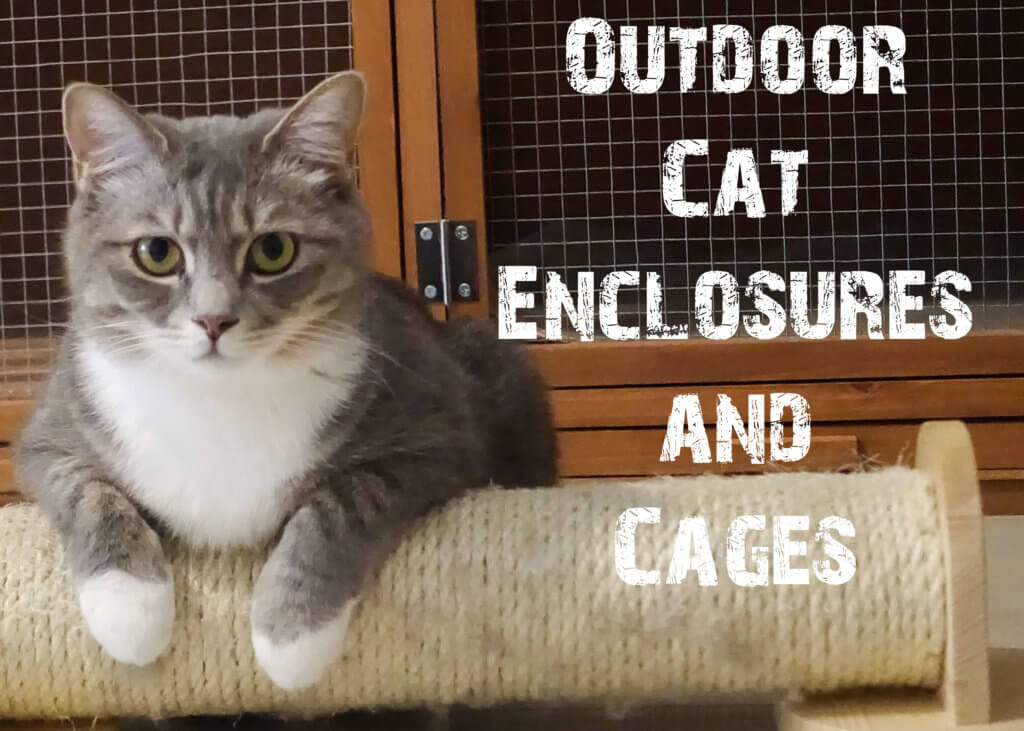 Outdoor cat enclosures (or catio's) protect your kitty with proper shelter, whether it be a variety of cages, a mini house or condo for them to sprawl in. Building or buying the right type of outdoor cat enclosures can be a fantastic way to give your cat a massive area in which they can play, explore and  generally enjoy themselves.
These types of enclosures are going to guarantee that your cat can experience the freedom and joy of being outside, but without you having to worry about anything bad happening to them.
The problem with letting your cat outside in general is just that you don't know where they're going to go, if they could get hurt, etc.
But with outdoor cat enclosures, you can ensure kitty gets to go on their own adventures, but you can also guarantee that nothing bad can befall them.
Types Of Enclosures
#1

K&H PET PRODUCTS EZ Mount Kitty Window Sill

Cat owners that live in small apartments or do not have the space to build an enclosure in a large outdoor space may opt for a window enclosure.

These are very diverse structures, they can be built by hand with materials such as chicken wire, nylon screen, aluminum, or wire storage cubes. You can buy pre-made designs to build a cat window box, which makes the process easily and customization and less expensive.
#2

Tents or Playpens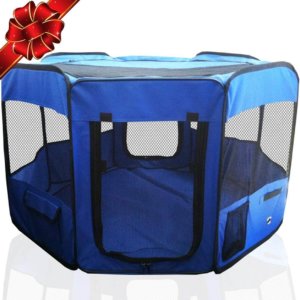 Netted outdoor cat enclosures are portable, easy to fold, pack up, and take on the go, and they also do not take up much space. Sometimes they are called cat enclosure tents.
These enclosures are ideal for those who do not want to set up permanent structures outside their houses, want to be able to move the enclosures around easily, or are maybe on a budget.
They are also ideal for people who only own one cat, since these tents may get crowded. Cat enclosure tents are also ideal for apartment dwellers because they are small enough to fit on a balcony and can be packed away so that the patio can be used by others when the cat isn't.
If you are on the move, currently moving, camping, or taking an extended road trip, and have no choice but to take your poor cat along, an outdoor cat enclosure would be a great thing to bring along, as it can allow your cat a space of his own to move around.
The biggest downside to outdoor cat enclosures is that there is always the chance that they could get blown by the wind, torn, or otherwise tampered with causing your precious cat to escape. purchasing one that is sturdy and has excellent customer reviews like this is best.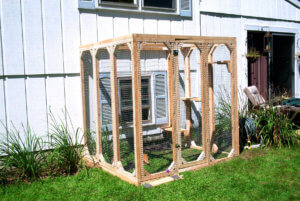 View On Safekitty
A cat enclosure is best attached to your house with access to it from a window typically in a room you don't use much so it can stay open.
This saves you the trouble of wrangling your cat out doors into the cage and he can come and go as he pleases.
These enclosures will offer 24/7 outdoor access for your cat and they will love it! You may have to consider a do it yourself type of enclosure or customize a pre-made wood cage.
#4

PetCaveCo® The Kitty Cave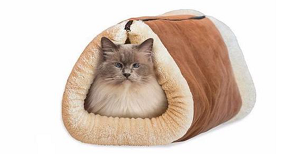 Building outdoor enclosures from scratch isn't for everyone and it requires certain skills to guarantee that it will be able to stand the test of time and the change of seasons.
After all, you don't want your kitty to painfully fall to the ground the first time he jumps into one of the cage's perches, right?
However, PetCaveCo® The Kitty Cave usually happen to be the cheaper option as prices for ready-made ones start in the thousands, going higher based on coverage and design. So before you think of setting up an enclosure, consider how much time and money you can allow for the project.
Always consider how many cats will be using it, how much of their days will potentially be spent in it, and what sort of activities they will engage in while inside.
This will help you decide whether purchasing pre-constructed sets will be worth it or if you or someone you know can build it using any of your selected materials.
Most Do-it-yourself plans are designed to be crafted with wooden planks, plastic boards, and wire panels for these enclosures. Make sure you have the right tools for these types of PetCaveCo® The Kitty Cave projects.
#5

Constructed Wood Cages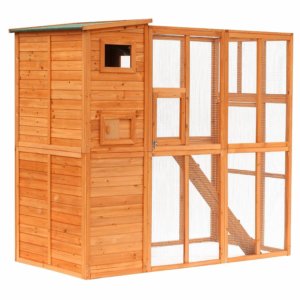 For those who really want to splurge, there are companies out there who design special outdoor enclosures for your cats that are almost like small gazebos into which you can actually step through a human-sized door.
These companies also commonly design outdoor enclosures for larger animals, such as birds, zoo animals, and dogs.  Though these constructions are both permanent and expensive, you may want to choose these if you have several cats and want to give them something very large to enjoy outside.
If you do decide to go with one of these, consider getting one that matches the general architecture of your own home or can be accommodating. This will make the large enclosures look less strange in your backyard.
Features To Look For
If you are in the market for an outdoor cat enclosure, one of the first things that you want to consider is size.
You want to ensure that your enclosure is big enough, for how ever many cats you have, to explore and making sure they are able to have some fun in the outdoors, even if caged.
That usually means purchasing a structure that is quite tall, and also wide. The bigger the cage, the more space to provide plenty of room for running around, as well as exploring in general.  By providing a lot of play space, you keep the cats stimulated, which makes for a much happier and more content life.
There is more to an outdoor cat enclosure than just the structure itself. You may want to think about the kind of things that you are going to be putting inside.  Place items like perches, scratching posts, grass patches, as well as ramps, inside, means your cats can run and climb all around the cage.
Cats love running, climbing and playing on all sorts of surfaces.
It's a good idea to ensure that your cats have plenty of play room, so that they can go wherever they want and that means bigger is better.
When placing perches and surfaces, make sure they are easy enough to scale. Surfaces made from materials like mountain grass or outdoor carpet are ideal, because they can rip and grip, but they are also suitable for outdoor use.
Something else to consider is if your outdoor cat enclosures will be connected to the house or not.
If the structure is large enough, you can have it attached right to the backdoor of your house, so that your cats can get in and out with ease, and whenever they want.  That way, you can ensure your outdoor play place is easy to access, and convenient for your cats to use.
Final Thoughts
When you are ready to buy the right cat enclosure you may discover most local pet stores do not carry them. You will need to do a little research or consider shopping online.  Through retailers like Amazon.com you can find all sorts of enclosures that are ideal for any home.  That way you can choose the perfect outdoor cat enclosures that you know your cat will adore.