The Best Cat Litter for Kittens
This page contains affiliate links. We may earn money or products from the companies mentioned in this post through our independently chosen links, which earn us a commission. Learn More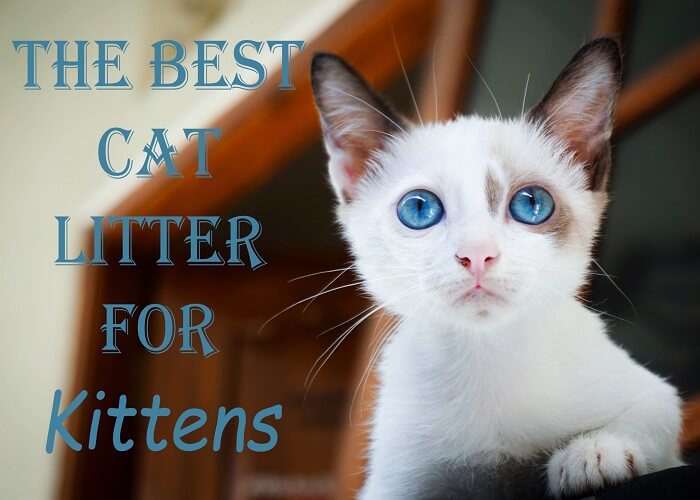 Kittens, unlike older cats, have different needs when it comes to litter. You maybe thinking its best to set up your kitten's litter system immediately, but careful consideration is necessary when selecting the best litter for kittens.
Fortunately, there are many varieties of litter that are designed with kittens in mind. They can be made of materials such as pine which is most common and comes in larger pellets, grass, paper and other natural materials.
These materials often break down when they get wet, rather than clumping or absorbing. The benefit is that if a kitten ingests these pellets, they will break down and pass naturally without any problems.
The 5 Best Cat Litter for Kittens Comparison Chart
The 5 Best Cat Litter for Kittens Reviewed
#1

BLUE Naturally Fresh Kitten Training Quick-Clumping Cat Litter
Product Info:
Price: ~$1/ Ib
Litter Type: Walnut
Made in: USA
Features: Biodegradable, Clumping, Odor Control
The Good
Good odor control
Environmentally Friendly
Dust Free
The Bad
Very lightweight and tracks easily
Strange smell
Not the most economical, price-wise
---
The BLUE Naturally Fresh Kitten Litter is made from 100% U.S. sourced walnuts, making it environmentally friendly. This means that there are no clay particles that your kitten might ingest and it doesn't give off any dust when you pour it.
The pellets are big enough to stay in the litter box and won't stick to your kitten's paws and track through the house.
It also contains a herbal mix that attracts your kitten by the smell, encouraging him to use the litter box. The walnut litter is extremely absorbent and the brand claims that one bag of this litter will last 3 times as long as any other kind.
#2

Purina Yesterday's News Original Paper Pellet Unscented Cat Litter
Product Info:
Price: ~$0.6/ Ib
Litter Type: Paper
Made in: USA
Features: Unscented
The Good
Soft pellets
3x more absorbent than other litters
Low dust & tracking
The Bad
Does not control odor well
Not easy to clean
Price is on the high side
---
Purina's Yesterdays News Cat Litter is made from compressed pellets of recycled newspaper. It is considered environmentally-friendly since its biodegradable.
It also absorbs well, and is often recommended by vets for use by post-surgical cats, since it doesn't cling to paws or fur like clay or other clumping litters. For one thing, pellets don't get tracked around the house. Worst-case scenario, a few dry pieces will get flung out of the litter box, but they are easy to see and clean up.
Since Yesterday's News cat litter not a granule, it's a good choice if you have hardwood in your house; it won't be prone to getting scratched due to tracking like traditional clay litter.
This litter won't get stuck in your kitty's paws, so it won't be licked off and ingested. One of the most obvious reasons people choose Yesterdays News cat litter, is because its dust free and fragrance free. It's also very absorbent: Yesterdays News absorbs 3 times more moisture than clay, however it doesn't clump.
#3

Precious Cat Dr. Elsey's Kitten Attract Scoopable Cat Litter
Product Info:
Price: ~$0.75/ Ib
Litter Type: Clay
Made in: USA
Features: Multi-Cat, Odor Control, Unscented
The Good
Good odor control
No chemicals or perfumes
Low dust & tracking
The Bad
Very lightweight and tracks easily
Has clumping ability
Not the most economical, price-wise
---
Precious Cat Kitten Attract is made of premium scoopable litter with superior clumping ability and ground to an ideal granule size and texture for a kitten's tender paws.
Kitten Attract™ Training litter contains a kitten-specific natural herbal attractant that piques a kitten's curiosity to use the litter box.
The combination of herbs, texture and particle size provides a unique and effective solution for owners of kittens. Dr. Elsey recommends that after one year owners switch to Cat Attract™ to ensure consistent litter box use.
#4

Pioneer Pet SmartCat All-Natural Cat Litter
Product Info:
Price: ~$1.75/ Ib
Litter Type: Grass
Made in: USA
Features: Biodegradable, Multi-Cat
The Good
Good odor control
Kittens love the texture
Advanced odor control and clumping designed to outperform clay
The Bad
Very lightweight and tracks easily
It is a clumping litter
More pricey than other litters
---
Pioneer Pet SmartCat Litter is 99% dust free and is made from grasses that were grown in the USA.  This litter creates solid clumps that are easy to scoop, helping to keep the litter box clean. It is also free of perfumes and chemicals so you and your kitten will not find it offensive.
This grass based litter has a fine, sand like texture that your kittens love to walk and dig in. Odor absorption and liquid absorption is a definitive perk for cat owners and this litter to be the best at accomplishing both.
#5

Feline Pine Original Cat Litter
Product Info:
Price: ~$0.35/ Ib
Litter Type: Pine
Made in: USA
Features: Unscented, Flushable, Odor Control
The Good
Good odor control
Low dust & tracking
Soft clumping
The Bad
Very lightweight and tracks easily
Has clumping ability
Not the most economical, price-wise
---
'This natural litter is made out of pine. It is treated with heat to increase absorbency and reduce dust and allergens.
These maybe easy to scoop out but do nothing to control odor or make the surface of the litter box look inviting.
This pine absorbs from the bottom up from both solid and liquid waste while it traps the odor more effectively. The clumped material is both scoopable and flushable.
---
Which Cat Litter is Kitten Safe?
Some cat litters will have a "Safe for Kittens" label implying they are not a hazard to your kitten. Don't always trust labels and educate yourself by following some basic guidelines where all litters are concerned.
Generally, litter that has larger pieces or pellets are safer. Larger pellets are less likely to stick to your kitten's fur and paws which is how they ingest them. Many cat litters form clumps because it is made from sodium bentonite clay, a substance that expands and forms hard clumps when it contacts a liquid.
There are also clumping litters that are only made up of natural ingredients such as nut hulls, wood or corn. By using a material that breaks down when wet rather than clumping together, you're reducing the chance that your kitten will play with the litter.
What to Consider When Choosing a Litter for Kittens
Size of litter granules – Large Litter Granules can be hard for kittens to move in and dig around in. But smaller granules maybe too easy for a kitten to ingest.
Scented or unscented – Kittens are sensitive to harsh smells and maybe less likely to use a strong smelling litter box.
Kittens like to eat things – Kittens are more likely to become curious and try eating litter, especially if they think it is food because of clumps. Young kittens have smaller diameter intestines and litter can cause blockages. Also, when using a clumping litter, a bit might end up on your kitten's paws and when they groom they will swallow it.
Clumping vs. non-clumping – Clumping litter can be mistaken for food and ingested. By the time a kitten is 4 months old they can safely start using clumping litter.
Kittens paws – Kittens have underdeveloped paws and larger litter granules maybe uncomfortable for your kitten to walk in.
Litter box training – If your kitten is new to the litter box he may need some help. Some litter contains herbal attractants that encourage kittens to use the litter box.
Dust Control – Most clumping clay litters can produce dust, which can irritate your kitten and cause an asthma attack. Dust will also create a mess around the litter box and your house.
Conclusion
With so many safe and high quality litters on the market today, there's no need choose anything less than the best. When caring for a kitten it is important to keep him happy and safe!