The 15 Best Cat Wipes According To Real Cats
This page contains affiliate links. We may earn money or products from the companies mentioned in this post through our independently chosen links, which earn us a commission. Learn More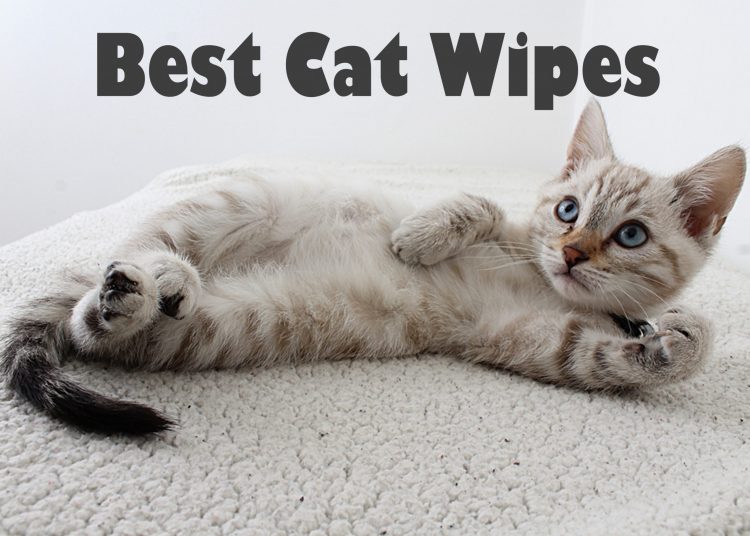 Normally cats do not require baths and tend to be meticulous about grooming themselves. However, there are times when your furry friend may need some help, like when he comes in contact with something smelly, sticky or toxic. Other issues such as ear problems, obesity, chronic illnesses, eye problems, and arthritis, can make it difficult for your cat to groom himself, meaning you may have to lend a hand.
A simple solution for helping your cat get clean is by using cat wipes. In this article we reviewed the best cat wipes based on quality, cost and convenience to help you make an informed decision.
How We Researched The Best Wipes For Cats?
We spent several days researching the best wipes for cats.
We considered over 20 different cat wipes and fine tuned it down to the 10 reviewed in this article.
We did this by reading hundreds of reviews, watching videos and comparing the features of each wipes for cats.
The Best Wipes For Cats Comparison Chart
The Best Wipes For Cats Reviewed
#1

Earthbath Hypo-Allergenic Grooming Wipes

Earthbath Hypo-Allergenic Grooming Wipes are thick, soft, hypoallergenic wipes that gently wipe away dirt and remove odor between baths, as well as help reduce shedding. They are gentle enough for every part of your cats body, and condition the skin with Hawaiian Awapuhi extract, vitamin E and aloe vera. No rinsing is needed after use and they contain no dyes, perfumes, or skin irritants. These wipes can help with allergies and are safe for kittens 6 weeks of age and up.
---
#2

Frisco Hypoallergenic Grooming Wipes

Frisco Hypoallergenic Grooming Wipes are made using gentle ingredients and are ideal for your cat's sensitive skin. They are hypoallergenic without dyes, parabens or added fragrances or perfumes. They are made with all-natural baking soda, mild coconut-derived cleanser and organic Aloe Vera juice that soothes as you wipe. Plus, these wipes formula has added pro-vitamin B5 to help nourish your kitty's coat.
---
#3

Optixcare Dog & Cat Eye Cleaning Wipes

Keep your cat's eyes clean, fresh, and tear-free with the Optixcare Dog and Cat Eye Cleaning Wipes. These convenient, pre-moistened wipes have a gentle formulation with no harsh chemicals, alcohol, bleach, antibiotics, or peroxide, to help reduce tear stains and soften goo below and around your cat's (or dog's) eyes.

It is an ultra-gentle formula that contains soothing chamomile extract, and it is ideal for everyday use, and to help prevent the buildup that often turns into stains on the fur under the eye. Plus, these wipes are lint free so they will not leave behind anything that may irritate sensitive eyes.
---
#4

Earthbath Ear Wipes for Dogs and Cats

Earthbath Ear Wipes for Dogs and Cats works fast to safely get rid of the wax and discharge that commonly lead to ear infections and ear odor.A main ingredient in these wipes is witch hazel, a natural cleanser and astringent. These wipes are formulated with all-natural ingredients and PH balanced. These wipes are also fragrance free and safe for any cat or dog over six weeks of age.
---
#5

Burt's Bees Dander Reducing Wipes

Burt's Bees Dander Reducing Wipes with Colloidal Oat Flour and Aloe Vera for Cats are made with some of nature's finest ingredients for your cat's safety.These wipes are free of colorants, and are pH balanced for cats as well as infused with colloidal oat flour and aloe vera to deeply condition dry skin and reduce flaking. They also can reduce dander and flaking, leaving your cat's fur shiny and soft.
---
#6

TrizCHLOR 4 Wipes
TrizCHLOR 4 Wipes have been formulated for the support of healthy skin of animals with conditions responsive to chlorhexidine, including superficial bacterial and fungal skin infections and acute moist dermatitis (hot spots). These wipes are designed to kill bacteria, fungus, and viruses on the skin and are also effective against multi-drug resistant Staphylococcal infections.
One of the most powerful medicated products available without the need for a prescription. They contain betaine to soothe your cats skin, chlorhexidine to kill microbes, and TrizEDTA which is a buffer to chlorhexidine.
---
#7

Petkin Petwipes Fresh Scent Wipes
Petkin Petwipes Fresh Scent Dog & Cat Wipes are moistened with a natural formula containing aloe, lanolin, protein, and vitamins A and E for a gentle and quick clean-up around your dog or cat's eyes, ears, face and body. These wipes also will not remove spot flea treatments and are gentle enough to use daily.
---
#8

Pogi's Pet Supplies Deodorizing Wipes
Pogi's Deodorizing Wipes for Dogs and Cats is an easy way to wipe away dirt and odor in between baths or when your cats coat needs a little extra help. These wipes are made with aloe vera, vitamin E, and Hawaiian Awapuhi. Together, the all-natural ingredients clean, deodorize, and condition your cat's coat all while giving it a healthy shine.
The extra-large, quilted design is thick enough for long haired cats or those with heavy coats. They are hypoallergenic and completely free of parabens, alcohol, fragrances, chlorine, and harsh chemicals.
---
#9

MalAcetic Wet Wipes
MalAcetic has been formulated to support healthy skin for cats with bacterial and/or fungal skin conditions. With a patented Acetic and Boric Acid based formulation, MalAcetic helps balance skin surface pH making it unfavorable for the overgrowth of fungus/yeast. This cleansing, drying, and de-greasing formula is designed to support healthy skin for cats and is beneficial for pets with sensitive skin to quickly remove allergens and other pathogens.
---
#10

Petkin Dog & Cat Paw Wipes
These wipes provide an easy way to clean your cat's feet, stopping the spread of litter, mud and odor throughout your home and car. This unique formula contains cleansers to remove tough dirt and smells as well as aloe vera and vitamin E to soothe rough, dry or cracked feet. They are also gentle enough for everyday use. These can be used on both dogs and cat's feet.
---
#11

TropiClean Deep Cleaning Deodorizing Wipes
Keep your cat clean and fresh with TropiClean Deep Cleaning Deodorizing Pet Wipes. TropiClean Deep Cleaning Deodorizing Wipes washes away dirt, pollen, dander and eliminates odor for a simple and quick clean when your cat needs it. Made with a mild coconut cleanser, it lifts away dirt, drool, pollen and is soap-free meaning it will not affect flea treatments.
---
#12

Glandex Cleansing & Deodorizing Hygienic Anal Gland Pet Wipes
Glandex Anal Gland Hygienic Pet Wipes gently clean your cat's anal area after anal gland expression. Active ingredients include aloe leaf juice and vitamin E to soothe, relieve and naturally deodorize his anal area.These cleansing cloth wipes are soft enough to be used on a daily basis and include skin conditioners and a lovely, fresh fragrance to eliminate tough odor from secretions. These are veterinarian recommended to support anal gland health and proper hygiene. Most importantly they can also be used all over the body, on paws, coat, face, and ears.
---
#13

Petkin Dog & Cat Tushie Wipes
Keep your kitty's bottom clean and healthy with Petkin Dog & Cat Tushie Wipes. These hygienic towels contain a special deodorizing formula with real Eau de Toilette to leave your cat clean and smelling fresh. These wipes provide a convenient way to keep your cat's bottom fresh and your home clean from accidents.
They are made with aloe vera, vitamin E, and Eau de Toilette for a soothing and deep clean and are gentle enough for everyday use.
---
#14

 VetOne KetoHex Antiseptic Pet Wipes
VetOne KetoHex Antiseptic Pet Wipes feature chlorhexidine, which acts as an antibacterial, and ketoconazole, which is an antifungal, the antiseptic solution is used to clean the skin. Ideal for difficult areas on your cat like skin folds, the groin, and the underarm. These wipes can help in the treatment of skin disorders and certain skin infections from one to three times per day. The wipes are good for use in dogs, cats, and horses, and come in a convenient, ready-to-use canister for single-use application.
---
#15

Vet's Best Flea + Tick Wipes
Vet's Best Dog Flea + Tick Dog & Cat Wipes fight fleas and ticks with a unique blend of certified natural essential oils and plant-based ingredients. Peppermint oil and clove extract (eugenol) help control and kill fleas, flea eggs, and ticks on contact, and also repels mosquitoes as well.It uses absolutely no chemical pyrethrins, permethrins or cedar oil, so it's safe for humans to touch and use around the house. The non-staining formula is great for home surfaces like countertops, baseboards, pet bedding and collars, so it can be used everywhere you need it. These wipes are safe for use on or around dogs and cats 12 weeks or older.
---
When choosing a wipe for your cat there are a few things to consider:
Ingredients – Look for cat wipes with natural and quality ingredients that will not irritate his skin. It is ideal to look for hypoallergenic and unscented wipes especially if you cat has allergies. Also consider a soap free option if your cat has flea treatments on his skin.
Body Part –  Some cat wipes can be used all over the body, and others are designed for specific body parts like eyes, anal area, feet or ears.
Wipe Type – Wipes usually come in two types, antibacterial and grooming. Antibacterial wipes handle heavy messes and help with the maintenance of skin issues. Grooming wipes are gentler for general cleaning purposes and usually do not contain any extra antiseptic properties.
Portability – This may not be of huge importance with a cat but for people who do travel with their furry friend it maybe helpful. Most cat wipes come in convenient containers or small packages making them easy to pack away or leave in the car.
Cost –  Cat wipes come in different sizes and prices. Also some wipes are for certain body parts and may cost more depending on ingredients and their purpose.
Conclusion
Besides the occasional brushing, cats rarely want their humans assistance when grooming. Cat wipes do come in handy when your kitty needs a little extra help due to illness, age or mishaps. Depending on your cats grooming needs, its always good to be prepared with the right tools.
Frequently Asked Questions
Can you use baby wipes on cats?
Do not use any that have perfume or any scent on them at all. Your cat will lick their fur and if it is scented, this could cause them to get an upset tummy and that is not good for the cat. All cat wipes are gently formulated and nontoxic. The cleansing agents are okay for your cat to ingest. You don't have to worry about her when she licks and grooms (and she will) directly after being wiped down with a cat wipe.
Can I use dog wipes on my cat?
Most dog wipes are made for cats as well. In fact most wipes are manufactured for all pets and are hypoallergenic and fragrance free. There are many wipes specifically made for cats on the market today.
Are Lysol wipes safe for cats?
Lysol disinfecting wipes are considered hazardous to domestic animals.The ingredient phenol in Lysol, has been known to cause problems in cats, including local irritation of the skin or softer mucosal tissues of the mouth or digestive tract. Liver toxicity may also occur.​