Rachael Ray Nutrish Cat Food Review
This page contains affiliate links. We may earn money or products from the companies mentioned in this post through our independently chosen links, which earn us a commission. Learn More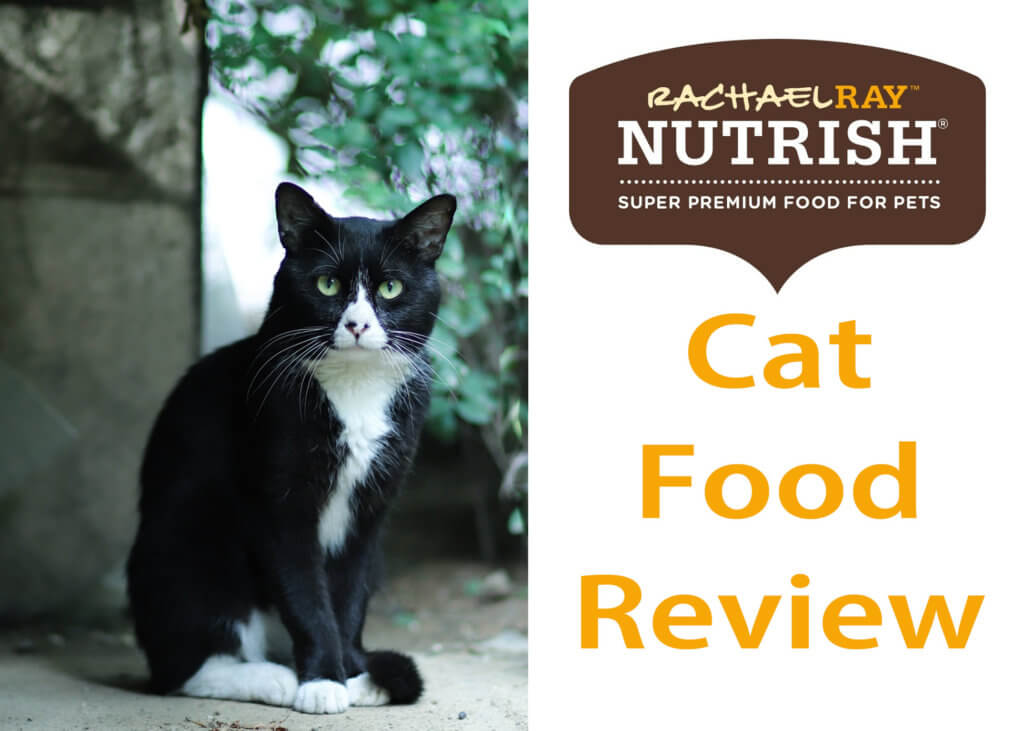 American television personality and celebrity chef Rachael Ray, developed her own line of pet food products called Nutrish.
This brand of cat food features products that are inspired from Ray's own recipes but designed to meet the nutritional needs of cats in all life stages.
Nutrish states that they "want to make sure our pets get the best of everything life has to offer" which is why they use fresh, wholesome ingredients in formulas that are complete and balanced.
There are several lines to choose from, which are made with real meat, fish and other natural ingredients, as well as added vitamins and supplements.
Our Review Process
We purchased all of the cat food for this review
We did not accept free products in exchange for a favorable review
We did extensive research and hands on testing
When you make a purchase through one of our links, we receive a percentage of the proceed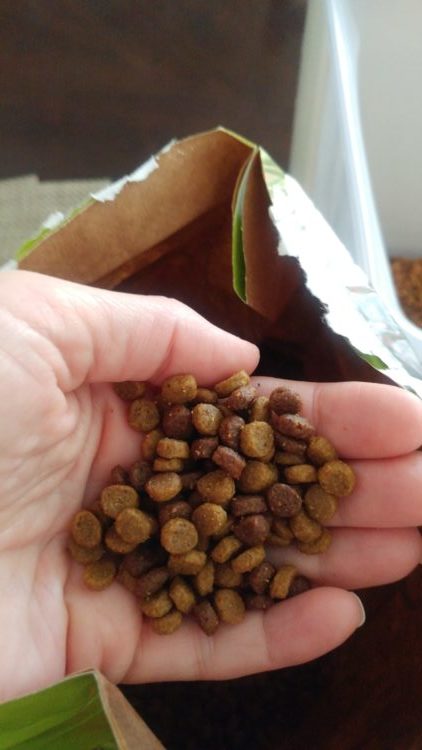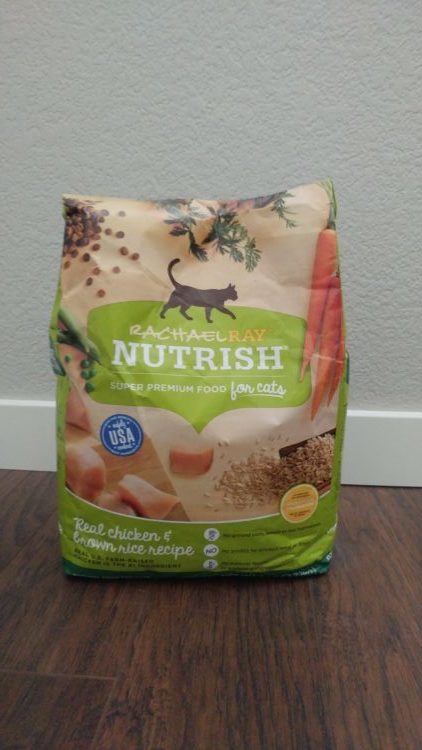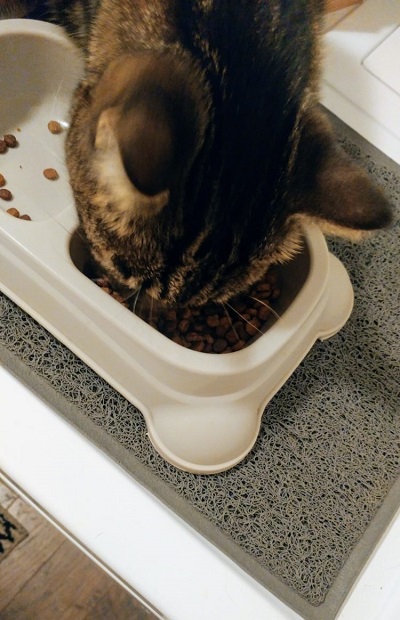 About Rachel Ray Cat Food
Iams sells pet food for cats and dogs formulated for all ages and stages of life.
Its products are developed by nutritionists and veterinarians and can be found in three main formulas: ProActive Health, Healthy Naturals and Premium Protection.
Veterinary formulas for pets with special dietary requirements are also available.
Pet food was not available in stores and pets were predominantly fed homemade food and table scraps.
The Iams Company was founded in 1946 in a small feed mill near Dayton, Ohio by animal nutritionist Paul Iams.
In 1950, he developed the world's first animal-based protein, dry dog food and later developed cat food recipes. Prior to founding Iams, he worked for a number of companies including his father's feed business.
How Rachael Ray Cat Food Ranks?
Rating:
Ingredients: [usr 3 text="false"]
Pricing:  [usr 4.5 text="false"]
Variety:  [usr 4 text="false"]
Quality:  [usr 3 text="false"]
Overall Rating:  [usr 3.625 text="false"]
Where Is Rachael Ray Cat Food Made?
The Nutrish brand is manufactured by Ainsworth Pet Nutrition in Meadville, PA. Ainsworth Pet Nutrition has been producing and manufacturing quality pet foods for more than 80 years and offers affordable, quality products. Ainsworth Pet Nutrition operates as a family-run business. Nutrish Brand wet foods are manufactured in Thailand.
Nutrish states their ingredients are sourced from the U.S, Canada, Australia and Europe.
Analysis And Review
#1

Rachel Ray Nutrish Indoor Complete
Product Info:
Price: ~$1.5/ Ibs
Food Type: Dry
Made In: USA
Protein: 34% Min
Fat: 12% Min
Caloric Content: 359 per cup
The Good
Chicken is first ingredeint
Small size kibble pieces
Rich in fiber
The Bad
High in carbohydrates
Contains meals
---
Rachael Ray Nutrish Natural, Chicken with Lentils and Salmon dry cat food, is one of the more popular kibbles offered in this line. It claims to contain a super-food blend that meets the needs of your indoor cat. The kibble pieces are a small size for your cat to chew & swallow.
An extra added bonus is a portion of the proceeds from each sale of Nutrish is donated to The Rachael Ray Foundation, which helps animals in need. The funds are used for food, medical supplies, treatments, and more.
The first ingredient is chicken which is a great source of protein. However the second ingredient is chicken meal which is a dry rendered product from a combination of chicken flesh and skin with and without accompanying bone. Basically its  it's ground down, melted and cooked for hours to finally create a powder. It is then cooked again to add to your cats food.
The third ingredient is corn gluten meal. Cats do not digest corn well and get very little nutritional value from it.
Even though corn gluten meal does have protein, it's not the kind of protein that cats benefit from. Cats have to eat twice as much corn to get the same amount of protein that they would from meat or egg proteins.
The next group of ingredients are dried ground peas, lentils, and pea protein.
While peas and lentils do contain a good amount of protein and are a good source of carbohydrates and fiber, they are still "fillers" and a way to increase protein in a less expensive way. This also applies to dried beet pulp and powdered cellulose which are actually wood pulp used as fillers and linked to digestion issues in cats.
Dried cranberry, dried blueberry, and dried pumpkin are known as a super foods, packed with vitamins and antioxidants, and are becoming more common ingredients in cat food. Antioxidants are also used as a way of preserving pet food. Blueberries are also used as a colorant. Pumpkin has been known to help cats with both constipation and diarrhea.
#2

Rachel Ray Nutrish Natural Wet Food
Product Info:
Price: ~$0.2/ Oz
Food Type: Wet
Made In: Thailand
Protein: 9% Min
Fat: 3% Min
The Good
High in protein

No artificial colors, flavors or preservatives

Grain free
The Bad
Contains fillers
Contains firming agents
---
Rachel Ray Nutirsh Beef and Chicken Catterole states it is made with simple, natural ingredients and filled with added vitamins and minerals, such as taurine, iron, vitamins A, B12 and D3. These wet foods are grain-free and do not contain artificial flavors, preservatives or meat by-products. They come in a plastic container with a peel back lid and offer several flavor varieties.
The first ingredient is Chicken broth which has been known to increase water consumption while providing a very low calorie treat. Beef and Chicken are the next two ingredients and both are great sources of protein.
Powdered cellulose is considered a filler and is most likely sawdust. Pet food sawdust is not the same quality as that which goes into human food and it is unknown what it does to your cats insides.
Vegetable oil is high on the ingredient list and is considered a god source of linoleic acid. It is helpful in keeping your cats skin and coat shiny and healthy.
Here again we see pea protein which does contain a good amount of protein and is a good source of carbohydrates and fiber, but is still a "filler" and a way to increase protein in a less expensive way.
Cassi gum, xanthan gum and guar gum are considered emulsifiers, firming agents, and stabilizers. Their function is to thicken fluids, increase viscosity and reduce ice crystal formation. These are often found in processed foods and can be difficult for cats to process.
Further down the ingredient list we see added vitamins and minerals like fish oil, folic acid, vitamin B and vitamin D3 which are added for additional health benefits but most are low on the list.
Recalls
In June 2015, the FDA issued a recall for five wet cat food recipes as well as two variety packs that included those recipe flavors. This recall was issued due to potentially elevated levels of Vitamin D.
Where Can You Buy Rachael Ray Cat Food?
The dry cat food and wet cat food formulas mentioned above can be found on Amazon and Chewy if you shop for cat food online. You can also find it at stores like Petsmart, Petco, Walmart, Target, Walgreens and your local grocery store.
Is Rachael Ray Cat Food Good For Your Cat?
Rachael Ray Nutrish cat food offers a variety of meals that are tailored for the specific needs of the cats in all stages of life.
There are also grain free and high protein recipes available. While this cat food may not be the most healthy, it is budget friendly for cat owners who want to give their cats a healthier diet.
When buying Nutrish, a portion of proceeds is donated to The Rachael Ray Foundation, which helps animals in need through Rachael's Rescue.