150 Best Black & White Names For Tuxedo Cats
This page contains affiliate links. We may earn money or products from the companies mentioned in this post through our independently chosen links, which earn us a commission. Learn More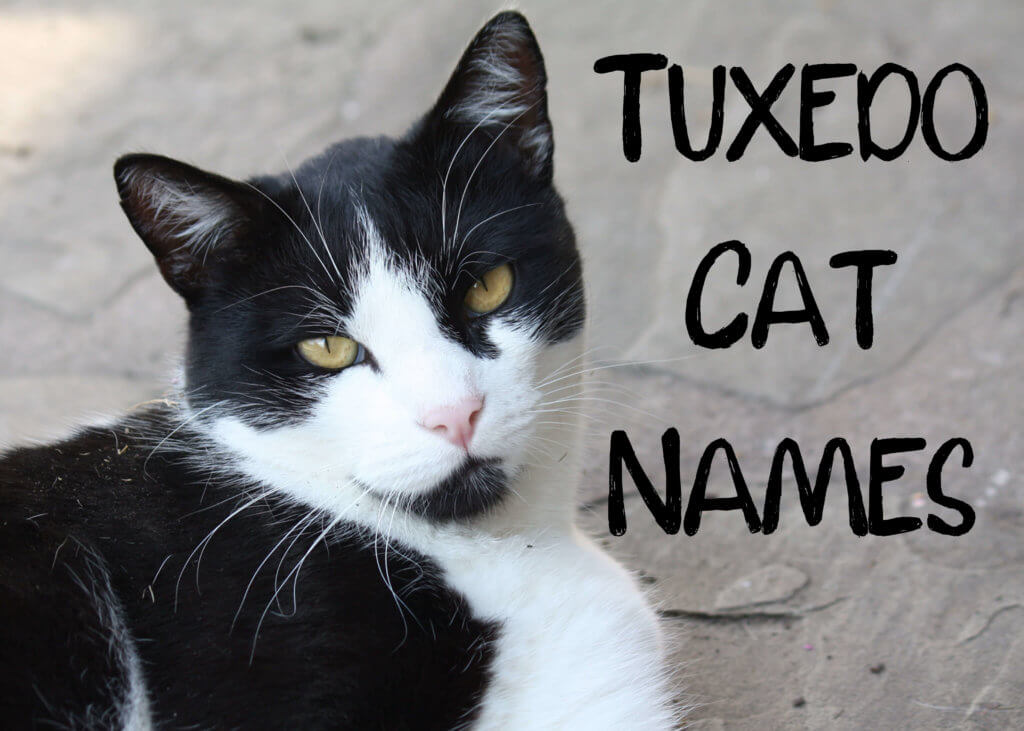 Tuxedo cats have that suave, sophisticated look about them and your tuxedo cat's name should reflect that. These black and white cats are very popular and can display so many pattern combinations making a name choice easy.
For those who still need ideas, there are over a hundred names below that could work perfectly for your tuxedo cat. Simply browse and pick your favorite, from names like:
BOND – Suave secret agent
HOLLY GO LIGHTLY – Audrey Hepburn's character in 'Breakfast at Tiffany's'
PANDA – A cuddly black and white kitten
TUX – Short for tuxedo
Male Tuxedo Cat Names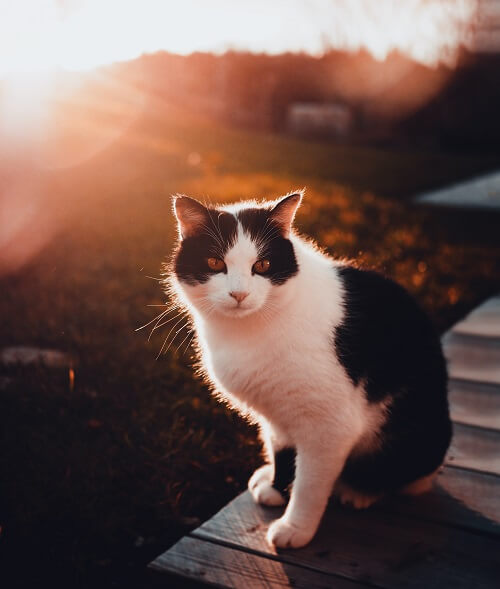 ABERCROMBIE- Coined from the famous American casual wear lifestyle retailer Abercrombie & Fitch that perfectly describes the beautiful coat of your Tuxedo coat
BADGER- Great name for your cat with a white stripe on the forehead like the burrowing animal with the same name
BEAU – A French name for your handsome cat.
BOND- Name him after James Bond the spy loved by every woman
BUTLER- Perfect for your black and white-colored Tuxedo cat who looks like he's wearing a butlers coat
CHAPLIN-Name him after the English comic actor Charlie Chaplin who wore his toothbrush mustache perfectly
CHECKERS- This name will suit your bicolor Tuxedo cat
CHICO –This cute simple short name means boy or lad in Spanish
DANDY-A Greek name for a warrior cat
DOUGRAY-Name him after the Scottish actor Dougray Scott known for his roles in the Ever After, Hitman and Impossible 2 films
ENZO – This Italian name means a winner, and it can also be used to pay tribute to the famous automaker Enzo Ferrari
FELIX – Name him after the World's famous Felix cat with a black and white coat
FIGARO-Name him after the sweet black and white cat character in the Walt Disney film Pinocchio
FREUD –An ideal name for a cheerful cat
GUINNESS – For those who love the famous beer from the Irish brewer Arthur Guinness
HARPO – If you love comedy, you can name him after the famous American comedy actor Harpo Marx
HILTON- If he's originally from a hilly town name him Hilton
HUGO BOSS—A stylish name derived from the German fashion house Hugo Boss
JAMES-Derived from the Hebrew name Jacob and suites a cat who follows instructions
JAZZ-A wonderful name for a cat with lots of energy and vigor
JEEVES-Name him after the famous fictional butler Reginald Jeeves who wears a black and white tuxedo.
JOLSON- Great name for a cat who loves to entertain like the famous American singer Al Jolson, dubbed the world greatest entertainer
KANE –What an ideal name for a cat who loves to wrestles, after the American wrestler Glenn Thomas Jacob known by the ring name Kane
MCVICAR- The deputy of a bishop in the church of England known for wearing black and white robes
MILES DAVIS-Derived from the most influential American jazz trumpeter Miles Davis
MISTER-What a perfect name for a cat who is a gentleman
CAIRO– A name derived from the second album by John and Vangelis, Friends of Mr. Cairo
OREO –Name him Oreo after your favorite delicious black Oreo cookie with the sweet and creamy white frosting
OZ – An ideal name for a strong and courageous cat.
PENGUIN – A perfect name for your black and white coated cat
RANGER-For, a courageous cat who likes to wander in the woods
RINGO –Name him after Ringo Star, a famous British drummer
SINATRA– Cute name for your tuxedo cat with blue eyes after the American singer Francis Albert Sinatra with the nickname OL Blue Eyes
SOCCER-A wonderful name for a playful cat who looks like a black and white soccer ball
STANLEY-A Hebrew name meaning 'God be my judge' for a cat who doesn't find faults
TC- Indian for dragon killer and perfectly suits your cat who is always victorious in his battles
TUX- A cute pet name for your tuxedo cat
VALENTINO-Derived from Latin word valentines, a perfect name for your healthy and strong cat.
WINSTON-A perfect name for a cat who brings you joy
ZINZAN-Name him after New Zealand rugby player Zinzan Valentine Brooke
Female Tuxedo Cat Names
ALEXIS-A lovely name for a gorgeous girl with a white coat
AMBER-A lovely name for a tuxedo cat with yellow eyes
AUDREY- Name her after British humanitarian Audrey Hepburn who had a gorgeous white cat
BAYLEE –An ideal name for a beautiful cat who is orderly and also has a nice personality
BETTY BOOP- If you love her large eyes and curly black hair, why not name Betty Boop
CABARET- This lovely name is fit for your joyous easygoing cat
CAPUCINE-Name her after the sexy French comic actress Capucine starring in the films Pink Panther and What's new Pussycat
CHESS-What a cute name derived from the classic chess game often having black and white pieces
CHRISTABEL- A charming name for a beautiful kitty
CONTESSA- An Italian name for a loyal cat
DARCEY-A lovely name for your dark-haired cat that matches her sophisticated look
DIVA- A Latin name meaning goddess for a beautiful cat who rules her world
DOMINO – This name is derived from the classic Domino game with black and white dots
DUCHESS-A lovely name for a sophisticated cat who loves to be in control
EMMA-A German name meaning universal for a cat who has all the traits you desire
FELICITY-A lovely name for a cat who brings you happiness and good luck
GALAXY-What a beautiful name derived from the black and white-colored Milky Way
GOSSIP-A unique name for a cat who enjoys small talks
GUCCI-A beautiful name for a cool cat derived from the Italian fashion house founded by Guccio Gucci
HOLLY GO LIGHTLY-Name her after the famous British singer Holly Golightly
LUNA-A trendy name if her coat has a greyish tint like the moon
MAGPIE- Name her after an intelligent black and white passerine bird
MARCELLA-A lovely name from your favorite TV series Marcella directed by Hans Rosenfeldt
MAYBELLE-A French name for a beautiful tuxedo cat
MITZI-A Hebrew name fit for your small and bitter kitty
MONA- We can't think of a more smart name if you want to name her after the famous Mona Lisa painting
MOONBEAM- Fits her perfectly if she's bright as a beam of light
NIKITA- Who wouldn't want to be named after the deadly and sexy Maggie Q who stars in action thriller series Nikita
OPHELIA- A beautiful name derived from a character in  William Shakespeare's drama Hamlet
PANDA-A cute name for a cat who if fluffy like a bear
PIAF-A unique name for a cat who loves music like the French singer Edith Piaf
RITZ- Give this name to your favorite kitty who is always nibbling on your Ritz Crackers
SHOWBIZ- Short form for show business for a creative cat who loves the limelight
SNAPSHOT-A modern name for a cat who is quick at her feet
SOPHIE-A Greek word meaning wisdom for an intelligent cat.
TESS-A diminutive form of Theresa and fits a kind cat with a white coat like the simple white sari worn by mother Theresa
TILDA– A German name meaning strength in battle and its ideal for your strong and courageous cat
TRILBY-Derived from the novel Trilby by George du Maurier
VOODOO- This creative name fits your black cat who always seems to have tricks up her sleeve
ZOE- This cute Greek name fits your Tuxedo cat who is full of life
Conclusion
Whether you have just brought home a black and white kitten or adopted a rescue cat who needs a new identity, your unique kitty needs a name to fit. Maybe you already have a tuxedo cat with a cool monochromatic name? Comment below and let us know!