The 5 Best Cat Food For Egyptian Maus
This page contains affiliate links. We may earn money or products from the companies mentioned in this post through our independently chosen links, which earn us a commission. Learn More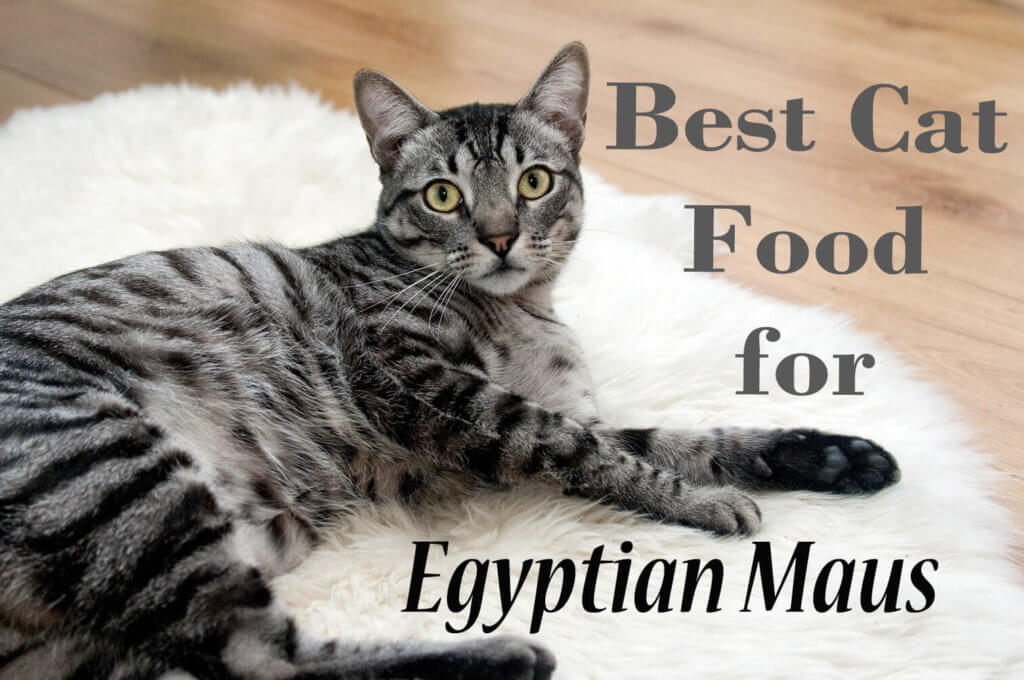 The Egyptian Mau is sometimes referred to as the Greyhound of the cat world. This strikingly spotted cat has been clocked at 30 miles per hour and has extraordinary leaping ability.
Originating in Egypt and possibly a descendant of the African wild cat, this breed is the only domestic cat with a natural spotting pattern.
The Egyptian Mau is gentle, shy and athletic. They also love to climb, chase toys and smart enough to open doors and drawers to get at what he wants.
Because your Egyptian Mau is so active, he will need to stay fueled with a nutritious diet. If you are not sure what the best cat food for your Egyptian Mau cat is, then read on for our recommendations.
The Best Cat Food For Egyptian Maus Comparison Chart
The Best Cat Food For Egyptian Maus Reviewed
#1

Fancy Feast Delights Wet Cat Food
Product Info:
Price Range: ~$0.2/ OZ
Food Type: Wet
Made In: USA
Protein: 10% Min
Fat: 2% Min
The Good
Inviting texture
High in protein
Many flavor choices
The Bad
Contains by products
Sensitive stomachs may not handle well
Purina Fancy Feast Delights wet cat food is made with grilled chicken and aged cheddar cheese (and additional flavors) in a gravy.
The high-quality ingredients deliver a nice texture you can see, and the gravy adds to the rich taste. It's made with 100% complete and balanced nutrition for kittens and adult cats, meaning this wet cat food is a good choice for all stages of life.  Choose from many Purina Fancy Feast Delights varieties to give your cat a range of meal choices.
#2

Blue Wilderness Dry Cat Food
Product Info:
Price Range: ~$2.8/ Ibs
Food Type: Dry
Made In: USA
Protein: 40% Min
Fat: 18% Min
The Good
High Protein
Healthy carbohydrates
100% grain free
The Bad
Price on the high side
Pieces maybe very hard to chew
For cat owners who want to feed your cat high protein without grains, there's few other choices than BLUE Freedom. Free from the grains and gluten's and there is food for all ages of cats.
Made with natural ingredients and a precise blend of vitamins, minerals and antioxidant-rich kibble. It contains no by-product meals, no corn, wheat or soy and nothing artificial.
It is also made with high-quality protein and natural fiber sources, meaning the BLUE Freedom recipe is made to support weight control in cats.
With the addition of vitamins, minerals and antioxidants, this cat food formula is made to support your cat's healthy immune system no matter the age or breed.
#3

Nutro Indoor Cat Food
Product Info:
Price Range: ~$2.6/ Ibs
Food Type: Dry
Made In: USA
Protein: 33% Min
Fat: 14% Min
The Good
Helps maintain weight
High quality ingredients
Noticeable improvements in cats coats
The Bad
Price on the high side
Some complain cats refuse to eat
Contains "meal"
NUTRO Indoor Cat Food is a natural cat food that provides natural fiber for healthy digestion and essential antioxidants. Since it is for indoor cats, it helps control weight.
It also contains vitamin E for a healthy immune system, plus vitamins, minerals and other nutrients. This cat food also is made with Omega 6 fatty acids, to promote healthy skin and a soft, shiny coat.
All Nutro cat food is made with Non-GMO ingredients and has no artificial flavors, colors or preservatives. Every cup of cat food is nutrient dense so your cat gets the right amount of calories.
#4

Natural Balance Wet Cat Food
Product Info:
Price Range: ~$0.5/ OZ
Food Type: Wet
Made In: USA
Protein: 10% Min
Fat: 2% Min
The Good
Grain free
Many flavor choices
No artificial flavors or colors
The Bad
Strong odors
Price on the high side
Natural Balance Wet Cat Food Formula offers complete and balanced nutrition for all breeds of cats. It is made with premium quality ingredients and has no artificial flavors, colors, or preservatives.
This cat food targets the unique needs of  domestic cats, such as weight management and digestive health support which also helps maintain healthy weight in cats.
This formula is loaded with omega-3 and omega-6 fatty acids which help support healthy skin & shiny coats. There are many flavors to choose from and different textures as well.
#5

Crave Indoor Cat Food
Product Info:
Price Range: ~$3/ Ibs
Food Type: Dry
Made In: USA
Protein: 40% Min
Fat: 16% Min
The Good
Chicken is 1st ingredient
Grain free
Affordable
The Bad
Larger size kibble
High carbohydrates
Crave Indoor Grain Free Dry Cat Food contains protein from chicken and salmon. Real Chicken is the first ingredient and these protein-rich recipes provide cats with energy and supports their lean bodies. 
Cats can enjoy the taste and nutrition of a diet that's rich in animal proteins, not soy or grains such as corn or wheat. The grain free formula has 40% high-protein ingredients to accommodate a cats' natural diet, Real Chicken 1st Ingredient giving this food a meaty flavor.
Ingredients To Look For
As a general rule, the order of ingredients on the label is just as important as the type of ingredients. Unless your cat is on a special diet for medical reasons, the protein source should always be listed first, followed by other ingredients listed in the order of their percentage to total weight. Here is a quick list of things you will find on your cats food label.
Protein Source – This is the most important ingredient to look for in cat foods. Look for chicken, turkey, lamb, salmon, etc. They can be followed by named organs such as, chicken liver, chicken heart, both rich sources of taurine.
Carbohydrates – Since cats are obligate carnivores, they must have meat to survive and they do not need carbohydrates. Cats may have problems digesting some carbohydrates and many food allergies are triggered by the carbohydrate content of foods. Look for whole grains, such as brown rice, barley, or wheat. Try to keep Carbohydrates to a minimum.
Fat Source – Always look for a named fat source, like chicken fat. You may also see sunflower oil, or other oils listed, usually in premium foods.
Vitamins and Minerals – Vitamin C  and Vitamin E  are often added as preservatives, along with other vitamins and minerals.
Taurine – Taurine is an amino acid that can be readily produced by the human body. But, cats need a dietary source of taurine for good health. Taurine deficiency can cause a heart disease called dilated cardiomyopathy. For several decades cat food manufacturers have added taurine to cat food.
Health And Issues
The Egyptian Mau is generally healthy, but one problem that may affect the breed is hypertrophic cardiomyopathy (HCM). It is the most common form of heart disease in cats and causes enlargement of the heart muscle. You may have heard that it is caused by poor nutrition, but the disease is hereditary.
If your veterinarian detects a heart murmur in your Egyptian Mau, an echocardiogram can confirm whether he has HCM. Another disease, although rare is  Leukodystrophy or "Krabbe's" disease.
The disease leads to a deterioration in nerve function, usually in the limb muscles, leading to weakness, poor coordination, and the inability to stand. The first signs may appear as young as seven weeks of age and progress rapidly, but sadly there is no cure.
Eating Habits
Like all cats, the Egyptian Mau eats meat. Talking with your veterinarian about the cat food choices and following the directions on the label will help ensure your Egyptiam Maus diet is balanced and he stays healthy. This breed does like to eat all day, so it's recommended to leave food out for him.
You may consider leaving half the food out in the morning and the other half in the evening if portion control is needed. Though you might like to give your Egyptian Mau treats, keep them to a minimum. The more snacks they get, the more they will stray from their core diet.
Conclusion
Overall, there is no doubt that with their smart and loving personalities, an Egyptian Mau would make an excellent addition to any home which has the time to devote to them. Finding the right quality cat food for your Egyptian Mau can help your cat have a long and healthy life.