Best Anti Tracking Cat Litter Mats
This page contains affiliate links. We may earn money or products from the companies mentioned in this post through our independently chosen links, which earn us a commission. Learn More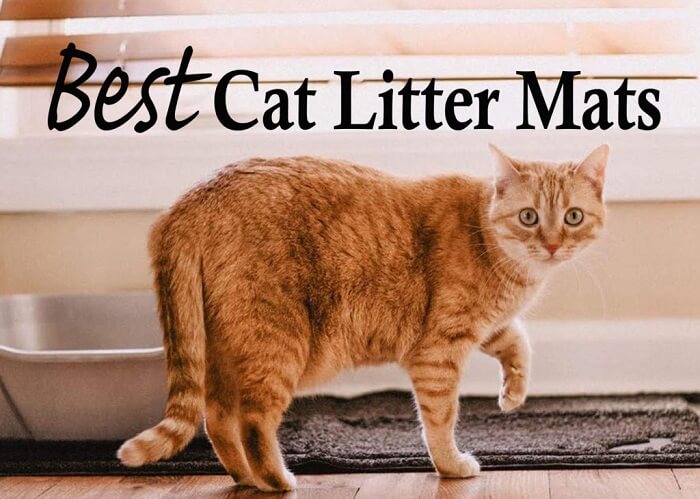 We all love our little furry feline family members but cleaning up after them can be time consuming and constant. If you own a cat, then you have a litter box and have spent much time cleaning around it. Even the neatest cat drags litter outside the box in their paws which will ultimately end up all over the house.
In an earlier article, we provided tips on how to control cat litter tracking. Before committing to buying a cat litter mat, you may want to check those tips out by clicking here. But, if you have already decided you really want a litter mat, keep reading.
Litter mats work wonders in reducing litter granules and dust from the paws and restricting it to the area around the cat litter box only. As with so many other cat products, there are many cat litter mats to choose from depending on your wants and needs.
Below, we have picked the top five cat litter mats based on price, rating, materials and maintenance so that you can make an informed decision.
Best Cat Litter Mats Comparison Chart
The Best Cat Litter Mats Reviewed
#1

Pawkin Cat Litter Mat
Product Info:
Price Range: $$
Material: Premium Soft PVC
Money Back Guarantee: Yes
Features: Extra Large, Non-Slip
The Good
Non-toxic phthalate free mat that is safe for you and your cat
Traps litter with ease and is highly efficient
Extremely high quality rubber material
Budget friendly
100% money back guarantee, no question asked
The Bad
Cleaning off litter may not be as easy as stated
Trapped litter may cause odor
---
Pawkin achieved near perfection with their Phthalate free cat litter mat. This rubbery pvc mat can be vacuumed, hosed off or shook out for easy clean up. The texture is designed to please cats with the most sensitive paws and is free of cancer causing toxins. Keep your floors clean, safe and fearless of walking barefoot in your home, once you purchase the Pawkin cat litter mat.
Features
There are a number of things that are great about this cat litter mat, beginning with the texture. It is a rubbery mat with interwoven patterns and small holes that efficiently trap the litter from your cats paws. If litter gets kicked outside the litter box, the texture of the mat makes it impossible to move and be scattered across the floor.
This litter mat is available in two color variations; beige and gray. Pawkin also offers 100% money back guarantee with no questions asked if you are not satisfied with their product.
#2

Easyology Premium Cat Litter Mat
Product Info:
Price Range: $$
Material: Natural rubber
Money Back Guarantee: Yes
Features: BPA-free, Ideal for sensitive cats
The Good
 High quality long lasting material
Thick and durable mat
 Mat pattern allows more litter to be trapped
 Large size to ensure that the mat catches all the litter spills
 Affordably priced
Several color choices
The Bad
Water might seep under the mat if wet
 Cleaning could be difficult even with a vacuum
---
Easyology has created a mat that is both durable and soft. It also features deep grooves and quality mesh to capture litter better than many other mats. The extra thick and extra large PVC material won't tear easily, while the unique patented design traps up to 37% more litter than other mats. Also, this kitty litter mat is phthalate free and the super soft material is gentle on your cats sensitive paws.
Features
The litter mat has got both thick mesh as well as grooves. This makes it even more efficient in trapping the litter pieces and prevents tracking throughout the house. There is a wide array of colors to choose from, making decorating your cats litter box area much easier.
This litter mat is also fairly priced for a quality cat litter mat. The materials used are high grade and soft, that is pet friendly and your cat will love to use it.
#3

Moonshuttle Blackhole Rectangular Litter Mat
Product Info:
Price Range: $$$
Material: Soft EVA rubber foam
Money Back Guarantee: N/A
Features: Scratch-proof, Non-Slip, Non-toxic
The Good
Innovative design that traps litters under the top area of the mat
Waterproof, washable, and air dries quickly
 Non toxic
Comes in several color choices
The Bad
 Price on the high side
 Some say the corners curl up after washing
---
Innovation doesn't always need to be something really costly and Moonshuttle has proven it with this product. This versatile cat litter box mat help keep litter from being tracked or scattered across your floors by trapping it in a dual-layer design. The Honeycomb designed mat holds pieces of litter fallen between the layers.It is also extra-large in size and will easily accommodate up to three cats.
Features
There are small holes in the mat with a soft mesh on top of it. The mesh grabs all types of litter particles, off the paws and it drops into the second layer that then holds the litter particles. The mat opens on the sides, making it easy to open up and dump the litter back into the box.
#4

iPrimio Litter Trapper
Product Info:
Price Range: $$
Material: Rubber
Money Back Guarantee: Yes
Features: Extra Large, Non-Slip, Water Repellent
The Good
Has larger holes allowing more litter to pass through the top layer
The mat opens on three sides making cleaning easy
Repels urine and deters odors
The Bad
Price on the high side
 May not repel odor as well as it claims
---
iPrimio Litter Trapper is another innovative design with large sized holes to trap litter in the second layer. Trapper has a smooth surface that doesn't bother cat paws like some other mats. This mat comes in two colors and is jumbo sized, which is great for use with puppy training pads or large litter boxes.
Features
The mat has been modified to open on three sides making litter dumping easier. Also the three way opening makes cleaning more effective and simple. It repels odor and not allow it to get trapped.
#5

Caldwell's Extra Large Dust Free Litter Mat
Product Info:
Price Range: $
Material : Premium Soft PVC
Money Back Guarantee: Yes
Features: Non-toxic, Non-Slip
The Good
Reasonably priced
Heavy mat that is not easy moved
Large in size that will catch all the litter
Soft surface cats like
---
This mat is not only big, but it's heavy and won't move around on the floor. This litter mat is super-thick, made of PVC and catches stray litter keeping it from reaching the floor. The clean webbing design of the mat keeps litter in place until you are ready to vacuum or dump into the trash. Most importantly it is made from premium non-toxic, non-allergenic silicone and does not contain BPA or phthalate.
Features
The mesh is quite dense and catches all the liter, while the material is soft enough for the paws. Since it is large in size it will cover all areas around and under your litter box. It is also quite heavy so that your kitty will not be able to move it through out the house,  just for the fun.
Conclusion
With so many cat litter mats on the market, you need to decide for yourself which one works depending on your budget and needs. Having a litter mat can eliminate so many daily cleaning struggles that come with litter boxes and the mess your cat leaves behind.