Best Cat Toys For Indoor Cats
This page contains affiliate links. We may earn money or products from the companies mentioned in this post through our independently chosen links, which earn us a commission. Learn More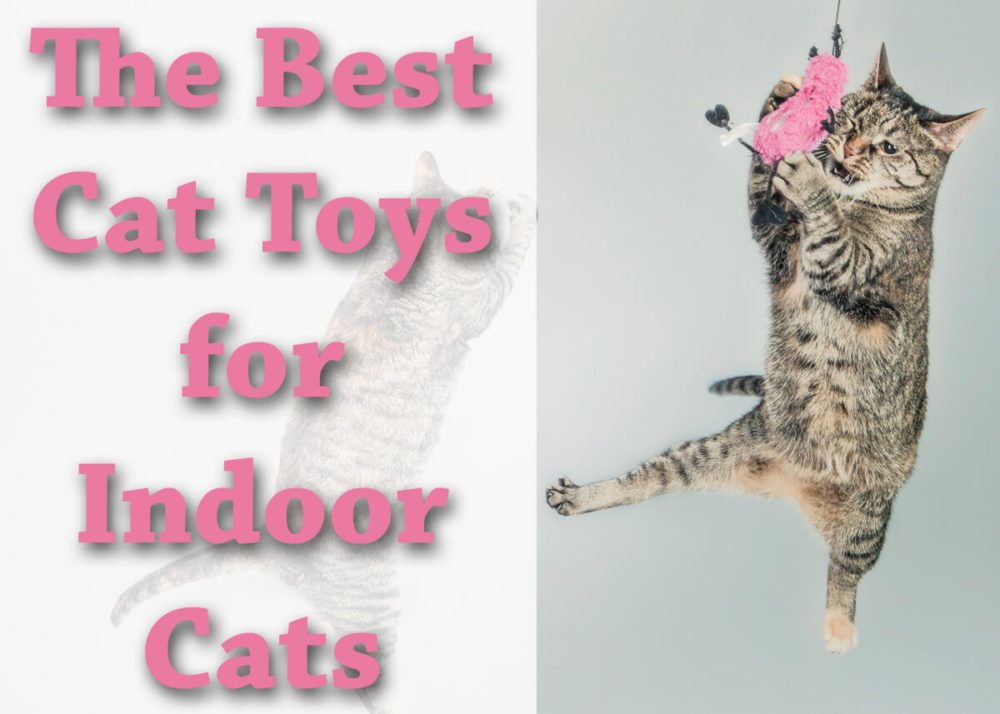 Play is an essential activity for both kittens and adult cats. Cat toys and regular playtime are part of providing your cat with a stimulating environment that can relieve stress, boredom, improve circulation, build muscle tone and prevent behavioral problems.
The Best Cat Toys For Indoor Cats Comparison Chart
IMAGE
PRODUCT

Anti-slip
Non-skid pads at bottom
Made of foam

VIEW LATEST PRICE →

Includes 1 base
1 scratch pad and 1 ball
Place ball in track for hours of fun

VIEW LATEST PRICE →

Made in the USA
Interactive cat toy
Polycarbonate wand

VIEW LATEST PRICE →

Contains premium North American catnip
Crinkle sound
Bright feathers

VIEW LATEST PRICE →

Made of ultra-strong, tear-resistant polyester wrapped
Collapsible & Portable
Customers Satisfaction First

VIEW LATEST PRICE →
Cats prefer interactive toys which involves you! Otherwise a toy represents dead prey and lack of interest for your furry friend. You may want to spice things up by adding some catnip to your cats toys or buying one with it already inside. Let's take a look at the best cat toys for indoor cats that are guaranteed to keep your fur baby busy for hours.
---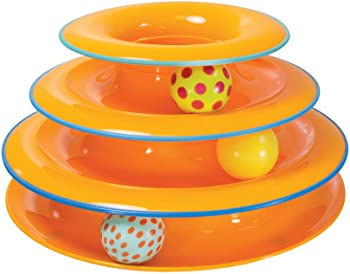 This is an intellectual cat toy, when the cat catches the ball with paws, the ball will roll around the track keeping your cat occupied and entertained. It has a 3-Layer Track Tower, 3 level tracks stacked together for extra playing fun and is perfect for one or multiple cats play interactively.
Anti-slip

Non-skid pads at bottom

Made of foam,

Does not damage the floor
---
Bergan's famous Turbo Scratcher cat toy comes in various colors and is designed to provide hours of fun for your furry companion. It has a channel for a small ball that your cat can nudge with his nose or shove with his paw. In the center of the Turbo Scratcher is a textured scratch pad which is both durable and replaceable.
Includes 1 base (16″ diameter)

1 scratch pad and 1 ball

Place ball in track for hours of fun

Entertain your cat and protect your furniture 
---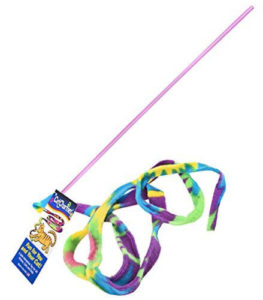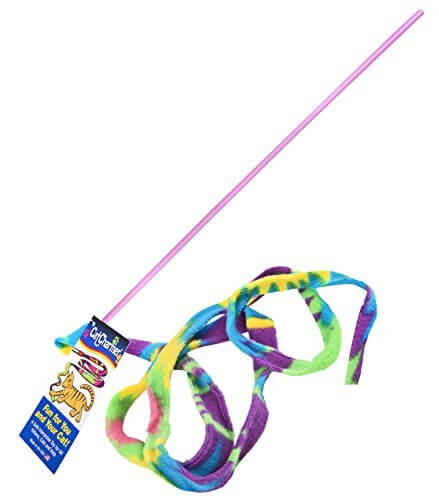 Cat Charmer is an interactive cat toy designed to charm and not harm you fur baby. With a polycarbonate wand and very colorful fabric, this toy provides exercise and is a safe interactive toy for kittens, cats and children. This toy comes in bright candy colored wands and a fun selection of colors.
Made in the USA

Interactive cat toy 

Polycarbonate wand

Colorful fabric

Excellent aerobic exercise
---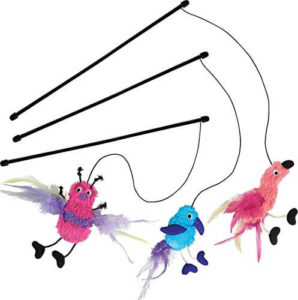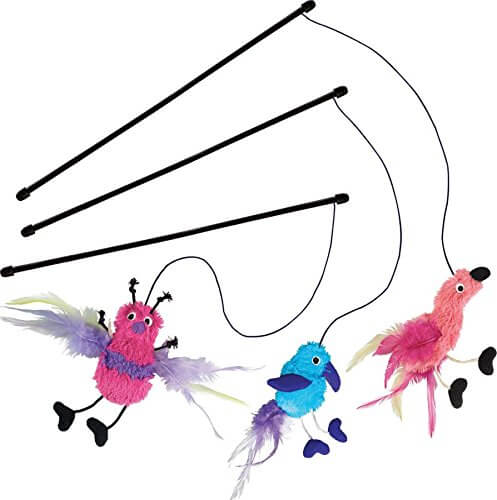 The KONG Active Feather Teaser is designed for interactive play and each toy contains KONG Premium North American Catnip for added stimulation. The bright feathers and crinkle sound tempt cats to capture this toy. It comes in three assorted characters: butterfly, bluebird or flamingo.
Contains premium North American catnip

Crinkle sound

Bright feathers

Available in three assorted characters
---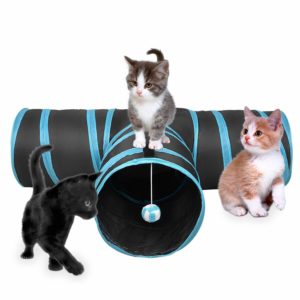 View On Amazon
The Three Way Cat Tunnel appeals to a cats natural instinct to hide in mysterious places. The enclosed spaces offer security and shelter from predators while they stalk their prey. Cats can nap inside for warmth while nervous kitties can use it to escape from possible attention. Combine the tunnel with cat charmers, treats, balls or toys for a whole new level of fun that will have your cat stalking, pouncing and racing about to burn off those calories.
Made of ultra-strong, tear-resistant polyester wrapped around a sprung-steel frame with protective ends (for safety)

Collapsible & Portable: With a provided elastic band, our tunnel folds down small in seconds for easy travel and storage

Customers Satisfaction First: Any problem with this product contact  customer service and they will be glad to assist you 
---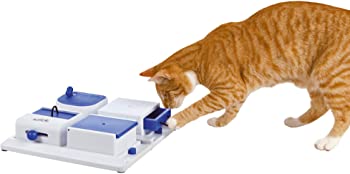 With its black and white zebra print, the Trixie Activity captures pets' attention right away and adds a stylish touch to your decor. This exercise toy has a cozy padded mat bottom for your cat to lay down on. Overhead, are four hanging cat toy balls and plush mice dangle temptingly. With just one of these tent pet toys for cats, your kitty is in for hours and hours of fun, and you can feel good knowing that he's safe and being active.
Keeps pets active and lose weight for fat cat, health & happy, entertainment with mouse, ball and meow funny 

Use with other toys – cat playpen, house, condo and cat tree

Compact 22.5″ x 22.5″ x 14.5″ in size

Easily pops open & easy to fold and put away

Made with premium material

100% Money Back Guarantee, if you are not completely satisfied 
---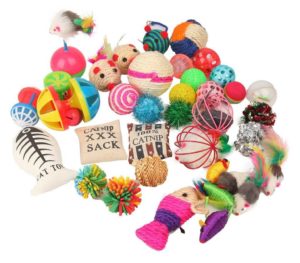 This variety pack contains 20 assorted toys. Keep your cat busy while you are away with a variety of options such as; mouse, balls, bell, catnip, mylar balls, feathers, teaser-cat and many more.
Give your cat a way to release his energy with this combo pack of entertaining toys

Featuring feathers, balls and catnip, mice and more 

For play only. Replace if excessive wear or damage occurs

Holiday, birthday or everyday toy
---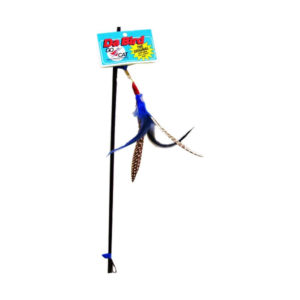 This is the Easy Store 2 part pole version of the Da Bird toy. You can pull it apart and it takes up half the space. Handcrafted in the USA with top quality materials, Da Bird Feather Teaser simulates the motion of a bird at your control. Toy includes 36″ 2 part wand, 32″ nylon string and one feather dangler.
Realistic feather toy activates your cat's hunting instinct

Pull-a-part rod for easy storage

Cats love its flight-like motion and prey-like appearance

Handcrafted in the USA
---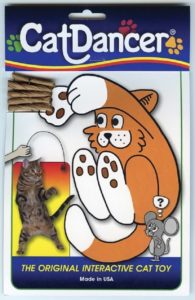 View On Amazon
Cat Dancer Cat Toy is now used in millions of homes worldwide to provide house bound cats with healthy play and exercise. This toy is singled out by veterinarians for its safe design. Cat Dancer is the original interactive cat toy. Spring steel wire and rolled cardboard create an irresistible lure for cats and great fun for cat lovers.
Made in the USA

Spring steel wire and rolled cardboard

Irresistible lure for cat

Great fun for cat lovers

Home-tested by over 8 million cats
---
Conclusion
All of these cat toys were developed with a cat's needs in mind, but you know your cat the best. Choose a toy that fits his personality and encourages his hunting skills. Just because your cat doesn't have real prey to chase, doesn't mean he can't channel his inner predator.