The 10 Best Cat Trees
This page contains affiliate links. We may earn money or products from the companies mentioned in this post through our independently chosen links, which earn us a commission. Learn More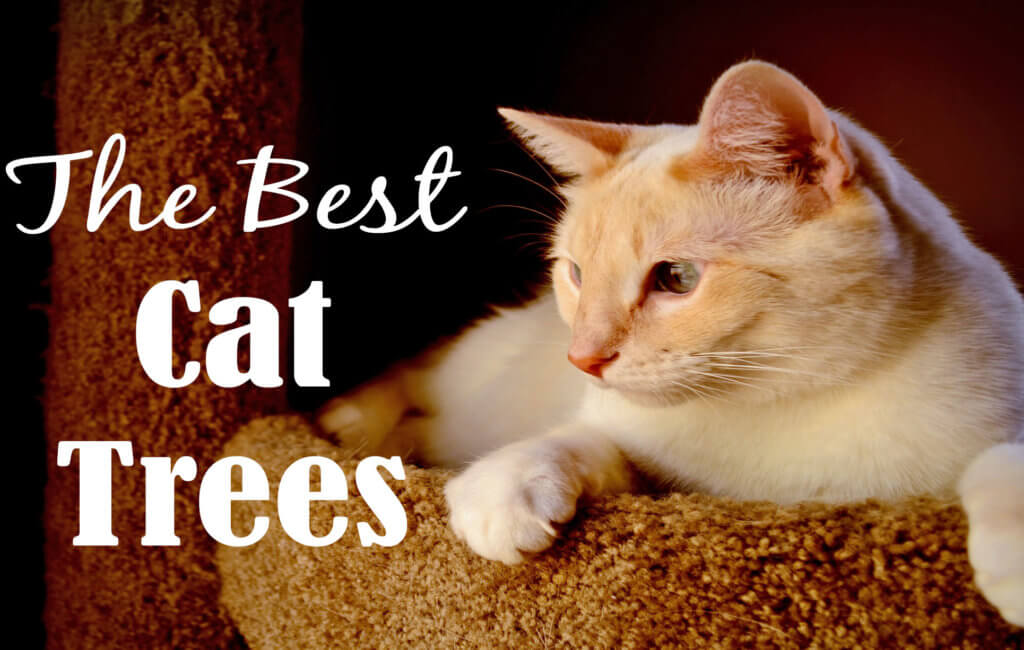 If you own a cat and value your furniture you may want to invest in a cat tree. Cat trees are often built to provide cats with multiple levels for hiding, sleeping, a post for scratching and countless ways to climb for exercise. Cat trees are usually made of wood and they are often covered in carpet or faux fur, making them warm and cozy for cats.
At a Glance: Our Top 10 Picks For The Best Cat Trees To Buy
They come is all kinds of shapes and sizes to match the decor of your home while giving your cat a place to relax. Depending on you and your cats needs here are the best cat trees to add style and comfort to your fur baby's life.
Best Rated Cat Trees Reviewed
#1

Go Pet Club Cat Tree
Product Info:
Material: Compressed wood, faux fur, sisal rope
Size: 23.5 x 18.8 x 102.2 in
Weight: 61 lbs
The Good
Clear instructions
Evenly weighted
Soft carpet covering
The Bad
Color maybe lighter than picture
Smaller than expected
Maybe better for smaller cats
The GoPetClub Cat Tree is 51 inches tall and easy to assemble with step by step instruction and tools included. This Cat tree and its vertical territory will allow cats to enjoy their own space and allow them to have their own home inside of yours. This cat tree also serves as a safe haven as well as promotes exercise, giving your kitty a good place to climb up and down, run around and just be as active as they want.
The posts are covered in natural sisal rope which your cat will love to claw and should keep your kitty from clawing your furniture. This cat tree sports 1 hanging toy, and multiple levels and perches for extra fun for your cat.
#2

Molly and Friends Three-Tier Scratching Post Furniture
Product Info:
Material: 

Durable materials, high-quality carpet, and 

All natural thick sisal rope

Size: 24 x 24 x 54 in
Weight: 75 lbs
The Good
Solid and stable
Good size sleeping areas
Comes assembled
The Bad
Carpet not high quality
Strange odor
This cat tree has platforms and rest areas to allow big kitties (or multiple ones) to lounge, stretch, and play! The natural thick sisal rope is what your kitty will love to dig his claws into. This sturdy upright post can be climbed up, scratched on, slept in and peered out from like a look-out tower.
This cat tree is built from solid pine poles along with heavy duty screws and bolts making it more like furniture than scratching post. This cat tree provides your cat with one bed and one cradle, plus 30″ of all natural sisal rope for scratching suitable for large cat breeds such as Main Coon and Ragdoll Cats. It stands 24″ tall on a 24″ x 54″ base and comes in a beige color.
#3

Trixie Adjustable Cat Tree
Product Info:
Material:

Soft plush, natural sisal,

 lined in fleece

Size: 18.75 x 23.5 x 102.25 in
Weight: 61 lbs
The Good
Solid and sturdy
Good for larger cats
Great value
The Bad
Assembly maybe tedious
Platforms not as big as picture portrays
This Adjustable Cat Tree is sure to entice any playful feline and can easily accommodate multiple cats. This floor-to-ceiling playground ranges in height from 87 to 102 and can be secured to the ceiling using a spring-activated ceiling attachment (no nails or screws required).
Spunky cats can climb to new heights on one of three plush platforms and lie in wait for unsuspecting prey or simply enjoy the view. Cats can sharpen their claws on any one of the ten scratching posts instead of on your furniture or carpet and posts are covered in durable sisal.
Your cat can crawl inside the kitty condo with two entryways or cuddle up on the hammock. Both are covered with plush both inside and out and there's also a play tunnel for added enjoyment.
#4

Armarkat Cat Tree
Product Info:
Material: F

aux Fleece,

 Pressed Wood

Size: 32 x 27 x 78 in
Weight: 55 lbs
The Good
No tipping issues
Easy to assemble
Great design
The Bad
Carpet could be better quality
Heavy
Strange glue smell
The Armarkat cat tree  is both pet-centric and pet-friendly. It comes in visually appealing materials and hues, blending with any décor. The sturdy bases and foundations support easy-to-assemble structures that are a breeze to put together.
Only pet friendly materials, harmless to pets and their pet parents, are used in fabrication. This soft, cozy cat tree covers is resilient and stain resistant. This model is uniquely designed to provide the best feline or canine lounging experience you will find.
#5

Songmics Cat Tree
Product Info:
Material: CARB-certified Board, Plush, Sisal Rope, Paper Tubes
Size: 96 x 63 x 142 cm
Weight: 40.34 lbs
The Good
Easy to assemble
Very sturdy
Nice color
The Bad
Carpet could be better quality
Smells odd
The Songmics multi-tier cat tree can help you keep your cats from scratching up your furniture. Its constructed with high-quality plush fabric, CARB-certified board and this tower is durable and cat-skin-friendly.
The natural sisal rope covered posts, hanging fun interactive toys, padded perches and comfortable hammock, offer multiple platforms for your cats at all ages to scratch, climb, play and rest. This cat tree features amusement, comfort and safety, and will be the favorite of your cats.
#6

Oxgord Paws and Pals Cat Tree
Product Info:
Material: Pressed wood wrapped in faux fleece
Size: 15.8 x 15.8 x 20.1 in
Weight: 4.75 lbs
The Good
Durable
Cats love the dangling toy
Simple assembly
The Bad
Hammock area small
Materials shred
The Paws & Pals Tough Deluxe Cat Playground is the best multi-level cat tree tower complete with a perch for privacy. Natural sisal posts and rope are the purr-fect scratching aids for your cat's claws. It Features a sturdy climbing & sitting platform and also includes a fun  interactive toy to keep your pet entertained and active.
This heavy duty cat tree features a lounge for bed rest. The scratch pole is great for all cat sizes. It is easy to assemble in just minutes with included instructions. This cat tree is designed, warehoused & shipped in the USA.The platforms are covered with fabric that is polyester plush faux fur.
#7

Furhaven Tiger Tough Cat Tree
Product Info:
Material: Fabric, sisal rope, compressed pine
Size: 19.7 x 19.7 x 69.3 in
Weight: 41 lbs
The Good
Carpet is very soft
Sturdy
Great for multiple cats
The Bad
Platforms are small
Assembly is complicated
Rope shreds
Your cat will love the FurHaven Tiger Tough Double Decker Playground cat tree! It features two separate enclosed cat condos, a busy box, dangling mouse toy, sisal scratching posts, a dangling ball and springy-wand ball cat toys.
The second level has a cat ladder that reaches up to the second cat house, and your kitty will want to climb to the upper levels and play with the busy box, the dangling cat toy, and the spring-y ball toy. Your kitty will get plenty exercise jumping, stretching and playing on this amazing piece of cat furniture.
#8

Go Pet Club Cat Tree 72 inch
Product Info:
Material: Compressed wood, faux fur, sisal rope
Size: 34 x 15 x 20 in
Weight: 68 lbs
The Good
Easy to move around
Sturdy construction
Great for multiple cats
The Bad
Rope may unravel
Carpet thin
Keep your cats off your furniture with Go Pet Club's 72″ tall  cat tree. This cat tree features three perches, two condos and two toy mice. It has plenty of room for your cats to play and lounge. With 10 posts covered in sisal rope to scratch on, your cats will leave your expensive furniture alone.
#9

AmazonBasics Cat Activity Tree
Product Info:
Material: Compressed wood, carpeted surfaces, posts wrapped in sisal rope
Size: 17.7 x 17.7 x 45.9 in
Weight: 24 lbs
The Good
Great value
Sturdy and not wobbly
Easy to assemble
The Bad
Maybe too small for large cats
Carpet not tight enough
AmazonBasics cat tree with scratching posts combines the benefits of an outdoor tree with the safety of indoor cat furniture.
This cat tree provides your feline friend with optimal surfaces for sharpening claws, a fun place for playing, and a way to show off impressive climbing and jumping skills, as well as a cozy spot for naptime. This cat tree offers three platforms in a tiered effect so cats can easily jump or climb from one level to the next.
#10

Nova Microdermabrasion Pet Republic 53 Inches Multi-Level Cat Tree Stand House
Product Info:
Material: CARB CERTIFIED board, high quality faux fur, natural sisal rope
Size:26.2 x 19.3 x 61.4 in
Weight: 41 lbs
The Good
Nice neutral color
Sturdy
Great value
The Bad
Unsteady
Better for smaller cats
May need to drill holes
Nova Microdermabrasion Pet Republic 53 Inches Multi-Level Cat Tree Stand House features CARB CERTIFIED board which is environmental-friendly and skin-friendly making it safe for your cats. It is covered with super soft high quality faux fur which makes your cats feel comfortable and warm.
The poles are wrapped with natural sisal rope and are strong and durable enough for cats to scratch. There are several platforms and a movable bed area for multiple cats needs.
Why Your Cat Needs A Cat Tree?
Cat Trees are made to address your cats instinctual needs and can help him relieve stress. Cats also need to climb and seek different heights. Cat trees address this need with a design in vertical range, depending how high it goes. Your cat can paw at toys on ground level or look out a window nearby.
Many cat trees are made with posts made of carpet or sisal. This provides structural to the tree while allowing instinctual scratching, which trims claws and leaves behind cat scent to establish territory.
The need to establish territory is especially important in multiple-cat homes and may even help prevent urine marking as a method of establishing territory. Basically, cat trees offer a place for your cat to vent bad behaviors, safely and without destroying your furniture. A cat tree will let your cat climb, explore, scratch, play and be himself safely.
Conclusion
Having a cat tree can prevent your cat from enjoying your furniture and provide him his own territory. When setting up your cat tree, consider placing it in an area where you sit most or near furniture your cat once used. With a wide variety of cat trees out there you are sure to find one for your cats enjoyment and needs.