The 5 Best Catnip Toys For Your Cat
This page contains affiliate links. We may earn money or products from the companies mentioned in this post through our independently chosen links, which earn us a commission. Learn More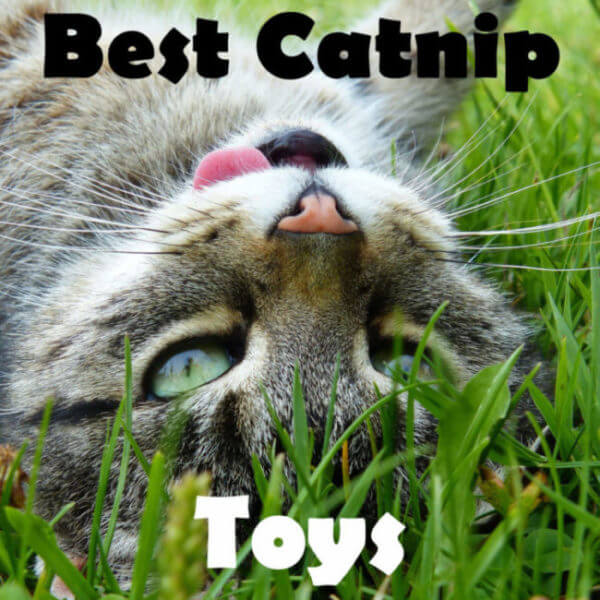 It's an incontrovertible fact that cats love catnip.  For that reason, it would be ideal to keep catnip toys in plentiful supply around your home, so that your cat can enjoy his days to the fullest.
There are catnip alternatives for practically any type of cat toy on the market, so selecting a suitable option should be simple.  Your job, as a cool cat owner, is choosing a great catnip toy that your cat is guaranteed to enjoy, so that you can improve his quality of life.
The Best Catnip Toys For Your Cat Comparison Chart
What Does Catnip Do?
The science behind catnip is in the chemical reaction that occurs within your cat's brain when he encounters the substance. The chemical in catnip called nepetalactone is what cats respond to.
Two out of every three cats experiences a unique hallucinogenic reaction when they come in contact with the substance, because of their unique sense of smell.  So catnip is almost like a drug of sorts, that cats really enjoy and it is perfectly healthy for them to partake.
Most cats react to catnip by rolling, flipping, rubbing, and eventually zoning out. They may meow or growl at the same time. Other cats become hyperactive or downright aggressive, especially if you approach them. However, not all cats react to catnip.
Kittens will not show the behavior until they are at least 6-8 weeks old. Catnip toys can be a great addition to your home, because your cat will absolutely love them and watching them run around the house will be entertaining for you.  Now you just need to choose the right catnip toys, to guarantee your cat's enjoyment.
The Best Catnip Toys Reviewed
#1

CustomKitty Catnip Toy
Product Info:
Price Range: Low
Material: Cotton
Made In: USA
Features: Refillable Catnip Pocket
The Good
Catnip refillable
Durable
Can also be used as a pillow
The Bad
Pocket needs to be more secure
Some cats may tear fabric
CustomKitty Giant Catnip Kitty Kicker Toy is made with a refillable catnip pocket that is sewn on its side so you can add fresh catnip to it when the catnip scent wears off.
The pocket is used to extend the use of the kitty kicker, just add a few pinches of catnip in the pocket and its ready to go again.
The pocket is tight enough that most of the catnip will stay in it while your cat plays with it. Each catnip kick stick toy is 15 inches long and filled with 1.25 oz. of fresh
#2

Yeowww! Catnip Toy Banana
Product Info:
Price Range: Low
Material: Cotton
Made In: USA
Features: 100% organic catnip
The Good
Organic products
Cats love the shape
Strong catnip inside
The Bad
Not refillable
Some cats tear it open
This toy banana is 7 inches of fun by YEOWWW. Cats love the curve and the size makes it perfect for grabbing nuzzling and bunny kicking. Each one is stuffed completely with organically-grown catnip and contains no fillers.
It's also made with a durable cotton twill fabric and uses only soy and/or vegetable based dyes that are natural and non-toxic. Yeowww! Catnip is a quality, premium product.
#3

Kong Refillable Catnip Cat Toy
Product Info:
Price Range: Low
Material: Cotton
Made In: USA
Features: Machine Washable
The Good
Refillable
Velcro compartment for catnip
Easy to clean
The Bad
Small in size
Some cats can get Velcro open
Tail or ears get torn off
The KONG refillable catnip toys is made with top quality, natural North American catnip. These toys have a special Velcro compartment that can be opened and closed, so that fresh catnip can be added again and again.
When kitty is ready to play, gently twist the filled toy to release catnips' herbal oils. Kong also makes other animal catnip toys if your cat doesn't prefer rats. You can check out the beaver, squirrel or hedgehog to name a few.
#4

SmartyKat Catnip Toys
Product Info:
Price Range: Low
Material: Polyester
Made In: China
Features: Chew Toy
The Good
Very inexpensive
No chemicals
3 in a package
The Bad
Plastic fill
Not refillable
Tails maybe torn off
SmartyKat's skitter critters Catnip Mice package contains three 4 inch long mice that are packed with catnip. SmartyKat products are principally made from recycled, reclaimed, renewable and certified organic materials.
Three adorable mice spiked with pure and potent catnip are perfectly sized to bat and carry. This product contains pure potent catnip that's produced without chemicals or pesticides. The fiberfill made from 100% recycled plastic.
#5

Oziral Cat Teaser
Product Info:
Price Range: Low
Material: Carbon fiber
Made In: China
Features: Light weight but durable.
The Good
Can bear 4 pounds of weight
High quality materials
Expandable
The Bad
Not catnip refillable
Requires interactive play
Elastic string can be broken or ripped
This toy is made from high quality carbon fiber and is guaranteed not to break even if your cat plays rough. with a carbon fiber rod this wand can bear 4 pounds. There are three adjustable lengths : 14.6 inch, 25.8 inch, and 38.5 inch with a total length of 38.5 inches.
This toy contains a cat wand, cat bell and catnip feather pillow. Feathers are a natural turkey feather. The detachable bell can be added for those who like a little jingle when playing.
How To Use Catnip?
When it comes to picking out the perfect catnip toys, you will want to pick favorites that your pet already enjoys playing with.  A typical dangling cat toy is a good idea, as most cats love to play with them and your pet will have hours of fun with the added catnip surprise.
There are also small catnip toys that resemble mice that you can throw across the floor and really get a kick out of watching your cat chase after.
Many catnip toys are refillable and have a special catnip compartment. There are so many different types of catnip toys available, so you'll simply want to look for variations of the items your cat already currently enjoys.
It is always good to keep a supply of catnip on hand, so that you can replace the catnip filling in their toys from time to time.
Over prolonged use, catnip toys will eventually be less effective and in order to keep kitty interested, you will need to refill them. You can also use catnip as a training tool.
When you buy a new kitty condo for example, you can put a little catnip around the outside, so that your cat knows it's his domain and will start using it immediately.
Catnip is also remarkably helpful around scratching posts, encouraging your cat to focus on the post, instead of your furniture when claw sharpening time comes.
Can Cats Overdose On Catnip?
Like almost anything that is safe to use on our pets, moderation is always key. A small amount of catnip is harmless to your cat. However, an "overdose" is technically possible. Especially if your cat becomes exposed to the actual catnip plant.
Left unsupervised they may overeat the fresh catnip. This could lead to your pet vomiting or to have diarrhea. Beside this caveat however catnip is nontoxic and presents no real danger.
If you are over indulgent with the catnip spray it is likely that you will feel nausea due to the scent, long before your cat does. The effects of regular exposure to catnip will usually last between ten and thirty minutes. Once the cat has come down, the antibodies in its blood will usually prevent catnip from having additional effects for around an hour or so.
Conclusion
You can find both catnip toys, dried catnip, spray or even a plant to keep your cat happy.  With so many catnip toys to choose from, you can keep your cat entertained almost as long as you will be while watching him.