10 Best Probiotics For Cats
This page contains affiliate links. We may earn money or products from the companies mentioned in this post through our independently chosen links, which earn us a commission. Learn More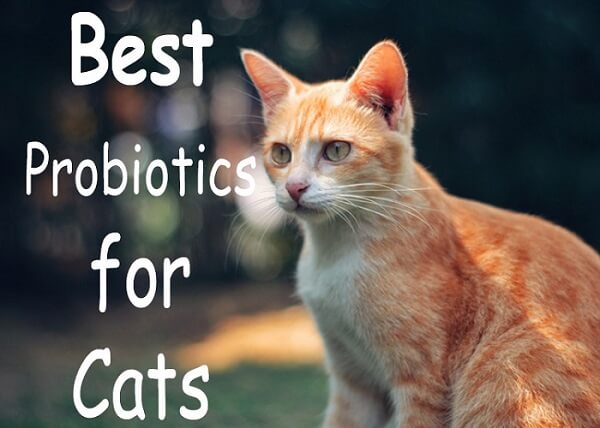 Your cat's digestive tract needs healthy bacteria to keep working smoothly, just like humans. The majority of a cat's immunity resides in its digestive tract and maintaining balance with an array of good bacteria is a great way to ensure your furry friend stays healthy.
One way to do that is by supplementing your cat's diet with probiotics which are made from friendly bacteria that helps regulate digestive health and many other things. Probiotics maybe beneficial to cats under stress, taking antibiotics, having allergic reactions or who are just up there in age.
Probiotic supplements are available in a variety of forms, including oral gels, capsules, chews and powders. The easiest way to administer them is adding them to your cats food daily.
With so many probitics for cats on the market today, its easy to become overwhelmed. In this article we have researched several of the best probiotics for cats to help you with your decision.
How We Researched The Best Probiotics For Cats
We spent several days researching the best probiotics for cats.
We considered over 15 different probiotics and fine tuned it down to the 10 reviewed in this article.
We did this by reading hundreds of reviews, watching videos and comparing the features of each probiotic.
What Are Probiotics?
Probiotics are living microorganisms that provide numerous health benefits. They are usually bacteria, but certain types of yeasts can also function as probiotics. They are often called "good" or "helpful" bacteria because they help keep the gut healthy. Saccharomyces boulardii is a yeast also found in probiotics and it has been known to help fight diarrhea and other digestive problems.
There are two common strains of bacteria that cats tend to do best with; the Bifidobacterium and Enterococcus families. Each is made up of different species, and each species has many strains.
Bifidobacterium tends to live in the small intestine, whereas Enterococcus generally resides in the colon. So each strain could have a different function when it comes to promoting health. Bifidobacterium is more involved with digestion and the Enterococcus aids with the formation of normal feces and helping to maintain colon health.
What Are The Benefits Of Probiotics In Cats?
There are many benefits for giving your cat probiotics, but the most common are improving gastrointestinal health, diarrhea caused by infection or antibiotics, food intolerance, food allergies, and/or inflammatory bowel disease or gastrointestinal lymphoma.
Probiotics for cats can help with other health problems such as:
Constipation 

Yeast overgrowth and yeast infections

Boost immune systems

Poor digestion

Excessive shedding and skin issues

Weight loss or gain
The Best Probiotics For Cats Comparison Chart
IMAGE
PRODUCT

Soy,sugar,wheat free
Reduces litter box odor
Made in the USA

VIEW LATEST PRICE →

High in antioxidants
Single use packets
Promotes healthy immune system

VIEW LATEST PRICE →

Proprietary blend of 23 probiotic strains
Supports regular bowel movements
Easy pour capsules

VIEW LATEST PRICE →

7 beneficial live-culture digestive bacteria
Fat encapsulated to insure survival
Safety sealed

VIEW LATEST PRICE →

Best Digestive Enzyme Probiotic

12 poweful strains
Hand picked formula
All natural vegan

VIEW LATEST PRICE →
The Best Probiotics For Cats Reviewed
#1
Pet Ultimates Probiotics for Cats 
Product Specifications:
Servings: 120
Number of Strains: 20
CFUs: 5 billion
Type of Dosage: Powder
PetUltimates Probiotics for Cats guards the feline colon against mucosal inflammation and infections by yeast, toxic bacteria and other opportunistic microorganisms. Among the benefits are less litter box odor, reduced shedding, firmer stools, and suppression of allergic symptoms such as itching, scratching and hot spots.
This formula is ultra-concentrated and made in the USA at a certified GMP lab. It is a powder formula that can be put in your cats food daily. This product contains no soy, sugar, wheat, fillers or artificial flavors.
#2

Fortiflora Purina Veterinary Diets Feline Nutritional Supplement
Product Specifications:
Servings: 30 or 80
Number of Strains: 3
CFUs: 500 million
Type of Dosage: Powder
Fortiflora is a nutritional probiotic supplement with high levels of antioxidants. It is effective in restoring normal intestinal health and promotes a healthy immune system. This supplement contains 500 million live microorganisms and is a good choice for cats who struggle with diarrhea and other digestive issues.
This probiotic comes in easy to use single packets and is a powder form. Its formula also includes vitamin E, vitamin C, and beta-carotene for additional immune system support. You can purchase 30 and 80 count packets. An additional bonus is this probiotic also includes 43% protein, 10% fat, 1% fiber, and 5% moisture.
---
#3

Nexabiotic Probiotic for Cats
Product Specifications:
Servings: 30
Number of Strains: 23
CFUs: 17 billion
Type of Dosage: Capsules
Nexabiotic Probiotic for Cats can help treat your cats diarrhea and maintain healthy intestinal health. Nexabiotic Probiotic for Cats and Kittens contains a proprietary blend of 23 different probiotic strains. These include Saccharomyces boulardii, B. animalis lactis, Lactobacillus acidophilus, S. thermophilus, L. rhamnosus LB3, and L. brevis.
These probiotics are clinically proven to support regular bowel movements and feline health. You can easily empty the capsule by breaking it apart, and pouring into your cats food, mix, and feed.
#4

PetAg Bene-Bac Plus Probiotic Gel
Product Specifications:
Servings: 15 per syringe
Number of Strains: 7
CFUs: 20 million
Type of Dosage: Gel
PetAg Bene-Bac Plus Pet Gels are recommended to insure your pet's normal digestion while also helping to ease issues your cat may experience due to stresses from changing nutritional or environmental conditions. Every syringe provides a concentration of seven beneficial live-culture probiotic digestive bacteria. Bene-Bac Gel probiotics are fat encapsulated to insure maximum survival through the stomach acids of the digestive tract to reach the intestines.
Bene-Bac Pet Gel provides a guaranteed 20 million colony forming units (CFU) per gram of viable, lactic acid producing bacteria. Bene-Bac probiotics are also available in other sizes and in powder form. Every product is "Safety-Sealed" and secured to a hard-card backing insuring your product arrives safe with no loose syringes.
---
#5

FERA Probiotics for Dogs and Cats
Product Specifications:
Servings: 90 +
Number of Strains: 12
CFUs: 5 billion
Type of Dosage: Powder
Fera Probiotics is hand selected organic with 12 poweful strains and 5 billion CFUs per scoop. Each strain is hand picked and formulated by a veterinarian and is easily mixed into your cats food.
This product is all-vegan, with no wheat, corn, soy and is gluten-free, and dairy- free. This probiotic is also all natural and hypoallergenic, unlike other probiotic products. Also 5% of proceeds is donated to local animal shelters to help homeless pets. 
---
#6

PREMO Probiotic for Cats 
Product Specifications:
Servings: 120
Number of Strains: 6
CFUs: 1 billion
Type of Dosage: Powder
Premo Probiotic for Cats is made at a USA Certified Natural Products Association and an Approved Good Manufacturing Practice facility. This probiotic comes in an easy to use powder that can be added either to water or food, eliminating pills and choking. Premo probiotics contains one billion CFU's per serving.
This product is non GMO, tasteless with no artificial flavors, wheat and dairy free, and contains no cheap fillers. Premo has selected six thoroughly researched species of beneficial bacteria which will sustain a healthy balance of flora in your cat. If within 60 days you do not see an improvement in overall health, you can ask for a refund.
---
#7

Tomlyn Pre & Probiotic Water Soluble Powder Cat Supplement
Product Specifications:
Servings: 30
Number of Strains: 6
CFUs: 4 billion
Type of Dosage: Powder
Tomlyn Pre & Probiotic Water Soluble Powder Cat Supplement is an all natural, nutritional supplement to promote intestinal health and soothe your cats stomach. This flavorless and easy to digest powder contains an advanced formula with one of the highest colony-forming units (CFUs) of probiotics available.
This probiotic has over 4 billion CFUs per packet to help support proper digestive and bowel health. It also includes added prebiotics to support the growth of beneficial bacteria. There are 30 easy to use packets, indiviually sealed and air-tight to keep out moisture.
---
#8

VetriScience Vetri-Mega Probiotic Digestive Health
Product Specifications:
Servings: 120
Number of Strains: 8
CFUs: 5 billion
Type of Dosage: Capsules
Vetri-Mega Probiotic is a non-dairy probiotic formulation produced from an all-natural source of beneficial microorganisms and FOS to support digestive tract health. This product is recommended for normalizing digestion, food intolerance, poor diet, supporting regularity and gastrointestinal, immunological and neurological support.
This non-dairy probiotic formulation is produced from 5 billion microorganisms per capsule, including 8 different strains such as Lactobacillus acidophilus, rhamnosus and casei, Bifidobacterium bifidum, breve, longum and lactis, and Streptococcus thermophiles. This item also has a prebiotic formulation mixed in and can be used for both dogs and cats.
---
#9

Pet Naturals of Vermont Daily Probiotic Cat Chews
Product Specifications:
Servings: 30
Number of Strains: 1
CFUs: 100 million
Type of Dosage: Chews
Pet Naturals of Vermont Cat Chews are full of digestive enzymes and beneficial probiotics that support a healthy digestive tract. These bite sized chews are designed to be used on a daily basis to support digestion and help eliminate hostile bacteria in your cats
These probiotics guarantees 100 million CFU's to the gut and supports digestive regularity in cats of all ages. The chew itself is duck flavored and come in a resealable bag for extra freshness.
---
#10

Nature's Farmacy Catzymes Probiotic Digestive Enhancer Cat Supplement
Product Specifications:
Servings: 50 +
Number of Strains: 5
CFUs: 5 billion
Type of Dosage: Powder
Nature's Farmacy Catzymes Probiotic Digestive Enhancer Cat Supplement is a unique blend  formulated with live beneficial probiotics, prebiotic FOS and digestive enzymes to help your feline friend digest food and nutrients. It can normalize diarrhea, stools, colitis and flatulence.
This supplement has a palatable dairy whey base and can be mixed in food, fed directly or mixed in any liquid for kittens or cats with special health issues. It offers your kitty healthy digestive bacteria, enzymes, strategic proteins and amino acids and helps eliminate hairballs by promoting healthy digestion.
Conclusion
Supplementing your cat's diet with probiotics can help to keep his digestive tract balanced, immune system strong and litter box smelling better. Choosing a high quality probiotic in the form easiest to administer for you and your cat, will keep him healthy and happy.
Frequently Asked Question
Can cats have human probiotics?
While there are no current studies that prove giving cats a probiotic supplement designed for humans is dangerous, veterinarians still suggest cat owners use only products that are specially designed for cats. The microflora in a cat's small and large intestine are different than in humans, so human probiotics may not work for cats.
Can probiotics cause diarrhea in cats?
When starting your cat on probiotics there maybe some side effects. He may develop or continue to have diarrhea for a few days. This is normal if you consider there is a bacteria battle going on inside. Eventually the good bacteria starts to over throw the bad, and the diarrhea should be resolved.
Do probiotics help cats with IBD?
Inflammatory Bowel Disease (IBD) is a painful, difficult, and frustrating disease in cats. Part of why IBD occurs is your cat's GI tract is reacting strongly to some of the bacteria that are living inside of it. Studies show that probiotics can help by providing healthy species of bacteria, causing the GI tract to settle down.
Are probiotics good for cats with stinky poop?
Probiotics are a great way for controlling poop odor and improving your cat's overall GI balance. The probiotic you choose should contain 10 or more strains of health-promoting bacteria and each serving should contain at least 20 million advantageous bacteria. If this does not resolve the problem you may want to see your veterinarian for other recommendations.