CatGenie Cat Box Review
This page contains affiliate links. We may earn money or products from the companies mentioned in this post through our independently chosen links, which earn us a commission. Learn More
Part of owning a cat is the unpleasant task of scooping and cleaning the cat litter box. However, there are several automatic litter boxes on the market that will do the chore for you.
#1

CatGenie A.I. Self-Washing Cat Box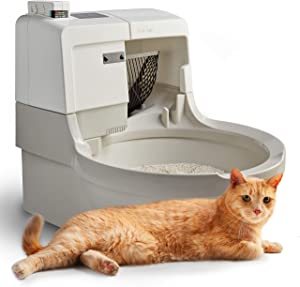 The Good
Installation is a breeze for users with any skill level
The package also comes with a setup video for those who do not enjoy reading instruction manuals
The Bad
The cleaning cycle can be loud. Grinding process can be smelly
---
If you are looking for a more practical and convenient alternative to manual litter boxes, look no further. CatGenie cat box is rated one of the best quality cat litter boxes on the market today and well worth the investment.
Details
Automatic cat box flushes waste away and washes itself clean

Uses litter-like washable granules not clay litter to satisfy cats need to dig and cover

Ideal for 1-2 & no more than 3 cats of average size and 6 months or older

Requires hookup to cold water and electrical outlet

Includes recyclable SaniSolution cartridge and 1 Box of washable granules

CatGenie is 19″ wide in front, 16″ wide bottom back, 17″ top back, 21″ high, 24″ deep allowing for hoses. Water Supply Hose 8′ long, Drain Hose 10′ long
Features
The CatGenie cat box resembles a toilet for felines, while using permanent granules rather than disposable cat litter.  By simply connecting the cat box to your drain system the product will scoop, wash and dry granules.  With a one touch cleaning option you can preset your CatGenie to run up to 4 times a day or it can be activated when used.
With the technologically advanced CatGenie, your cat can have a bathroom that's as hygienic as your own, while making your life easier. 
Recognized as the world's first and only self-flushing automatic litter box, the CatGenie eliminates the need for bags and litter all together. This means you do not have to waste a bag or  touch a poop scooper ever again.
How To Use?
The only requirement is that you have space for the cat box near a water line.  Then setting the Cat Genie up requires a one-time do-it-yourself connection.  The CatGenie cat box itself comes with all the supplies you will need to transform your bathroom or laundry room into a cat-friendly environment.
With a 120-volt adapter and a supplied T-adapter, the cold water line will be completely functional for your Cat Genie in a matter of minutes.
The CatGenie is the greenest cat box ever, being dust, germ, odor, litter free and automatically washing, sanitizing and drying itself.
Conclusion
Self-cleaning automated litter boxes are something no cat owner should live without and CatGenie is in a class of its own.  If you are looking to save time and money this very small investment will save you tons of money in the future on litter alone.  With a no raking or litter system, comes less worry about frequent clogs and jams that are associated with automatic litter boxes.  Instead of cleaning up after your cat you can simply enjoy your furry friends company.