205 Cute And Adorable Christmas Cat Names
This page contains affiliate links. We may earn money or products from the companies mentioned in this post through our independently chosen links, which earn us a commission. Learn More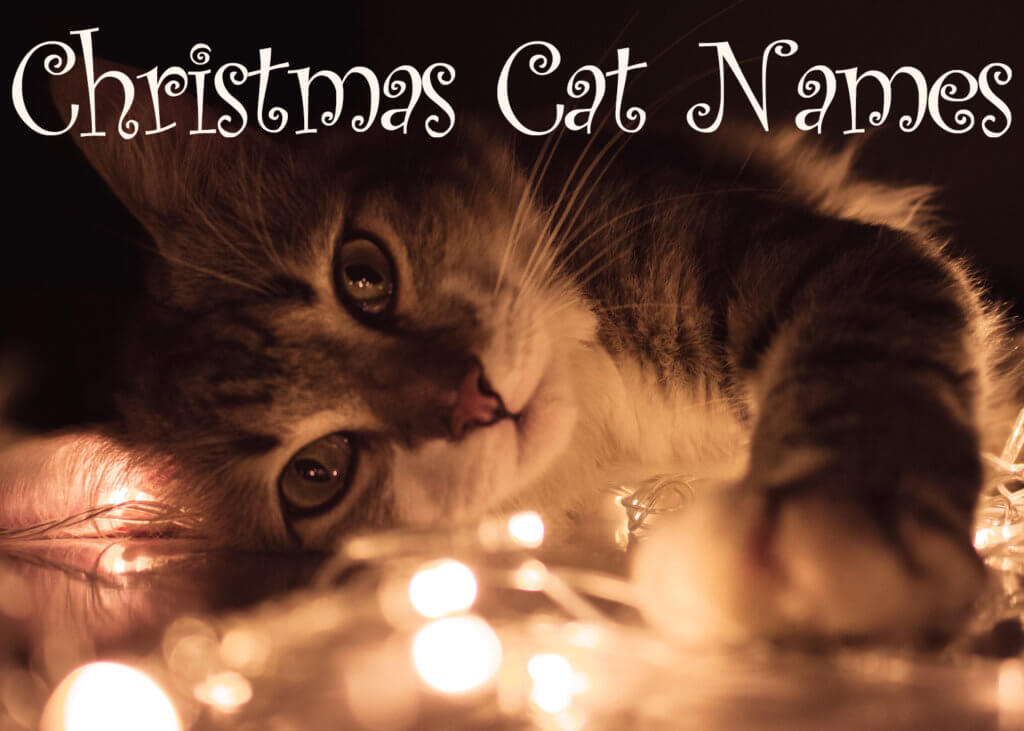 Cats and kittens can be the perfect gift, so what is more appropriate than a list of Christmas cat names to start the season. On the list below we have brought together a Christmas themed cat names list based on everything we love about the holidays. Here are a few ideas to get you in the Christmas spirit:
CASPAR – One of the three wise men
EGGNOG– Yuletide beverage
RUDOLPH – Most famous of Santa's reindeer
SANTA – Christmas gift bringer
Male Christmas Cat Names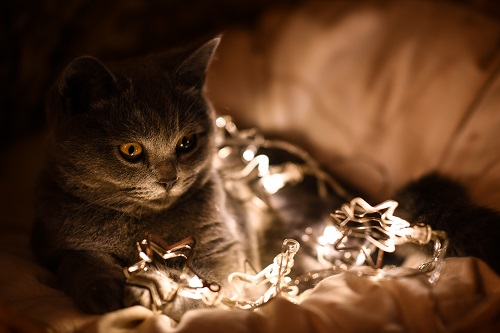 BELTHAZAR-One of the three wise men who visited and gifted baby Jesus, sounds like a suitable christmas name for your cat
BLITZEN-Name your fast cat after this character in Rudolph the Red-Nosed Reindeer film
CASPAR-One of the wise men who brought gifts to baby Jesus, this is an ideal name for a cat who follows instructions
CHRISTIAN-A cat who reminds you to follow Jesus Christ
CLAUS-A Greek name meaning Victory of the people, a perfect name for a brave and bold cat
COMET-A lovely name for an adorable cat with a grey coat
CRACKER-An ideal name for a cat who was gifted to you during Christmas
DONNER-One of the Santa's' reindeer, an ideal name for a talented and confident cat
ELF-Name your graceful and strong feline after this Santa Claus' helper of the North-Pole
EMMANUEL-Hebrew name meaning God with us, suits a cat that always reminds you of God's presence
FAITHFUL-An ideal name for a loyal and trustworthy cat that reminds you of the true meaning of Christmas
FROSTY-Name your jolly and joyous cat after the character in television series Frosty The Snowman
FRUITCAKE-Extend the love you have for this delicious cake by naming your wonderful cat fruitcake
GABRIEL-Remember Angel Gabriel who brought good news to Mary? Well, this makes an amazing name for your cat
GIFT-An ideal name for a feline you received as a gift during Christmas
GINGERBREAD-An amazing name for a cat based on treats you get during Christmas
HOLIDAY-An ideal name for a friendly and peaceful cat
HYMN-These praise songs add meaning to Christmas, a fitting name for a joyous cat
JINGLE-This name reminds you of the awesome Christmas melodies
JOSEPH-This name will always remind you of Jesus' father, a fitting name for an honest cat
MARZIPAN– A lovely name for a sweet feline just like t the Christmas cake
NICHOLAS– Name your cat after Saint Nicholas who is known as Santa Claus
NICK-Short form of the name Nicholas, sounds great for a cat name
NOEL– A lovely French name meaning Christmas
RUDOLPH-Name your caring and lovely cat after Santa's most famous red-nosed reindeer
SANTA-Name your cat after Father Christmas or Santa Claus who's believed to bring children gifts
SNOWMAN-An ideal name for a lively cat who loves playing in the snow
STAR– This name reminds you of the three wise men who followed the North Star to find baby Jesus, well its perfect for your white cat
WENCASLAS-A wonderful name for a kind cat derived from the Christmas carol, Good King Wenceslas
YULE-A lovely name for a cat born during the Christmas season
Female Christmas Cat Names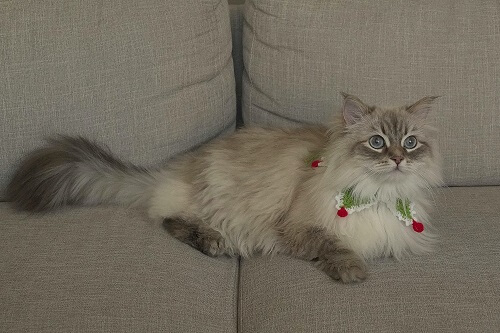 ANGEL-A lovely name for the most amazing and sweet cat
CANDY-A perfect name for a feline who's the real sweet pie
CANDY-CANE-A sweet name to give your striped cat who brings you extra happiness
CAROL-Name your cat after the lovely tunes of Christmas carols which fill the air during the festive season
CHRISTMAS-Giving your cat this name is a wonderful way to enjoy the feeling of Christmas all year-round
COOKIE-A wonderful name for an extra sweet cat
DANCER-Nothing complements Christmas celebration like a dance, a fitting name for a lively and jovial cat
DASHER-Give this name to your cat who reminds you of an adventurous reindeer with a wish in her heart
EGGNOG-A name of choice for a cat derived from a warm and flavored drink popular during Christmastime
EPIPHANY-An ideal name for a cat you adopted or who was born on the feast day of the manifestation of Christ
EVE-Consider this name for a cat who was born on the night before 25th of December
FELIZ-If you love the Feliz Navidad song by Jose Feliciano famous during Christmas, try if for your cat
GARLAND-This decorative wreath of leaves and flowers makes a lovely name for your peaceful and beautiful feline
HOLLY-Name your cat after this holly plant traditionally used in decorations for Christmas,
IVY-Name your faithful cat after this evergreen climbing plant
JOY-Consider this name for a cat that came to your life during the cheerful and uplifting day of Christmas
MARY-Name your lovely cat after the mother of Jesus Christ
MERRY-A wonderful name for a joyful cat who reminds you of the joy during the merry Christmas season
MISTLETOE-Traditionally you kiss under the mistletoe during Christmas, give this adorable name to your cuddly cat
CLAUS-A fictional wife of Santa Claus in the movie Rudolph the Red-Nosed Reindeer, suits a caring feline
NOELLE– Name your cat after this funny Christmas holiday movie starring Anna kendrick
PARTRIDGE-If you love the song 'a partridge in a pear tree', why not extend the name to your cat
PRANCER-Give your caring cat this name inspired by a kind-hearted farm girl in the movie Prancer
PUDDING-This old fashioned dessert always makes your heart melt, a great name for a charming cat
SNOWFLAKE-A wonderful name for a cat who reminds you of snowflakes popular during the Christmas winter season
STAR-The source of light that led the wise men to Jesus, a fitting name for a shinny coated white cat
STOCKINGS-A lovely name for a feline you received on Christmas Eve
SUGARPLUM-Consider this name for your lovely and sweet feline who is as sweet as this oval candies
TWINKLE-A lovely name for your cat with a shinny coat like the twinkling little star
VIXEN-An ideal name for a funny cat inspired by Santa Claus' reindeer in the movie Rudolph the Red-Nosed Reindeer
More Adorable Christmas Cat Names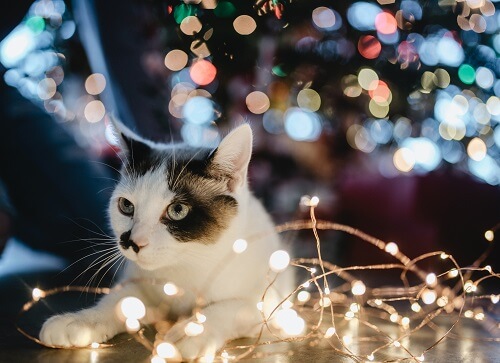 ABERCROMBIE- Coined from the famous American casual wear lifestyle retailer Abercrombie & Fitch that perfectly describes the beautiful coat of your Tuxedo coat
BADGER- Great name for your cat with a white stripe on the forehead like the burrowing animal with the same name
BEAU – A French name for your handsome cat.
BOND- Name him after James Bond the spy loved by every woman
BUTLER- Perfect for your black and white-colored Tuxedo cat who looks like he's wearing a butlers coat
CHAPLIN-Name him after the English comic actor Charlie Chaplin who wore his toothbrush mustache perfectly
CHECKERS- This name will suit your bicolor Tuxedo cat
CHICO –This cute simple short name means boy or lad in Spanish
DANDY-A Greek name for a warrior cat
DOUGRAY-Name him after the Scottish actor Dougray Scott known for his roles in the Ever After, Hitman and Impossible 2 films
ENZO – This Italian name means a winner, and it can also be used to pay tribute to the famous automaker Enzo Ferrari
FELIX – Name him after the World's famous Felix cat with a black and white coat
FIGARO-Name him after the sweet black and white cat character in the Walt Disney film Pinocchio
FREUD –An ideal name for a cheerful cat
GOSSIP-A unique name for a cat who enjoys small talks
GUCCI-A beautiful name for a cool cat derived from the Italian fashion house founded by Guccio Gucci
HOLLY GO LIGHTLY-Name her after the famous British singer Holly Golightly
LUNA-A trendy name if her coat has a greyish tint like the moon
MAGPIE- Name her after an intelligent black and white passerine bird
MARCELLA-A lovely name from your favorite TV series Marcella directed by Hans Rosenfeldt
MAYBELLE-A French name for a beautiful tuxedo cat
MITZI-A Hebrew name fit for your small and bitter kitty
MONA- We can't think of a more smart name if you want to name her after the famous Mona Lisa painting
MOONBEAM- Fits her perfectly if she's bright as a beam of light
NIKITA- Who wouldn't want to be named after the deadly and sexy Maggie Q who stars in action thriller series Nikita
OPHELIA- A beautiful name derived from a character in  William Shakespeare's drama Hamlet
PANDA-A cute name for a cat who if fluffy like a bear
PIAF-A unique name for a cat who loves music like the French singer Edith Piaf
RITZ- Give this name to your favorite kitty who is always nibbling on your Ritz Crackers
SHOWBIZ- Short form for show business for a creative cat who loves the limelight
SNAPSHOT-A modern name for a cat who is quick at her feet
SOPHIE-A Greek word meaning wisdom for an intelligent cat.
TESS-A diminutive form of Theresa and fits a kind cat with a white coat like the simple white sari worn by mother Theresa
TILDA– A German name meaning strength in battle and its ideal for your strong and courageous cat
TRILBY-Derived from the novel Trilby by George du Maurier
VOODOO- This creative name fits your black cat who always seems to have tricks up her sleeve
ZOE- This cute Greek name fits your Tuxedo cat who is full of life
BUGSY – Cute name for your kitty with big bug eyes or for one who loves bugs
BUTTERS – Name him after Butters Stotch the naïve character in the animated series South Park 
CORKY – For your white-furred graceful cat
COSMO – Cute name for a handsome cat who loves order
COUSCOUS –For your small, well-rounded cat
DINKY – For your male pet who commands authority and power
DISNEY – Looking for Disney name for your prince? Go with this original and cute name
DONUT – This is a really cute name for a sweet cat
ELMER – Perfect for your famous cat or for the one who enjoys being in the limelight
FIVEL – Yiddish for the brilliant one
FIZZ – This will be a beautiful name for your cat with a ginger coat
FONZ –Cool name for a lovely cat named after the popular lead character in the sitcom Happy days
GIZMO – English name meaning strong and handsome
GOOGLE – Isn't this the perfect name for your cat who knows it all
GREMLIN – Cute name for your mischievous cat
GUMBY – Like Gumby the cool clay character in the TV show Claymation
HERBIE – For a handsome cat who is admirable for their warrior spirit
HOBBIT – Perfect Lord of the Rings name for your round and small cat 
HOOTIE – For your handsome kitty who makes the ladies go gaga
HOWIE – Lovely name for a brave cat
IGBY – Cute name for your rebellious and stubborn cat
JELLO – Creative and fun name for your handsome bundle of fur
JINGLES – Cute name for a playful kitty
JOJO – Beautiful name for a cat who was born on Monday
KERMIT – Variant of Dermot meaning free man in Irish
KIT – Name him after the handsome actor Kit Harington who acts as Jon Snow in the Game of Thrones
LINUS – Unique name for a cat with a pale yellowish or flaxen coat
MAGOO – We love this beautiful name ideal for your cat who carries himself as an important person
MARBLES – Perfect for the cat who loves to play with marbles or one with a coat with flecks of gray, tan, brown, white or black
MCFLY – For a peaceful black kitty
MILO – Great name for a merciful cat named after Milo, the orange cat in the movie The Adventures of Milo & Otis
MOBY – Name him after the famous musician and animal activist Richard Melville Hall popularly nicknamed Moby
MOJO – Your cat will love this name which means good luck
MOMO – A famous cat name in Japan meaning peach
MOTT – For your bundle of fur who loves to play with mud 
MOXIE – Cute name for a cat who is aggressive and energetic
NACHO – Pet name for the name Ignacio and ideal for a fiery cat
NEWT – Lovely name for your small kitty who is always quiet and cooperative
NICNAC – Cute name for a tiny cat that loves to eat crackers
NOGGIN – Slang for a small cup and would suit your minute furry friend
OGGIE – An English pastry and would be ideal for a sweet cat
PEEWEE – Perfect for your small furry pet
PEPE – Beautiful name for a stripped cat named after Pepe Le Pew in Warner Bros Merrier Melodies and Looney Tune's cartoons series
PEZ – For a sweet cat like the Australian PEZ candy
POUNCE – You'll agree that this cute name is perfect for a kitty who loves to pouch on others
PUNKIN – A pet name for a cat you love dearly
POPPINS – Witty name for your inspiring cat
POPSTAR – For your lovely cat who loves to bask in the limelight
PORGY – Ideal for an extremely fat cat
PRECIOUS – If she is precious to you, let others know through her name
Q-TIP – We all agree that this is a unique and cute name for your favorite pet
QUICKLY – Perfect name for a cat who is quick and fast
SMURFETTE – For a small cute cat named after the female smurf character in The Smurfs
SPICE GIRL – For a spicy cute cat with an attitude
STARLET – Beautiful name for a shy beautiful kitty who shines like a star
SUGAR – For one who is as sweet as sugar
SUGARBAKER – Cute unique name for your favorite pet
SWEETIE – Perfect for the most adorable sweet kitty
SWOOSIE –Name her after the American actress who is also a two time Emmy award winner Swoosie Kurtz
TINKERBELL-  Great name for a sassy and adorable cat
TOOTS – An affectionate name meaning baby
TUPPENCE – If your cat is a detective like the detective duo Tommy and Tuppence, then this name will suit her perfectly
TWINKIE – For a golden furred cat who is as sweet as twinkie the American sponge cake
USCHI – German for a lady
WHOOPIE – Perfect for a cat who is sweet like a delicious piece of a whoopie pie
YO-YO – A kick-ass name for a cat who loves to play
ZAZZLE – For your kitty who has style and charisma
While giving the gift or an adorable kitten or cat may seem like a nice gesture, it is a 10 to 15 year commitment. Owning a pet is a financial responsibility and a lifestyle change, so waiting for the hectic holidays to be over is recommended when adopting. If you just want a jolly name for your cat or kitten we hope you found it here. If not, consider checking out one of our other lists like male and female cat names.