105 Cool Cat Names
This page contains affiliate links. We may earn money or products from the companies mentioned in this post through our independently chosen links, which earn us a commission. Learn More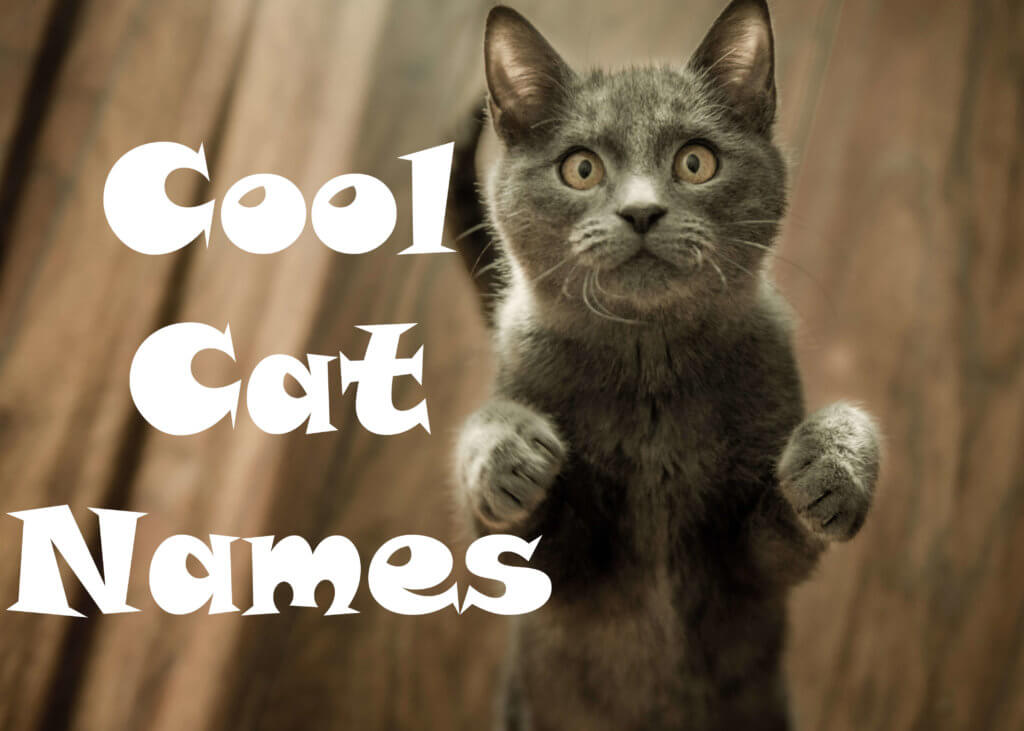 Cool cats names are easy to come up with because, let's face it, cats are pretty darn cool!
If you're wanting a cool cat name but are struggling to choose one, you have come to the right place.
We have put together the coolest of cool cat names from categories like music, fashion, movies. We have also thrown in lots of other cool names for cats to inspire you like:
Gangster Cat Names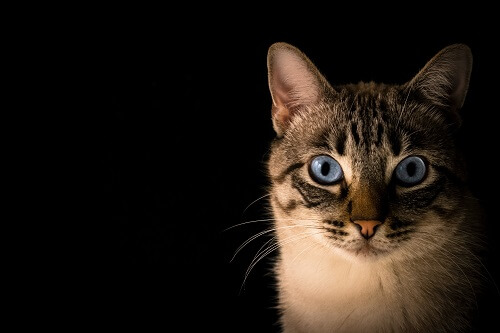 BOND – perfect for a tuxedo cat
LEBOWSKI – just call him 'Dude'
MCCOOL – how cool is that?
PACINO – they don't come any cooler than Al
Cool Male Cat Names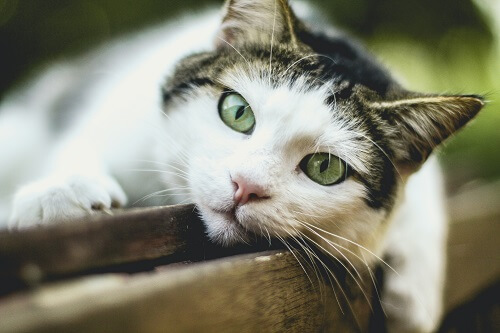 AMADEUS– Wolfgang Amadeus, the greatest composer of twenty-four operas including The Marriage of Figaro, sounds like a cool name for your ambitious cat who loves music
ARMAND-A French name perfect for your brave cat
ARMANI– Just like Giorgio Armani the Italian fashion house which designs cool wares
BEBOP-Inspired by cool jazz music that developed in the United States in the early 1940s
BECK-Derive his name from Christopher Beck, the famous composer of  Buffy the Vampire Slayer
BELUSHI-Name your cat after American actor and comedian John Buleshi who featured in Saturday Night Live comedy show
BENTLEY-A luxurious car brand manufactured by Bentley Motors Limited, ideal name for your stylish cat
BENZ– This name is sure to get the attention of your cat and is perfect for him if he is as brave as a bear
BLACKBERRY-A wonderful name for a wild and sweet cat like the blackberry
BOGART-Name your cat after Humphrey Bogart, a famous American theater and film actor who featured in the film The Treasure of Sierra Madre.
BOJANGLES-A chain of fast food restaurant popular for its irresistible fried chicken and biscuits
BOND– If your cat loves to play detective, name him after James Bond, a secret agent, and spy who featured in a series of films
BOWIE-An ideal name for a yellow-haired cat
BRANDO-Of Germanic origin meaning fighting with a sword, a fitting name for a cat who is fierce with his claws
BROADWAY-Name your cat after a street in New York City known  for its theaters and bright lights
BRUBECK-A cool name after the famous American jazz pianist and composer  David Warren Brubeck
CAGNEY-A name  of Irish origin meaning tribute for a cat you received as a gift
CASHMERE-A perfect name for a very hairy cat like the cashmere goat
CHET-Meaning fortress, an ideal name  for a tall, lonely cat who loves the indoors
COBAIN-Name him after the influential and iconic American rock musician  Kurt Cobain
COLTRANE-Suits a young and playful kitty who is full of energy
COOLIO-Stage name of famous American rapper Artis Leon Ivey Jr, popular for the hit song Gangsta's Paradise
CRUZ-A name of Spanish origin meaning cross for a cat who easily forgives
CUSACK-Name him after John Cusack, the American actor who featured in several movies including  High Fidelity
DILLINGER-A name of German origin for a loving cat
DJANGO-From the movie titled  Django unchained directed by Quentin Tarantino, a name of choice for a determined and brave cat
DUANE-An ideal name for a black-haired cat
DWEEZIL-A unique name for a fearless cat who always knows how to get out of trouble
DYLAN-A name of Welsh origin meaning son of the sea fitting your brave and adventurous kitty
ELMORE-A classy name choice for your cat who emerges victorious in all his battles
GALLIANO-Derive your cat name from a sweet herbal Italian liqueur,  Liquore Galliano L'Auyentico
GETTY– what a macho name for your cat after John Paul Getty, a petrol industrialist who became the richest man in American in 1957
GOTHAM-Inspired by crime television series Gotham created by Bruno Heller for a tough cat
GUCCI– It sure sounds like a cool name for a cat especially because it is coined from the coolest Italian luxury fashion house founded by Guccio Gucci
HARLEY-A perfect name for a cat who loves adventure
HENDRIX-A cool name for a cat who is the ruler of your home
HORATIO-A diminutive of Horaz, which is of Italian origin and it's perfect for your cat who never lets you down
ICE-CUBE– perfectly fits a silver furred cat who is as cool as the American rapper O'Shea Jackson professionally known as Ice-cube
JEDI– In the television series Star Wars, Jedi are the peacekeepers and the leaders of the star war universe
JOAQUIN-Of Hebrew origin meaning lifted by Yahweh
KENZO– Japanese name ideal for a healthy and strong cat
KIEFER-Derive his name from the brave counter-terrorism 24 actor Kiefer Sunderland
LEBOWSKI-A selfless character in the comedy film The Big Lebowski directed by Joel and Ethan Coen.
LENNON-A lovely name for a very dear cat
LEONARDO-Italian name that means bold lion for a brave and fearless cat
LEVON– This name perfectly fits your courageous and strong cat
MARLOWE-A lovely name inspired by the cool Marlowe Theatre in the city of Canterbury named after the famous English poet Christopher Marlowe
MARSALIS-An inspiring name for the award-winning jazz and classical musician and composer, Wynton Marsalis
MATISSE-A name of French origin meaning gift from God
MCFLY-A name of choice for a black and peaceful cat
MORRISSEY-Derive his name from English singer and actor Steven Morrissey, his latest album being Califonia Son
NASDAQ– A New York-based second-largest stock exchange in the world
NIJINSKY– Vaslav Nijinsky is the greatest male dancer of the 20th century ideal for an entertaining cat who has great moves
NINTENDO– if he has Japanese roots, name him after the Japanese multinational company that sells electronics and cool video games
OZWALD-Of German origin meaning God's power
PACINO-An ideal name for a peaceful cat
PICASSO-Consider this name for a cat that is attractive and witty
PRESLEY– perfect for your cat who is smart and trustworthy
QASHQAI-A cool name for your cat with white fur
RASMUS-Of Finnish origin for a cat who's dear to you
RAYBAN-Name your cat after Italian brand of luxury sunglasses, Ray-Ban created by Bausch and Lomb
ROCKSTAR-An exciting name for your popular cat  who is a bit crazy
SINATRA– Call him after the inspiring best-selling American singer Francis Albert Sinatra if he is talented
SPRINGSTEEN– After Bruce Springsteen, a famous American musician, recognized for his hit album Born to Run
STARSKY– From the American television series Starsky & Hutch created by William Blinn and aired in the mid-'70s, an ideal name for your cat who cares very little of what the world thinks of him,
SWAYZE-Based on the movie Ghost starring Patrick Swayze, a name of choice for a cat who likes to play mind games
TARANTINO-A name for a violent cat just like Quentin Tarantino, known for his violent moves in the film Pulm Fiction
THELONIUS– This cool name is coined from the greatest Jazz musician Thelonious Monk
TRAVOLTA-John Travolta who starred in the gangster film Pulp fiction
VALENTINO-A name of Latin origin fit for a courageous cat
VAN GOGH– Name your cat after the famous and influential painter, Vincent Van Gogh
VIRGIL– A Roman poet who wrote Aeneid  during emperor Augustan period
WARHOL– For your fun cat just like the American artist and leader of the Pop Art movement, Andy Warhol
ZAPPA-name him after revolutionary guitarist Frank Zappa
ZEN-A type of Buddhism that focuses on enlightenment  through the practice of meditation, this name fits a quiet cat who loves to meditate
ZEPPELIN– This cool and unique name is coined from an airstrip that was used in the late 19th century during World War I, a perfect name for your kitty who always has your back
ZOOT– Your old fashioned cat will love this name coined after the Zoot suit popular in the 1930s, which was baggy, tightly cuffed, and had high waist trouser and an oversized jacket.
Cool Female Cat Names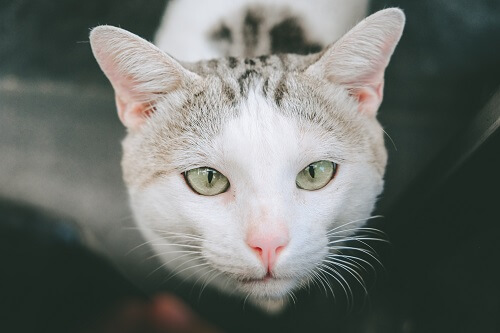 ALANIS-A name of Celtic origin ideal for a beautiful kitty
ALEXIS-A Greek name that means defender for a cat who's very protective
AURORA-A Roman goddess of sunrise, a great name for your kitty who radiates like the sun in the morning 
BARDOT-A wonderful name for a cat with minimal fur
BEBE-Of Latin origin meaning foreign woman, a great name for your cat who is from a strange land
BLANCHETT– Name her after the Award-winning Australian-American actress Cate Blanchett
BLESSING-If she's a perfect gift from God and means a lot to you, give her the name blessing
BLING-A jewelry that  looks expensive and draws a lot  of attention, perfect for your kitty who attracts attention wherever she goes
BREE-A name of Irish origin meaning the exalted one, a perfect name for an amazing cat who you value highly
BRIONI-This is a cool name derived from the Italian company known for stylish men's wear
CASSANDRA-Of Greek origin meaning mans defender for a cat who is loyal and is always by your side during difficulties
CHELSEA– If you love the Blues name her after this professional football club based in
CHLOE-A name of Greek origin meaning blooming for a young cat who is full of life
CHRISTABEL– The name means beautiful Christian and perfectly fits a cat who is not only beautiful but also faithful  to you
CLAIBORNE-A name of Germanic origin that fits a cat who understands her limits
CLAUDIA– A sweet name for your shy girl who loves the indoors
COLETTE-A lovely name for an all-rounded cat
DELILAH-For your seductive cat just like the biblical woman who beguiled Samson to reveal the source of his strength
DOMINO-A name of Latin origin meaning lord, ideal for a white and black coated cat who rules those around her
ELECTRA-A wonderful name for your cat who is a betty to behold
ELLE-Elle Woods is an intelligent and cunning  character in Amanda Brown's novel Legally Blond
ESMERALDA-A compassionate character in The Hunchback of Notre Dame film and fits your kind and compassionate kitty
FARAH– This name of Arabic origin suits your happy, playful and active cat
GARBO-A perfect name for a kind and polite kitty
GATSBY-An ideal name for an extravagant cat as depicted in the novel The Great Gatsby written by F. Scott Fitzgerald
GIGI-This cool French name is perfect for your trustworthy cat
GISELE-An ideal name for your cat who you received as a pledge
GRETCHEN– If your cat never misses her target due to her precise focus give her this unique name
HALLE-A lovely name for a heroine and home-ruler kind of cat
HEPBURN-Name your cat after the famous actress and fashion icon Audrey Hepburn
JACKIE O-From the 1997 opera by Michael Daugherty and Wayne Koestenbaum portraying the life of Jacqueline Onassis
JAMIROQUAI-One of the greatest Jazz bands in the '90s and fits a talented jovial kitty
JAZZ– Perfect if she is cool like the amazing Jazz music
JEZEBEL-Name your cunning and disobedient cat after the Biblical queen of Israel who worshiped idols
JOPLIN -Name your quite spiritual church after a town in southwest  Missouri on the famous route 66 which has lots of churches
LAETITIA-A name of Latin origin meaning happiness and will fit your joyous, friendly cat perfectly
LAYLA– From the famous romantic story of Layla and Qays in Persia and Arabia
LILLITH-A name of Babylonian origin meaning belonging to the night and its ideal for your kitty who loves to wander at night
LIV-A lovely name for a cat who protects her territory
LOLITA-A Shy and innocent character in the novel Lolita  by Vladimir Nabokov
MAKEBA-Name your inspiring cat after the famous South African singer and civil rights activist Miriam Makeba
MARGAUX-A French name meaning pearl for a  pretty and valuable kitty
MARILYN-Hebrew name ideal  for a cat who is bitter and sad
MARISA-Maris Tomei, an award-winning American actress, featured in several movies including My Cousin Vinny
MELODY-A wonderful name for a cat who brings joy in your life
MING-Chinese imperial dynasty from 1368-1644 founded by Zhu Yuanzhang
MIRANDA-A smart and admirable character Miranda Hobbes in Sex and the City television series for your cat admired for her outgoing and sweet nature
MISCHKA-Of Russian origin meaning 'who is like a God.'
MIU MIU-An Italian high fashion women clothing brand, a cool name for a stylish, sophisticated cat
MYSTIQUE-An ideal name for a mysterious cat as portrayed by a fictional  character able to change her voice and appearance to match others in Marvel comic book X-men,
NORMA JEAN-An American actress who changed the perception of sexuality in the 1950s and 1960s by becoming the most popular sex symbol, this name is ideal for your sexy cat who is not afraid of her femininity
PAULINA-A Latin name meaning small and it's the perfect name for your young little kitty
PHOEBE-A lovely name for your beautiful and interesting cat just like Phoebe Buffay in the television series Friends
PRADA-A stylish name derived from the Italian luxury house known for its purses and handbags
ROXY-Of Persian origin meaning dawn, if she is breathtaking as the sunrise why not give her the name Roxy
SAATCHI-A name of Indian origin meaning truth for a trustworthy and honest cat
SCARLETT– If you consider her a hero, name her after the heroic Brooklyn cat who became famous for trying to save her kittens from a fire
SIGOURNEY-A name of French origin for your cat who has  conquered many battles
SIOUXSIE-For your gentle and beautiful cat just like the lily flower
SOPHIE-A Greek name meaning wisdom for your clever and wise cat
STELLA-A name of Latin origin for cats who are perfectly great in all aspects
STREISAND-Name her after the Oscar-winning American actress Barbra Streisand
SUZIE Q-if she loves to have fun call her after this popular dance move in the 1930s
SWOOSIE– Half swan half goose for your black and white cat who's difficult to understand
TAI CHI– If she loves to fight and meditate, name her after this Chinese martial arts practiced for meditation, health benefits, and defiance
TIFFANY-Latin name meaning manifestation of God for a gracious cat who is a gift from God
TILDA-Short form of Matilda for a brave cat who wins all her fights
TIPPI– You must love her, and you can let her know by giving her this  Swedish name that means sweetheart
TUESDAY-the Nordic god of war and ideal for your courageous cat
TWILIGHT-Inspired by a romantic fantasy novel about the relationship between  vampires and human written by Stephen Meyer
TYRA-Means god of battles in Scandinavian, ideal name for a courageous and victorious cat
UMA-Indian goddess Parvati, cool name for your calm and beautiful cat
UPTOWN-A wonderful name for a classy and cheerful cat
VIVIENE-A Latin name meaning life, for a lively cat who enjoys living
WILLOW– Ideal name for a calm and slender cat just like the branches of the willow tree
YOGA-A combination of mental meditation, physical exercise and breathing techniques done to keep you fit and relieve stress, a cool name for your cat who loves to watch you do yoga
ZENOBIA– if she is a queen in every sense name her Zenobia after an ancient queen who ruled the wealthy city of Palmyra in the Arabian desert
Conclusion
Anyway you look at it, cats are cool, so cool cat names should be used when possible. If you didn't find a cool name here you may consider checking our name list for Male or Female cats. Either way, your cat deserves a name that reflects his personality.