King Kanine CBD Oil For Cats Review
This page contains affiliate links. We may earn money or products from the companies mentioned in this post through our independently chosen links, which earn us a commission. Learn More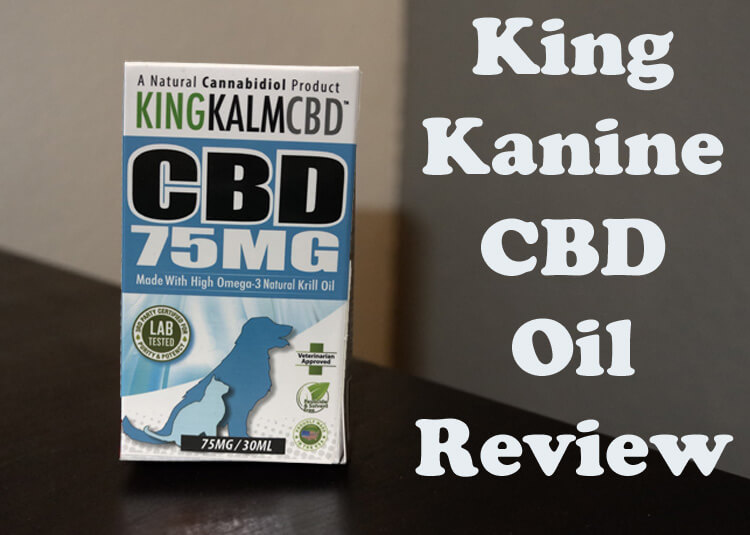 As your cat gets older, he may develop arthritis, chronic pains, or even cancer. Younger cats may suffer as well, with issues like feline epilepsy, anxiety, or aggression.
Cat owners are now using CBD oil to help their cats cope with pain and other issues to increase their quality of life. Many turn to a product like King Kanine's, King Kalm CBD Oil to manage mental and physical issues in their cats.
Quick Summary
"King Kalm CBD Oil is a high quality, organic product that is a great choice for cats who suffer from anxiety issues like mine. After one dose, my anxious cat was mellow and not hiding from guests"
How We Tested:
We purchased King Kanine's King Kalm CBD Oil to review
We spent a week testing it on our cats
We did not receive this product in exchange for a favorable review and purchased it with our own money
What To Look For In A CBD Oil?
When it comes to high quality CBD oil for cats, there are certain factors that are important in determining the safety and efficacy of the product.
Organic – If the CBD oil is not organic, make sure it does not contain pesticides, fungicides, or solvents.
Price – The higher the quality and purity, the higher the cost will be.  If you choose a cheaper option it could have toxic substances such as pesticides, herbicides, or heavy metals in it. Make sure your CBD oil choice is free of additives.
Certificate of analysis – The manufacturer should provide a certificate of analysis (COA) that tells you the amount of CBD that is in the product. Many CBD products contain only small amounts of CBD. Also look for oils that have their products tested by third-party labs to ensure they don't contain harmful materials.
Liquid – You can buy dog treats that contain CBD, but the most effective form to administer, is an oil or tincture. CBD oil in a bottle is considered the purest form and also makes it easier to adjust your cat's dosage.
Extraction process – Processes like superficial CO2 or cold-press extraction are considered the safest because they do not involve the use of harmful solvents.
THC Levels – While all CBD from hemp should contain under .3% THC, it is recommend purchasing a product that contains zero detectable THC on the certificate of analysis (COA). Cats react differently to THC than humans, and even trace amounts of THC can have negative effects on small animals.
Broad spectrum – When shopping for CBD oil for your cat, you may see "broad-spectrum CBD oil" or "CBD isolate". Broad spectrum uses the many cannabinoids and terpenes found naturally in hemp, while CBD isolate contains only CBD. Experts believe the whole plant offers an "entourage effect" and your cat benefits from a more complete variety of the phytochemicals found in hemp.
About King Kanine
King Kanine was established in 2015 with the mission of promoting pet wellness inside and out. They state on their website that their love and passion for all things pets have driven them to create innovative products aimed at providing owners with all-natural alternatives that promote the health and well-being of their pets. They only create and sell a product they would give to their own pets.
They are headquartered in the greater Miami area of Florida. They launched its first product, the KING KOMB, to resolve the massive issue of shedding. The KING KOMB is sold in over 41 countries and have continued to expand their wellness line to add organic and natural products.
Now the CBD rich product line, KING KALM, is the forefront for pet alternative treatments and includes oils, sprays, and balms.
Sourcing And Manufacturing
King Kalm CBD is derived from Broad Spectrum Cannabidiol Oils and suspended in high omega-3 Krill Oil. They do not use ANY artificial ingredients, flavors, preservatives, or colors whatsoever and their product is 100% pure and something that can be found only in nature.  Their full-spectrum formula is made using CO2 extraction and their hemp is sourced from Colorado. The King Kalm 75mg CBD oil for cats and small dogs is made with extracts obtained from industrial hemp grown exclusively in the United States.
King Kanine's, King Kalm CBD oils are formulated by a 24+ year licensed pharmacist using quality organic ingredients. King Kanine also provides clearly detailed dosage charts on their product page to help you determine the right amount of CBD for your cat according to their weight. The chart also includes different recommended amounts for either therapeutic or medicinal needs.
Each product is formulated and manufactured in their GMP Certified, ISO-9001 Certified FDA registered facility. None of their products are imported from overseas, where quality control cannot be depended upon. All CBD for cats and dogs are tested in a third-party ISO certified lab to ensure dose accuracy, purity, and consistency.
Benefits Of King Kanine's King Kalm CBD Oil
Cat respond to CBD in similar ways humans do because they have the same endocannabinoid system. King Kalm's King Kanine CBD Oil is derived from cannabis and hemp plants and offers a plethora of health benefits. It is said to reduce anxiety, seizures, pain, and improve skin conditions with long term treatment. As cats get older, many of them develop arthritis, chronic pain, and even cancer. Even younger cats can suffer from feline epilepsy, anxiety, or aggression.
The World Health Organization, has concluded that CBD oil, in general, can be beneficial in treating:
Alzheimer's disease
Parkinson's disease
Multiple sclerosis
Huntington's disease
Pain
Anxiety
Cancer
Nausea
Inflammatory diseases
Arthritis
Additionally, CBD has been shown to treat appetite loss, glaucoma, sleeplessness, and more in pets. Currently, more research is being conducted on the benefits of CBD for cats.
Analysis/Review Of King Kalm CBD
King Kalm CBD 75 MG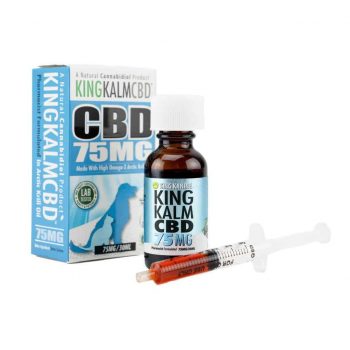 Guaranteed Analysis:
Protein – 0.43% Min
Fat – 98.22% Min
Fiber – 0.1% Max
Moisture – 0.11% Max
Ingredients: Cannabis extract (CBD), hemp seed oil, krill oil
---
Let's take a look at the ingredients in the King Kalm CBD Oil.
Cannabis extract (CBD) comes from a cannabis plant that contains a number of different chemicals, including CBD, phytocannabinoids, terpenoids and flavonoids. Mammals have specific cannabinoid receptor sites. Studies show that many cannabinoids have anti-inflammatory effects, and can help with pain, tumors, seizures, muscle spasms, skin conditions, appetite stimulation, aggression, anxiety and neurological disorders.
Hemp seed is a good source of polyunsaturated and essential fatty acids. Studies have shown that it can improve blood levels of essential fatty acids. It may also relieve dry skin, improve itchiness and reduce the need for skin medication.
Krill oil is derived from the shells of small plankton-like crustaceans and is an abundant source of omega-3 fats. It has been known to help reduce inflammation and pain, improve joint mobility, ease arthritis symptoms and help promote cardiovascular health.
Administering /Test
Depending on your cat, this may not be an easy task. According to the directions, you place the round syringe adapter into the neck of the bottle as draw back to the desired dosage amount. To find the proper dosage amount you will want to use the suggested use chart included in your box.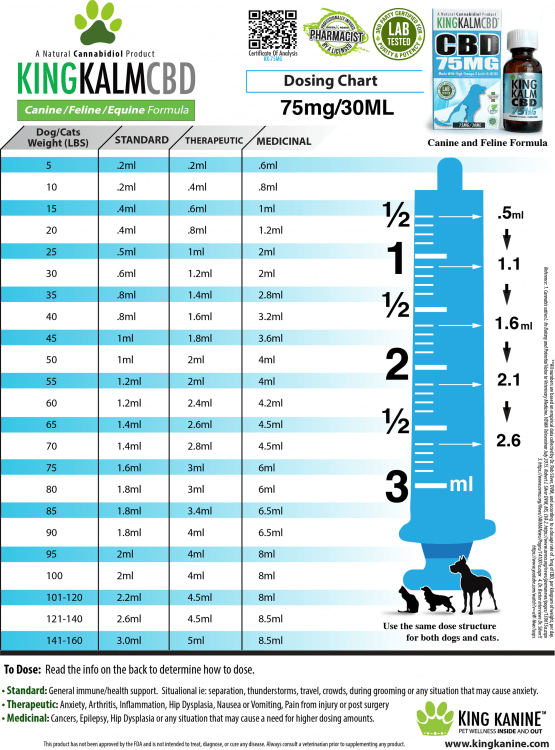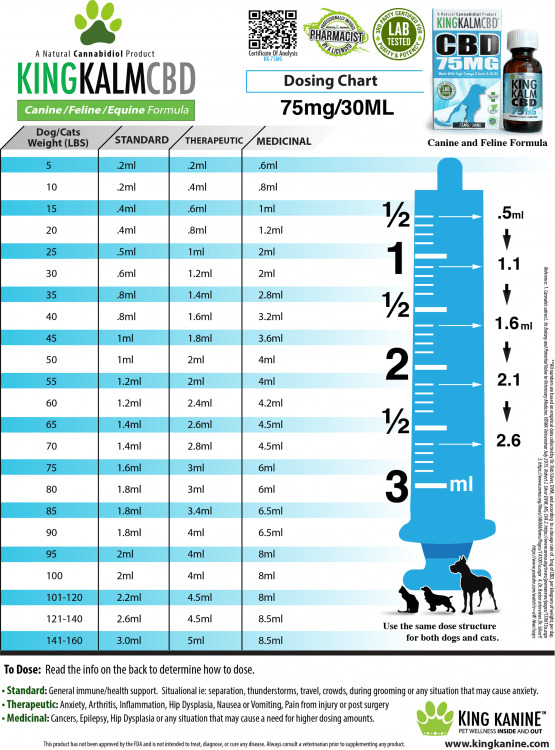 The chart recommends standard, therapeutic and medicinal dosages based on your cat's (or small dog's) weight. Standard dosage is mainly to provide support for mild immunity and general health support. Therapeutic dosage is for anxiety, arthritis and inflammation issues. Medicinal dosage is for cancer, epilepsy and hip displasia concerns. I use the therapeutic dosage for one cat who suffers from anxiety and a standard dosage for my other cat in situations like loud noises or a house full of strangers.
All people have this or that type fears and sometimes these emotions become uncontrollable by the brain and an intervention is needed in terms of pills. Xanax (Alprazolam) is a pill which helps to overcome some types of anxiety. It influences the brain and we become more calm and do not feel the panic. Xanax is very effective.
The directions instruct you to hold your cat's head back and squeeze the dose into the back of his mouth. This is the most effective way but you do have the option of mixing it into your cat's food or water, if that is easier. If you do decide to use the food or water method, it could take up to 45 minutes to take effect.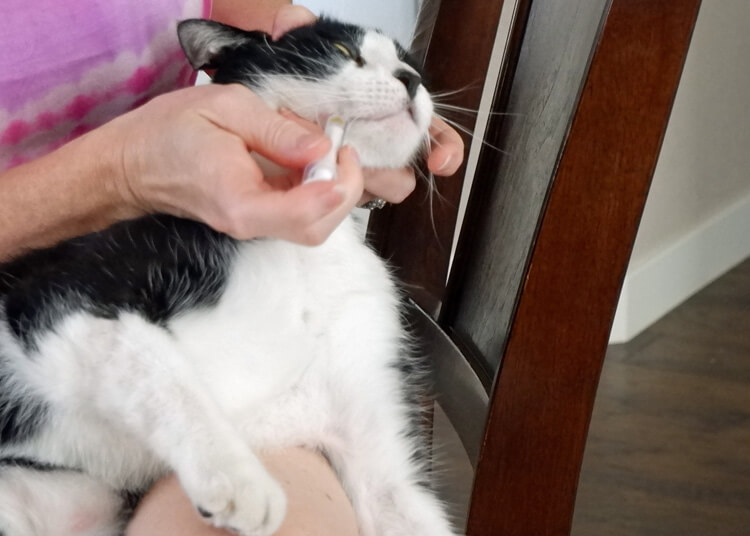 For me it was surprisingly easy to get the dosage into both my cat's mouths. I waited for them to relax and lay on my lap, then quickly held the head back and propped the mouth open as much as I could. The syringe shot the CBD oil right in and neither seemed too annoyed by it.
How Much Does King Kanine's King Kalm CBD Oil Cost?
King Kalm CBD Oil's range from 75 mg to 600 mg bottles. The price ranges from $29.99 up to $99.00 a bottle.
The cost ultimately depends on the how much your cat or small dog needs. Cat's normally do not need more than 75 mg of CBD because of their size. You can increase the amount of the dosage based on your cat's personal situation or health concerns.
Is King Kalm CBD Oil A Good Choice?
King Kalm CBD Oil is a high quality, organic product that is a great choice for cats who suffer from anxiety issues like mine. After one dose, my anxious cat was mellow and not hiding from guests. My other cat just seems to sleep more after a dose, so I will consider that a win as well.
King Kalm is manufactured using non gmo ingredients that are free of solvents, pesticides, metals, and unnatural substances. It also is extracted using broad spectrum, meaning your cat gets all of the benefits of CBD with less than .03% THC.
King Kanine provides all certificates of analysis (COA) directly on their website and the King Kalm CBD Oil's 75 mg COA can be seen here. They also offer a money back guarantee within the first 30 days of purchase.
*This article is for informational purposes only. It's not intended to be a substitute for professional veterinary advice, diagnosis, or treatment.