Nom Nom Cat Food Review
This page contains affiliate links. We may earn money or products from the companies mentioned in this post through our independently chosen links, which earn us a commission. Learn More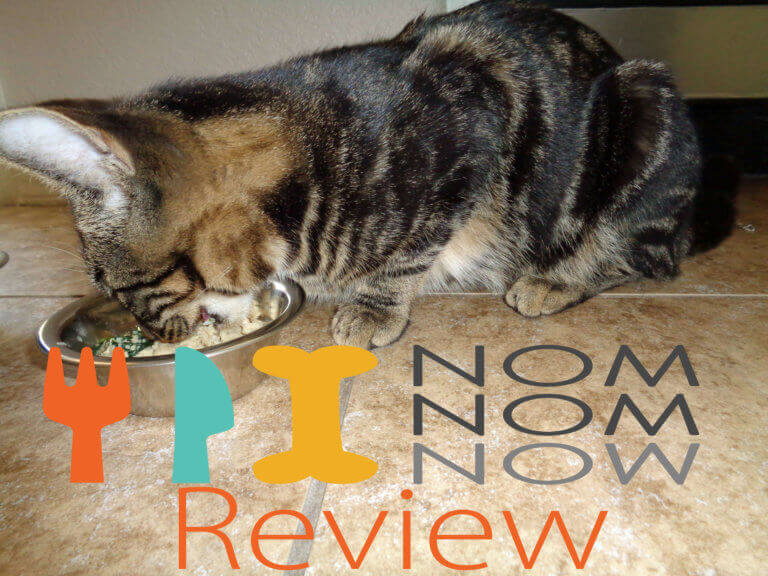 Nom Nom, Inc is a subscription cat (and dog) food delivery service that is all the rage right now. They not only deliver fully customized meals to your door, but also guarantees to provide human grade, restaurant quality ingredients in every meal.
Nom Nom was created by four co-founders; Alexandria Jarrell, Wenzhe Gao, and brothers Nate and Zach Phillips.
In 2015, these four animal lovers began producing and shipping out fresh and healthy meals. As of May 2018, the company started offering cat food.
Where Is Nom Nom Located?
The company prepares their recipes in a California, FDA compliant, kitchen with the help of board-certified veterinary nutritionist Dr. Justin Shmalberg, who guides recipe creation and production.
How It Works?
To get started with Nom Nom, you will create a profile for your pet, which asks you to share their current weight, target weight, and preferred protein.
This part is necessary to get a price quote, because portion sizes for each animal will depend on its weight.
Once you are all signed up, you will get a shipment with 14 meal packs of the selected meal choice but  you can always go back and change your preferences if you want to try something else.
You will be updated on every stage of your delivery via email as well as provided tracking information. The first box also includes fun treats, like a bag of chicken jerky.
Once you've selected your cats meal plan, you will receive monthly shipments of 56 individual packets of food, which will arrive boxed fresh with ice packs to keep it cool. The packets should be stored in the freezer and removed in small batches to thaw in the fridge.
What's In The Box?
The first shipment arrived safe in a heavy-duty brown shipping box with the company's logo on the side.
A message on the box recommends refrigerating the contents as soon as possible. Our trial order contained 14 meal packs of the Chicken Chow-Wow recipe and the Flavorful Fresh Fish recipe.
The food was safely wrapped up between two large reusable gel ice packs and a thick insulating liner made of 100% recyclable PET. Everything was nice and cold inside but should be refrigerated as soon as possible.
The packaging also states that you should use or freeze the food packets within 8 days of receiving them.
There was a detailed information booklet, recommended servings brochure and feeding magnet inside. Also included with the order was a bag of chicken jerky, a flavor packet and a container of beef broth.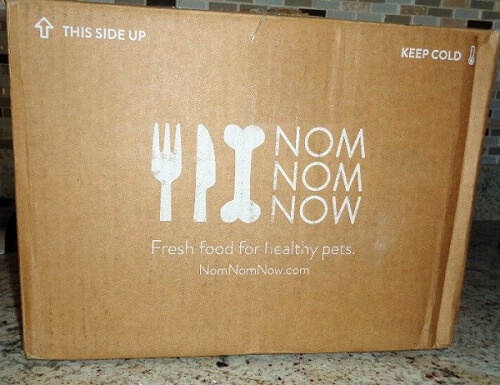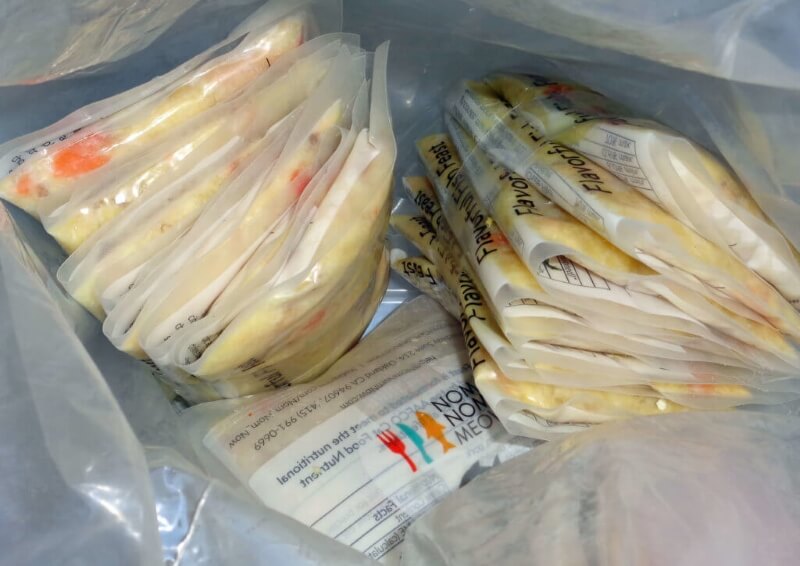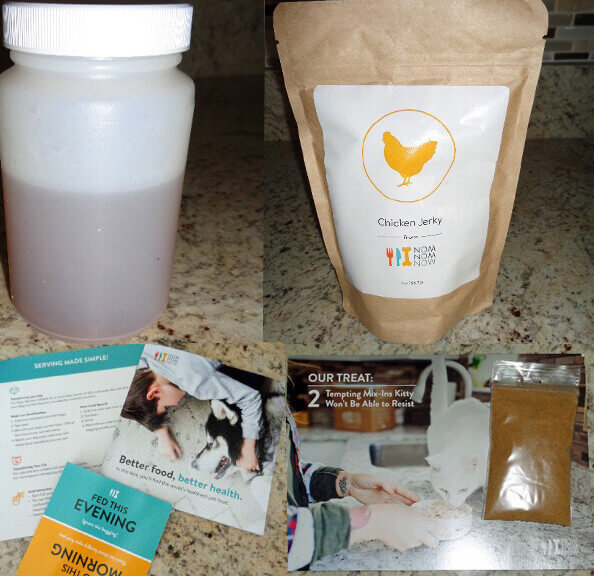 Features
Fresh meals made with all-natural ingredients
All meals are pre-portioned
Two protein rich recipes for cats to choose from
Chicken or beef jerky treats available (made with USDA certified meats)
All ingredients and nutritional content is listed on website
If you don't see the difference a fresh diet can make after 30 days of eating Nom Nom, they'll buy your pet's next diet (up to $40)
All packaging is recyclable
The Meals
There are no fillers or grains, no preservatives or artificial flavors, and they only use the highest-quality, responsibly sourced meats.
Nom Nom recipes are prepared in a human-grade kitchen that is 100% designed and dedicated to making fresh pet food.
There are two meal recipes that you can choose for your cat. The first is the Chicken Chow-Meow which is full of fresh chicken ingredients to keep your cat's eyesight razor sharp and his muscles strong for stalking.
The second is Flavorful Fish Feast and it is packed with tilapia and salmon to guarantee a softer and shinier fur coat for your cat.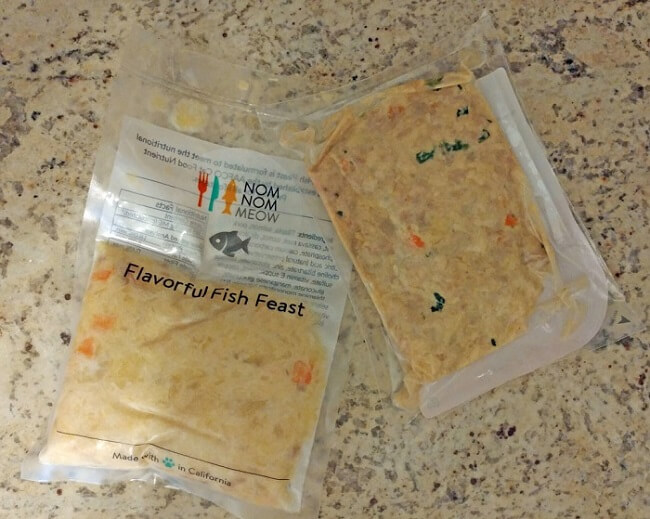 #1

Chicken Chow-Meow
Guaranteed Analysis:
Protein – 18% Min
Fat – 4% Min
Fiber – .08% Max
Moisture – 73% Max
Calories: (kcal/kg) 1194
Ingredients: Chicken thigh, chicken breast, chicken liver, carrot, asparagus, cantaloupe, spinach, dicalcium phosphate, calcium carbonate, salt, taurine, choline bitartrate, zinc gluconate, ferrous sulfate, vitamin E supplement, copper gluconate, manganese gluconate, thiamine mononitrate (vitamin B1), selenium yeast, riboflavin (vitamin B2), vitamin B12 supplement, cholecalciferol (source of vitamin D3), potassium iodide.
---
We are starting with the chicken recipe for this review. This recipe uses chicken ingredients which includes chicken thigh, chicken breast, chicken liver. Chicken thighs have the most muscle meat, which cats need for the taurine while chicken breast is helps in a strong immune system and muscle development. Chicken liver is rich in nutrients and has large amounts of Vitamin A, Vitamin B, trace minerals, and iron.
The carbohydrate ingredients in this recipe are carrots, asparagus, cantaloupe and spinach.
Carrots and asparagus are high in complex carbohydrates and rich in B vitamins, fiber and other essential nutrients. Carrots also serve your cat as an antioxidant while  asparagus keeps your cat's heart healthy with potassium.
Cantaloupe is an ingredient that can be argued as far as being beneficial for cats. While cantaloupe is a great source of vitamin C, cats produce it inside their bodies and don't need to get it from outside sources. Otherwise its a source of beta carotene, potassium, amino acids, and antioxidants.
Spinach is rich in fiber, vitamins A, K, B6, B2, E and C as well as omega-3 fatty acids.It works to boost the immune system and strengthen the digestive system.
#2

Flavorful Fish Feast
Guaranteed Analysis:
Protein – 18% Min
Fat – 6% Min
Fiber – .5% Max
Moisture – 72% Max
Calories: (kcal/kg) 1385
Ingredients: Tilapia, salmon, beef fat, cassava root, carrot, dicalcium phosphate, calcium carbonate, salt, taurine, choline bitartrate, zinc gluconate, ferrous sulfate, vitamin E supplement, copper gluconate, manganese gluconate, vitamin A supplement, thiamine mononitrate (vitamin B1), selenium yeast, riboflavin (vitamin B2), vitamin B12 supplement, cholecalciferol (source of vitamin D3), potassium iodide.
---
The second recipe we reviewed is their fish based recipe. Tilapia is the first ingredient and is a good source of proteins, fats, niacin, vitamin B12, phosphorus, magnesium, selenium, and potassium as well as other minerals and vitamins. The second fish listed is salmon and it is a great source of omega-3 fatty acids, protein and many essential vitamins. Both of these fish proteins provide your cat with a luxurious coat.
Beef fat is commonly added to pet food and is considered an essential fatty acid which provides omegas 3's and 6 for a healthy coat and skin.
Cassava root or Yucca provides your cat with calcium, vitamin C, and minerals for strong bones.
Carrots are high in complex carbohydrates and rich in B vitamins, fiber and other essential nutrients. This serves your cat as an antioxidant.
Taste Test
Honestly, my kitties are not picky eaters. But I noticed right away they both really liked the food. As soon as I put the bowls down, they threw their faces in and there was a lot of warning growls going back and forth.
By the second feeding, I couldn't get the food out of the package before one cat was crawling up my leg and the other was plotting to trip me.
Feedings have become a little aggressive, but that is probably a sign that both kitties really love this food. There was no difference in their reactions, whether I was feeding them the Chicken Chow-Meow or the Flavorful Fish Feast.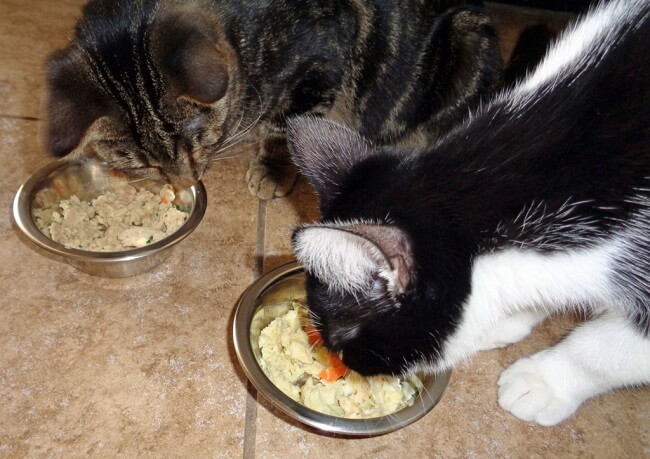 The Downside Of Nom Nom
Nom Nom is a fresh pet food delivery service and it may cost you about $120 a month for a 7 pound cat. This is quite a bit more money than a bag of kibble, but may save on vet bills in the future. One complaint I have in about the packaging. It is not always easy to open and sometimes requires the use of scissors to avoid making a big mess. Of course the most obvious issue with this and any fresh food is it must be refrigerated and means travelling with this cat food can be difficult.
The Benefits Of Nom Nom's Fresh Cat Food
The food Nom Nom prepares is cooked fresh in small batches, which means it isn't processed like other cat foods. The food retains more vitamins, nutrients and proteins because it isn't processed. Other benefits include:
More energy – Nom Nom is more digestible meaning the food is absorbed and used for energy.
Shinier coat, healthier skin, brighter eyes – The vitamins, minerals and nutrients in the formulas are known to help with a healthier coat, skin, and eyes.
Healthier immune system – This fresh food is rich in all-natural vitamins, such as A, C and zinc. These nutrients help your cat's immune system stay strong and healthy.
Less waste – Since there are no fillers, there will be less poop. Every ingredient is made to give cats the nutrients they need so they can use more of the food.
Better hydration – Cats get most of their water intake from the foods they eat. If their diet lacks moisture, they usually won't make it up by drinking more. These meals are moisture rich to ensure your cat stays hydrated.
How Much Does Nom Nom Cat Food Cost?
According to We're All About Cats, Nom Nom cost around $2-$6 per day depending on the size of your cat and it's eating habits.
For Cats that weight around 7-9 pounds, a weekly plan would cost around $4-4.5 per day, if you opt for fixed monthly delivery plan the cost could drop to around $2-$3 per day.
Positive Reviews
"After learning about some really disgusting things in even "high quality" pet food I knew I needed to make a change.

NomNom makes me feel like I am doing right for my pet. Good nutrition means better health. Better health increases life expectancy. Good for Joy and good for me. Win – Win for everyone."

anonymous, Reviewing Small Cat Food on Trustpilot
"There was an offer through an earning site called Swagbucks. I have been hearing that a raw food diet is better for cats and for dogs as well, so I thought I'd give Nom Nom a try for my cat."

"She is about 11 years old and I've had her for a couple of years. She is a high strung kitty. She is a tuxedo kitty and she's got a beautiful, thick fur coat. She's a short hair and what I've noticed since she has started this diet is she has been much happier and her coat is very sleek and really lovely.

She is very adamant about getting her feedings twice a day like she is supposed to, and she gets them because I don't wanna be on her wrong side, and it seems to be working very well for her. When I'm out of town, I have to leave people to supplement with a bit of dry food as well, but for the most part, she is completely on the NomNom diet."

Jennifer, Reviewing Small Cat Food on ConsumerAffairs.com
Negative Reviews
"One of my cats did not care for the food"

"One of my cats did not care for the pork. I also found out that she didn't like carrots as she picked them out as well.

Paula , Reviewing Nom Nom Cat Food on ConsumerAffairs.com
"You do not put the same amount or even…"

"You do not put the same amount or even enough meat in each pack I have to add to it not sure how much longer I will be buying your product thanks"

Nita Smith, Reviewing Nom Nom Cat Food on Trustpilot
Is Nom Nom Worth It?
I really like that I can see  and identify the ingredients in the cat food. I also like the ease of the pre-portioned packs being the right amount for each meal.
This is a great replacement for wet food and the ingredients can't be beat. However, a company that delivers fresh cat food to your door at an average of $35 per week, isn't cheap.
Where To Buy Nomnomnow Cat Food?
If you're looking for wholesome cat food, that is convenient and beneficial go ahead and give Nom Nom a try today. Your cat will thank you!
You can buy Nomnomnow Cat Food directly from the official site.
(Disclosure – Cat Mania  was provided free samples for the purposes of this review of Nom Nom, which contains affiliate links. This means we may receive a small commission, at no additional cost to you, if you click a link and purchase something.)