Pretty Litter Review
This page contains affiliate links. We may earn money or products from the companies mentioned in this post through our independently chosen links, which earn us a commission. Learn More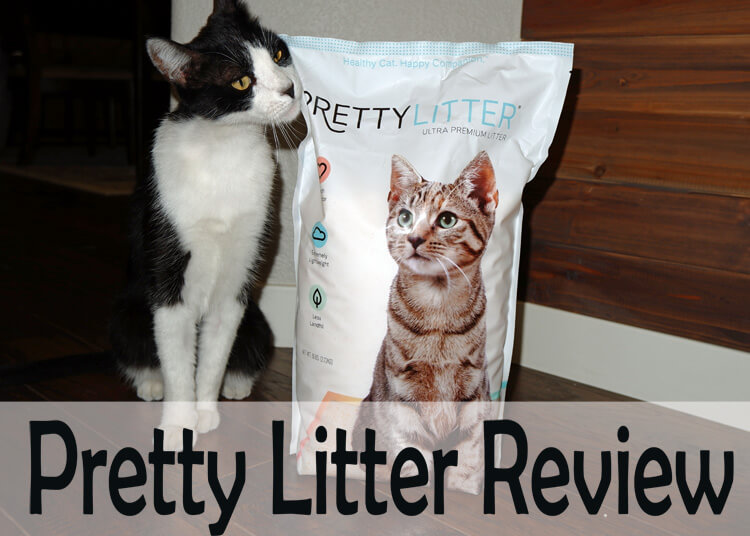 If you are a fan of subscription services and not a fan of buying huge bags of litter, then Pretty Litter is for you. Pretty Litter is an innovative cat litter that combines a health monitoring technology with a low dust, eco friendly crystal litter.
Pretty litter reacts to your cats urine and changes colors to detect health issues. The litter color ranges from green to blue to red, depending on the severity of the illness. Unlike clumping litter, it lasts longer by absorbing and eliminating moisture so there is no need for constant replenishing.
Quick Summary
"Pretty Litter can monitor your cat's health and give you piece of mind. This was a huge factor for me and eased my mind when my cat's urine came back normal. "
Click here to get 20% OFF first order
How We Tested:
We purchased Pretty Litter to review
We spent four weeks testing it on our cats
We did not receive this product in exchange for a favorable review and purchased it with our own money
Benefits Of Using Pretty Litter
Pretty Litter is an innovative litter that helps track the pH in your cat's urine. The litter is white in color which makes determining potential health issues in your cat easier when there is a color change.
Basically, a dark yellow/ green color means your cat's urine is within a typical range.
A darker green color can be related to certain types of urinary tract infections or bladder issues. An orange/ yellow color could mean metabolic acidosis and kidney tubular acidosis problems. Red means there is blood in the urine and indicates bladder inflammation, bladder stones, or urinary tract infection.
Your cat may very likely have a temporary color change if he is on a new diet or has had changes in environment. However, acidity and alkalinity levels can vary by cat and observing the litter over 24 to 48 hours may show change. If the color does change to a typical color your cat should see a veterinarian.
Pretty Litter also claims their litter is 80% lighter and less dusty than other brands. They do not use fragrance and the litter is made from naturally occurring minerals. They also state a 6 pound bag should last a month for a one cat household.
About Pretty Litter Brand
Pretty Litter is a health-monitoring cat litter created by Daniel Rotman after his beloved cat Gingi became ill. He wanted to provide cat owners with a method of monitoring their cats health and to notify them when a vet check maybe needed.
He partnered with veterinarian Dr. Geoff DeWire, who supported the idea and helped with product development, testing and formulation. He then launched the business out of his apartment in early 2016, packaging and shipping it himself.
The company is now based in Los Angeles, California and has 50 employees around the country. The litter is manufactured in one of the world's largest and most trusted kitty litter plants sourcing its own silica micro-gels using carefully selected mineral sources. In addition, this manufacturing facility uses the highest quality control standards.
Analysis/Review Of Pretty Litter
Pretty Litter
Product Info:
Price: ~$22/ monthly
Litter Type: Silica
Made In: USA
The Good
One bag lasts an entire month
Detects health issues with color changing crystals
No fragrance used
Absorbs and eliminates moisture
The Bad
This is a non-clumping formula
Price on the high side for litter
Subscription is required
Pretty Litter is made of super absorbent Silica Gel, combined with a proprietary formulation of indicators to help you monitor your cat's urine for acidity and alkalinity levels outside the average range, plus the visible presence of blood. It lasts longer and unlike clumping litter, it absorbs and then eliminates moisture so there is no need for constant replenishing.
Pretty Litter Testing
Pretty Litter claims that one 6 pound bag contains enough litter to fill one litter box, providing enough litter for one cat to use for a month. I had ordered a bag through the Pretty Litter website to test in my litter box. The ordering process was fairly simple and after answering a few questions about your cat or cats, a plan is suggested. For the sake of this review, I signed up for a one cat plan and was sent a month supply that cost me $22.
Upon receiving the bag or Pretty Litter I noticed how sturdy the bag felt, meaning no accidental rips or tears. I opened the bag and noticed the white litter feels and looks like sugar crystals and had no smell whatsoever. I poured it into the litter box and saw almost no dust flowing around as it hit the bottom.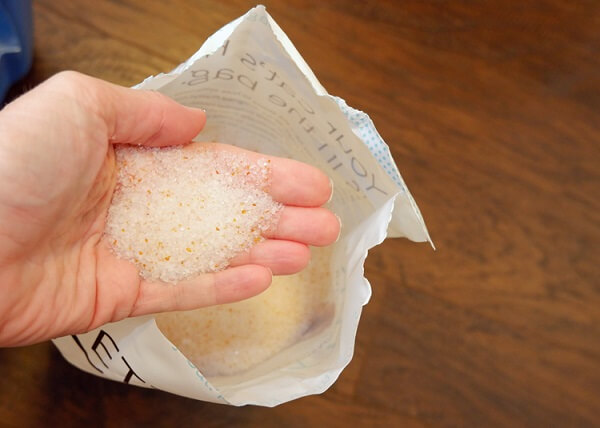 Odor Control – Pretty Litter did a good job of controlling odor for the first 2 weeks. I would have to say by week 3 and 4 it had a slight ammonia odor to it. I do have the litter box in a small laundry room so it was more noticeable than it would have been in a larger room.
Maintenance – I clean the litter box daily due to a picky and meticulous cat. It was easy to scoop the poop but the urine parts do not clump and would break apart. This made it difficult to get the "used" parts out of the litter.
Tracking – There is some tracking with this litter but its not as bad as typical clay litter. I do have a cat who kicks litter around no matter how little it tracks but I place a mat in front to determine how far the tracking went. I did find myself sweeping around the litter box every other day but it was small amounts.
Dust – I saw little to no dust. I tested this when pouring it into the litter box and while cleaning it daily. The pieces are crystal like and solid, so dust seems impossible.
PH Levels – My cat's urine was always in the typical range, showing a yellow/green color. This was a relief and did not change during the month I tested the litter.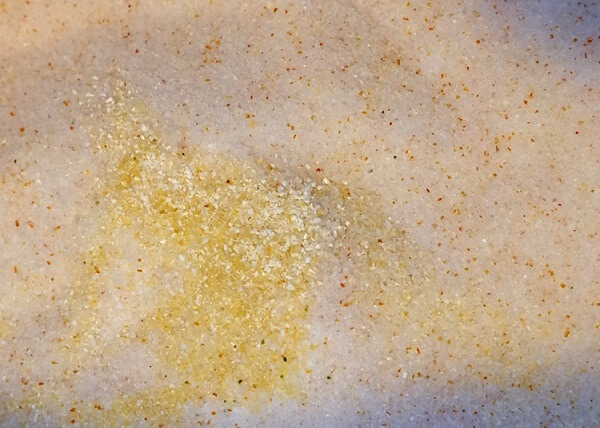 How Much Does Pretty Litter Cost?
The price is based on how many cat's you own and or how much you need per month.
A 6 pound bag of Pretty Litter costs $22. If you order two bags for a month, it will cost you $39. If you order a bundle of four bags per month, you will pay $68 which is the best deal and means the 4th is free.
The company accommodates special orders who may need more than four bags, like rescues, shelters, and fosters. Ten bags of Pretty Litter will cost $150.
Pretty Litter offers free shipping to all 48 contiguous United States.
Is Pretty Litter A Good Choice?
Pretty Litter is a great choice for cat owners who want the convenience of cat litter delivered and only changing it once a month. The crystals absorb liquids and it manages odors fairly well too.
Pretty Litter can monitor your cat's health and give you piece of mind. This was a huge factor for me and eased my mind when my cat's urine came back normal. Detecting health issues early might save you money at the vet too!
Best of all, buying this litter is risk-free. From the time of purchase, new customers will have 30 days to try Pretty Litter. If you want to stop your subscription during that time you can contact their support team for a refund and they will also send you a return label to collect any unused bags.
Where Is Pretty Litter Sold?
Currently Pretty Litter is sold at prettylitter.com by subscription service only.
*This article is for informational purposes only. It's not intended to be a substitute for professional veterinary advice, diagnosis, or treatment.