101 Most Popular Siamese Cat Names
This page contains affiliate links. We may earn money or products from the companies mentioned in this post through our independently chosen links, which earn us a commission. Learn More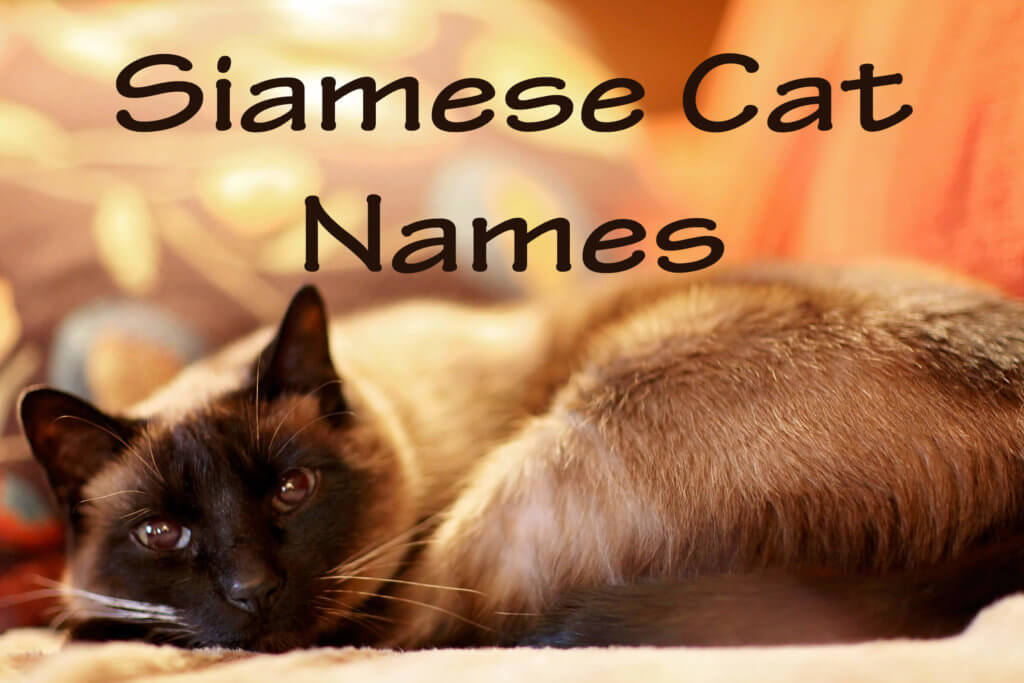 The Siamese cat is one of the first distinctly recognized breeds of Asian cats. Siamese cats are intelligent, affectionate and very vocal. They enjoy the company of humans as well as other pets and are often described as extroverts, who behave more like dogs than cats.
The beautiful Siamese cat is the legendary temple cat of the King of Siam. They were not only valued by the king for their exquisite beauty, but they were used as guard cats. While a Thai name would be fitting, there is no need to limit yourself and your cat. Read below to find plenty of ideas.
Male Siamese Cat Names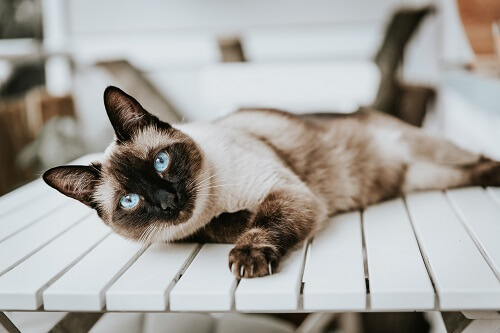 ABNER-Consider this name for your Siamese friend if you're a lover of the American comic strip, Li'l Abner aired in the mid-'90s
ALGERNON-An ideal name for a curious cat derived from the science fiction novel Flowers of Algernon by Daniel Keys
AMOS-A Biblical name that fits a muscular Siamese male cat
BARNABUS-A name of Hebrew Origin for a cat who consoles you in times of trouble
BIGGLES-A fictional pilot in James Bigglesworth book series, this name is the perfect name for your courageous cat
BINGO-An ideal name for a cat who offers you a sense of satisfaction
BUZZ-An exciting name for your Siamese cat who is always busy doing something
CAINE-A name of Irish origin suitable for a little kitty who likes to fight
CAMPARI-A sophisticated name for your Siamese cat with a pink nose
CARUSO-An ideal name for a slender fluffy Siamese cat
CHITCHAT-Fitting name for a cat who loves to listen to you as you talk
CLAUDE– This beautiful name fits your cat who walks with a slight limp
CONFUSIUS-This Chinese name fits a cat who gives you an easy time when training him
DANTE-Derive his name from Dante Alighieri, the writer of the poem Divine Comedy, if he has endured difficulties in the past.
DESMOND-A wonderful name for a protective cat who always comes to your defense
DEXTER-A name that's associated with intelligent cats
DJANGO– Name him after the famous Jazz guitarist Django Reinhardt
EDGAR– This name fits a black cat and its coined from the short story writer Edgar Allan Poe known for his book The black cat
FLETCH—An ideal name for a lightweight cat
FOX-Consider this an appropriate name for your outgoing cat who is also cunning
GAMBIT– This would be a great name choice if you have a cat who is always taking advantage of situations
GENJI– This name will remind you of the love between the Emperor and low ranking concubine in the book The Tale of Genji
HEMINGWAY-Name your Siamese pet after American writer Ernest Hemingway famous for his many novels including The Old Man and the Sea
JARVIS-Just like the loyal butler Edwin Jarvis in  the Comic film Iron Man, this name fits your loyal Siamese cat
JAZZ-A beautiful name for a relaxed and cool cat just like jazz music
JOJO-An ideal name for a cat who was born on a Monday 
KATANA-A Japanese sword, a fitting name for your slender Siamese cat
KIRBY-A beautiful name for an adventurous and courageous kitty
KOLO-A sweet name to call your Siamese cat who loves to dance
LARRABY– Name her after the fictional character Larraby who steals the show in the film Zoom
LESTER-An ideal name for a cat who is apologetic after making a mistake just like the fictional character Lester Nygaard in the Television series Fargo
LEX– This beautiful name fits a lovely Siamese kitty who always saves you when you're in trouble
LLOYD-A unique name for a cat with a grey coat
MALARKY-A perfect name for a cat who is always gloomy
MARCUS-This name suits a polite and shy Siamese kitty
NATE-Short form of Nathan or Nathaniel for a cat you consider as a gift from God
NEO-Suitable for a new cat in your home
NEWMAN– Give your noble cat this name derived from Cardinal Newman, a theologian who founded the oxford movement and later became a cardinal in Roman catholicism
NILES –A name of  Greek origin that fits a cat who has conquered your heart
NILSSON-Name him after the famous American singer Harry Edward Nilsson famous for his hit song Everybody's Takin'
NINJA-An ideal name for a cat who likes to sneak up on you
RANDOLPH-Consider this unique name for your Siamese cat if he guards and protects your home
REGIS-If he rules your home like a king, the name Regis will fit him perfectly
RILEY-Derive his name from American-Jamaican reggae artist Tarrus Riley popular for his hit song she's Royal
ROCKSTAR-An ideal name for your cat who is popular in your neighborhood
SETH– If he loves to wrestle, name him after the American wrestler with the stage name Seth Rollins
SIMON– Name him after the critical judge Simon Cowell of America Got Talent Television show
SINATRA-Name him after the famous American singer Frank Sinatra known for his hit song My way
SMOKEY– if he is funny and witty, Smokey is a great name from the comedy film Friday
SPYRO– Beautiful name for your Siamese brave cat similar to the courageous cat featured in the video game Spyro
SUNDANCE-Name him after your favorite annual Sundance Film festival that happens in Utah, the Salt lake city
TARQUIN-Name your proud harsh cat after the last king of Rome Tarquin the Proud known for his cruel authority
TRAVIS-An ideal name for an emotional Siamese cat just like Travis Fimmel in the television series Vikings
WOO-An ideal name for your cat who is always seeking your attention
WOODROW– If he is peaceful, name him after 28th American president Woodrow Wilson who strived to bring peace to the world
XANDER-Derived from the name Alexander, an ideal name for a Siamese cat who defends you at any cost
YAHOO-This name fits a noisy, violent cat
YAYA– This Hebrew name means God is gracious
ZAT-This unisex name fits your Siamese cat with shiny almond-shaped eyes
Female Siamese Cat Names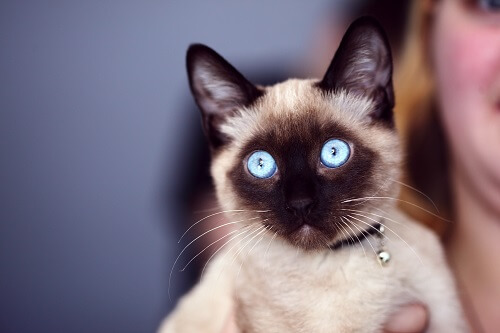 ALLEGRA-A name of Italian origin fit for your lively cat
ASIA-A lovely name for a cat whose  presence brings warmth just like the sunrise
ASTRID– This beautiful name is perfect for your Siamese pet who is beautiful inside out
BIANCA– Name her Bianca after the fictional character who was Cassio's mistress in William Shakespeare's' play The Tragedy of Othello
BLONDIE-An ideal name for a Siamese cat with a yellowish-brown coat
BREE– This lovely name fits your cat who is a perfectionist just like the fictional character Bree Van de Kamp in the television series Desperate Housewives
CALLISTA-A lovely name for your very beautiful pet
CANDY-Ideal for your little kitty who is sweet like candy
CASSANDRA– This Greek name is perfect for your Siamese kitty who behaves like a princess
CHRISTINA– Name her after the beautiful American singer Christina Aguilera known for her hit song What A Girl Wants
CLAUDIA-An ideal name for your outgoing super friendly cat
DELPHINE-For an intelligent cat from the character Delphine d'Albemar from the novel by Anne Louise Germaine Necker
DIAMOND-A beautiful name for your cat who is precious and valuable to you
ELEKTRA-Greek name that means amber fit for your Siamese cat with bright and shiny eyes
HOLLY-Derive her name from the socialite New York city girl character Holly Golightly in the movie Breakfast at Tiffany's
JODIE– If she is a true friend, call her Jodie
JOSIE-A sweet name for a cat who is the latest addition to your family
KIERA-An ideal name for a small cat with dark fur
KOKO-A character from the novel series The cat who.. by Lilian Jackson Braun
KOO-An ideal name for your reckless cat
LARISSA-Consider this name if she is a sweet Siamese cat who loves nature
LEELA-A lovely name for an ever-playful kitty
LEIA-Derive her name from Princess Leia a fearless character in the television series Star Wars
LEXI-A beautiful name for an amazing cat who defends others
LILAC-Name her after the lovely and purple lilac flowers
LILITH– Perfect for your dark-furred cat who likes to scare you at night
LILLY-A wonderful name for a shy innocent kitty
LING LING-A violent character in animated television series Drawn Together
LORETTA– Name her after the American country music singer Loretta Lynn
LUCY-French origin meaning light, ideal for a Siamese cat with tiny almond-shaped shiny eyes
LUCY LUI– Give your ill-mannered cat this name after the Chinese actress Lucy Lu starring in the television series Ally McBeal
LULU-A name of Arabic origin meaning pearl for your precious cat
LYNX-An ideal name for a cat who constantly warns you of approaching danger
MATILDA– For a kind and loving cat just like Matilda Wormwood from the novel Matilda   by Roald Dahl
MIA– Giver her this Scandinavian name if she is rebellious and bitter
MIMI-Name her after the heroine character in  Giacomo Puccini's opera La Boheme
MING-Of Chinese origin for your Siamese cat distinctly recognizable by her almond shiny eyes
MISTY– Give your quite thoughtful Siamese kitty with a grey coat the name misty
MOON-A unique name for an alert cat who is always awake even at night
NADINE-A French name for your hopeful cat
PANDORA– A lovely name for a gifted cat inspired by the science fiction film Avatar
PEARL-A wonderful name for a grey-furred cat who you treasure
PETAL– For your one of a kind kitty who is good-natured
POPSTAR-Just like in the entertainment industry, Popstar is a perfect name for your famous friend
SILVER-A precious name for your cat with a silver coat
SIMONE-A lovely name for your attentive cat who understands your language
STELLA-Of Latin origin for a cat who is a jack of all trades
SUNDAE-Name your Siamese friend after your favorite dessert
SUSHI– If she loves to eat fish name her after this Japanese dish made from seasoned rice with fish
TAMMY– if she is perfectionist, Tammy will suit her just right
TAO-A bold cat featured in the Disney film The Incredible Journey
THISTLE- A ideal name for an aggressive cat who likes to scratch with her claws
TIA– Give the Greek name Tiana that means princess a twist
TRINITY-A perfect choice for your quiet pet who is friendly to visitors
VENUS-A Roman goddess of love and sex, a name that fits your beautiful and sexy kitty
XENA– An ideal name for a hospitable cat
YING YANG-An ideal name for your Siamese cat with a black and white coat like the Chinese dualism symbol Yin Yang
YOKO-Of Japanese origin for a respectful young cat
YUM YUM-A lovely name for an attractive sweet kitty
ZENOBIA-Name her after the third-century queen of Palmyrene Empire Septimia Zenobia who challenges the authority of Rome
Conclusion
You may want your Siamese cat's name to have some personal meaning, or relate to her appearance or personality in some way. If you did not find a favorite name here, consider searching under Male or Female cat names.