HolistaPet CBD Review
This page contains affiliate links. We may earn money or products from the companies mentioned in this post through our independently chosen links, which earn us a commission. Learn More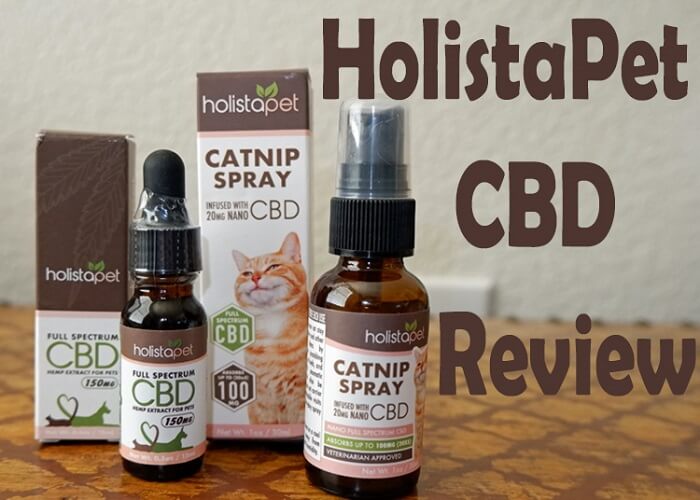 Holistapet offers CBD oil for cats that is full-spectrum, legal, and will not get your kitty "high". Their purpose is to help your cat find relief from stress, allergies, nausea, seizures, and more, through natural remedies.
Holistapet's products are organic, lab tested and uses the safest methods to extract CBD, allowing for the collection of the purest cannabinoids, terpenes, and essential oils.
Quick Summary
"The catnip spray with CBD is my new favorite HolistaPet product and has been very effective in keeping my cats interested in their own furniture and away from mine. "
How We Tested:
We purchased HolistaPet CBD products to review
We spent several weeks testing the products on our cats
We did not receive these products in exchange for a favorable review and purchased them with our own money
What To Look For In A CBD Oil?
When it comes to high quality CBD oil for cats, there are certain factors that are important in determining the safety and efficacy of the product.
Organic – If the CBD oil is not organic, make sure it does not contain pesticides, fungicides, or solvents.
Price – The higher the quality and purity, the higher the cost will be.  If you choose a cheaper option it could have toxic substances such as pesticides, herbicides, or heavy metals in it. Make sure your CBD oil choice is free of additives.
Certificate of analysis – The manufacturer should provide a certificate of analysis (COA) that tells you the amount of CBD that is in the product. Many CBD products contain only small amounts of CBD. Also look for oils that have their products tested by third-party labs to ensure they don't contain harmful materials.
Liquid – You can buy dog treats that contain CBD, but the most effective form to administer, is an oil or tincture. CBD oil in a bottle is considered the purest form and also makes it easier to adjust your cat's dosage.
Extraction process – Processes like superficial CO2 or cold-press extraction are considered the safest because they do not involve the use of harmful solvents.
THC Levels – While all CBD from hemp should contain under .3% THC, it is recommend purchasing a product that contains zero detectable THC on the certificate of analysis (COA). Cats react differently to THC than humans, and even trace amounts of THC can have negative effects on small animals.
Broad/Full Spectrum – When shopping for CBD oil for your pet, you may see "broad/full spectrum CBD oil" or "CBD isolate". Broad and full spectrum uses the many cannabinoids and terpenes found naturally in hemp, while CBD isolate contains only CBD. Experts believe the whole plant offers an "entourage effect" and your pet benefits from a more complete variety of the phytochemicals found in hemp.
About HolistaPet
HolistaPet is a US company based in Commerce, California. They started the company with the desire to help pets get relief from anxiety, arthritis, seizures, cancer and more, using natural remedies rather than pharmaceuticals.
HolistaPet currently offers 3 types of CBD products for pets:
Holistapet's CBD products are organic, lab tested and approved by vets. What makes them different from other brands is that they make products using natural superfood ingredients in different products specialized to treat specific symptoms.
Holistapet extracts their CBD using the CO2 extraction method which is what the best CBD oil brands do. This is among the safest methods to extract CBD and allows for the collection of the purest cannabinoids, terpenes, and essential oils.
Sourcing And Manufacturing
HolistaPet's products are the result of over 12 years of research and experimentation with CBD, finding the safest, most effective way for pets to harness the power of this incredible compound. CBD dosage is dependent on body weight and the type of condition which you are using it for. All of thier products combine full-spectrum CBD extract with organic superfoods such as hemp seed, L-Theanine, chamomile, turmeric root, Boswellia, flaxseed, and much more. Their products are sourced from hemp that is organically grown on local Colorado farms.
They maintain they utilize "green" extraction methods (CO2 method) to produce CBD oil and posts its third-party laboratory test results on their website. Holistapet's lab tests are carried out by pHSolutions. Their products do not contain any solvents, harsh chemicals, pesticides, heavy metals or any other type of toxins. When it comes to testing for potency, they test for CBD, THC, CBN, CBG, CBC, and CBDA to make sure their products are safe for all animals.
HolistaPet works with a Veterinary Advisory Board to incorporate the highest quality information on animal health and CBD. Much of the VAB staff have immense experience in alternative, plant-based care of pets and livestock.
Claims Of HolistaPet CBD
HolistaPet claims its CBD products are made to help manage symptoms associated with different diseases that your pets suffer from like joint pain, inflammation, arthritis, or other immunity issues, digestive and heart issues, allergies of the skin or otherwise, seizures, nausea/vomiting, fatty tumors, appetite, stress, anxiety and even phobias.
Holistapet also combines the benefits of superfoods with their carefully crafted CBD items for dogs, cats and horses. The addition of superfoods assist with health maintenance, and may serve several other purposes such as:
Eases pain
Reduces stress
Assists motility
Aids in bone function
Promotes sleep
Minimizes digestive issues
Analysis/Review Of HolistaPet CBD Products
HolistaPet CBD Oil 150 MG
Supplemental Facts:
Serving size: .15ml
Servings per container: 30
Full spectrum CBD: 5mg
THC: 0.0%
Ingredients: Hemp seed oil, CBD oil
Let's take a closer look at the ingredients in the HolistaPet CBD Oil.
Hemp seed oil boosts the immune system and promotes a healthy skin and coat.
CBD oil is a compound found in cannabis and hemp. Studies have shown that it can treat pain, especially neuropathic pain, as well as helping to control seizures.
---
HolistaPet CBD Catnip Spray 100mg
Supplemental Facts:
Serving size: 30ml
Servings per container: 360 sprays
Full spectrum CBD: 20mg (up to 100mg)
THC: Less than .3%
Ingredients: Nepetalactone Essential Oil (Catnip Oil), Nano CBD (Cannabidiol), Nano-enhanced Water
Let's take a closer look at the ingredients in the Honest Paws CBD Oil for Cats.
Nepetalactone essential oil is an aromatic perennial enjoyed by cats. It binds to the cats olfactory receptors which are responsible for sensing chemicals called pheromones.
Nano CBD means that CBD is broken down into very tiny particles before it is coated using micro-carriers that help to enhance the CBD particles delivery into the targeted areas. This helps facilitate optimal absorption, which can be up to four times more than traditional consumption to better support symptoms of pain and anxiety.
Nano-enhanced water is water that has been broken down into small particles to help transfer other small particles for absorption.
---
Administering /Test
HolistaPet recommends administering drops of CBD oil in your cat's favorite food or treats or gently squeeze out contents of dropper directly into your cat's mouth. The CBD Pet Tincture 150 MG is recommended for pets under 20 pounds. The chart for recommended dosage is as follows:
| PET WEIGHT | REG DOSE | STRONG DOSE |
| --- | --- | --- |
| 2 lbs | 0.5 mg = 2 drops | 1.0 mg = 3 drops |
| 4 lbs | 1.0 mg = 3 drops | 2.0 mg = 6 drops |
| 6 lbs | 1.5 mg = 5 drops | 3.0 mg = 9 drops |
| 8 lbs | 2.0 mg = 6 drops | 4.0 mg = 12 drops |
| 10 lbs | 2.5 mg = 8 drops | 5.0 mg = 15 drops |
| 12 lbs | 3.0 mg = 9 drops | 6.0 mg = 18 drops |
| 14 lbs | 3.5 mg = 11 drops | 7.0 mg = 21 drops |
| 16 lbs | 4.0 mg = 12 drops | 8.0 mg = 24 drops |
| 18 lbs | 4.5 mg = 14 drops | 9.0 mg = 27 drops |
| 20 lbs | 5.0 mg = 15 drops | 10 mg = 30 drops (1ml) |
For my cat, I add 2.0mg or 6 drops to his food because he weighs around 8 pounds. In the beginning I was struggling to get the dropper into his mouth, but now find that mixing the CBD oil directly in his wet food is much easier. He doesn't seem to notice the CBD in his food and gets the full dose. However, this type of dosing will take close to an hour to take effect.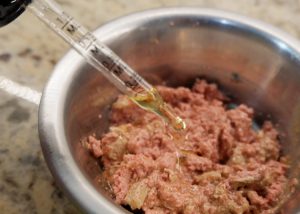 As for the Catnip Spray with CBD, I spray it directly to my cat's scratching post to encourage them to use that and not my furniture. To use the catnip spray, HolistaPet recommends about one to two sprays on a surface of object you would like your cat to use. If your cat is sensitive to catnip spray, you should almost immediately see a reaction and will notice your cat demonstrating "high" behavior.
I have one cat who loves catnip and another who seems uninterested and unaffected by it. However, this spray seemed to not only attract both of them, but got them both using the scratching post and laying next to it for short periods of time.
How Much Does HolistaPet CBD Oil Cost?
The bottles of CBD tinctures range from 150mg to 3000mg and cost from $25.95 to $144.95. The cat treats are 150mg and a bag of 30 will cost anywhere from $24.95. The catnip spray is a 1 ounce bottle and will cost you $23.95. CBD capsules are available in 150mg to 3000mg and will cost you $25.95 to $144.95. They do have bundle packs which not only save you money but will give you an opportunity to try different CBD items. You can also subscribe and save 10% off your order and receive product every 30 days.
All orders placed in the United States are eligible for free and fast delivery and are processed within 1  to 2 days. However, orders placed after 1 pm on Fridays will be shipped out on the following Monday. Your order will arrive in 3 to 5 business days from the date of order processing.
Is HolistaPet CBD A Good Choice?
HolistaPet's full-spectrum CBD oil products are quality products when compared to the competition. The offer a full line of cat products like treats, capsules, oils and sprays as well as product lines for other types of animals. In addition to great products, they are fairly priced and offer free shipping as well as discounts on subscriptions.
They do provide all certificates of analysis (COA) directly on their website for all of their products and you can check that out here.
HolistaPet offers a 30-day 100% money-back guarantee if you're not satisfied with their product, meaning there is no reason to not give them a try.
I have now tried several on the HolistaPet products on my all pets and have seen great results. The catnip spray with CBD is my new favorite HolistaPet product and has been very effective in keeping my cats interested in their own furniture and away from mine.
*This article is for informational purposes only. It's not intended to be a substitute for professional veterinary advice, diagnosis, or treatment.