Kitty Poo Club Review
This page contains affiliate links. We may earn money or products from the companies mentioned in this post through our independently chosen links, which earn us a commission. Learn More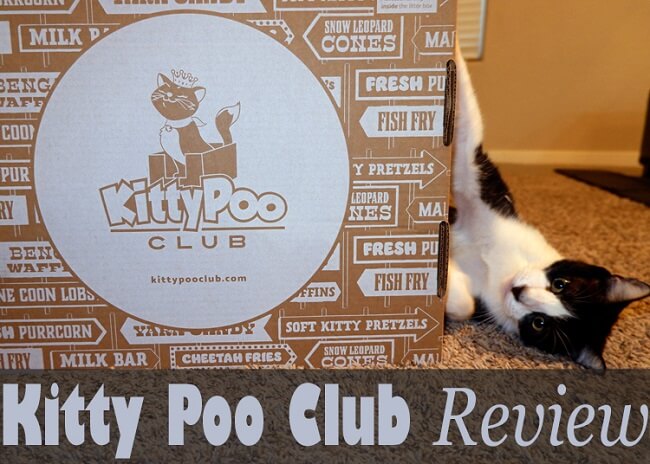 If you are a fan of subscription services and convenience, then Kitty Poo Club might be for you. Kitty Poo Club's service offers monthly deliveries with four types of litter to choose from, all designed to be tossed away every month which means no litter box scrubbing.
Quick Summary
"The Kitty Poo Club litter seems to do a good job of controlling odor and the boxes are recyclable."
How We Tested:
We purchased Kitty Poo Club to review
We spent a month testing it on our cats
We did not receive this product in exchange for a favorable review and purchased it with our own money
About Kitty Poo Club
Kitty Poo Club is a Wooster, OH based cat litter subscription service founded by a father and son team, Chad and Porter Kauffman in 2017. They created Kitty Poo Club to cut out driving to the store and carrying heavy boxes of litter, only to then scrub plastic litter boxes each month.
Kitty Poo Club allows customers to choose from odor-free fine grain silica, regular silica, organic or clay litters along with a waterproof litter box made from 100% recycled materials that then gets tossed in the trash when the 30 day supply arrives.
Additionally, Kitty Poo Club subscribers can also choose from a variety of cat treats like Tiki Pets, Stella & Chewy's, primal as well as trusted food from Blue Buffalo, Acana and Fromm. The added product offerings continue to make cat ownership even easier by providing a one-stop shop for selecting and ordering kitty necessities and having them all delivered.
How It Works?
You can start by visiting "How it Works" to get started and sign up for a monthly subscription. From there you will be asked a series of questions starting with how many cats you own, litter preference, if you need any accessories and then options to add on treats and food. They will build a subscription plan for you and once you set up an account, you are all done.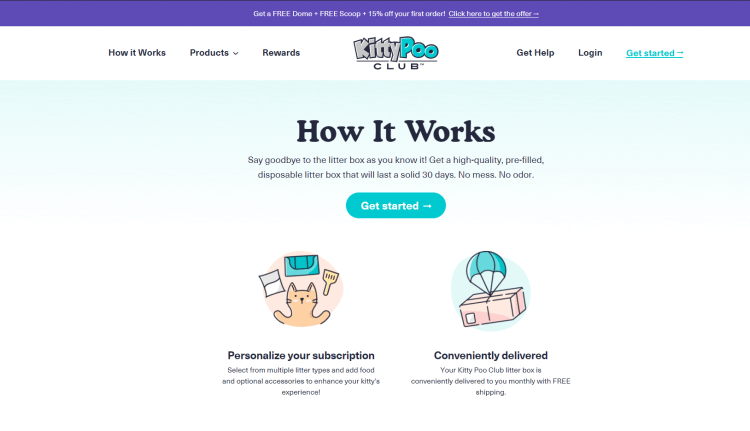 Once your subscription account is set up you will receive a recyclable cardboard litter box and a bag of litter every 30 days.
After your order is placed you will receive a confirmation email, then another once your order ships, with your tracking information. My first delivery was sitting on my porch 5 days later.
Kitty Poo Club designs their litter boxes using waterproof and recyclable materials as well as a new design every month. You can choose your litter for the box and switch any time or even try a new one every month. At the end of each month you dump and recycle the old litter box and start fresh with your new one. This means the litter goes out with the disposable litter box, and scrubbing the littler box is a thing of the past.
Kitty Poo Club also has a program called Kitty Koins. When you sign up you'll be automatically rewarded with 200 Kitty Koins. You can earn more by following them on social media and sharing with family and friends. These "Koins" can be exchanged for coupons or you can apply them to your upcoming subscription orders to earn free boxes.
Kitty Poo Club Review
Product Info:
Price: ~$21.49 monthly
Litter Type: Silica, Clay, Soy
Made In: USA
The Good
Receive a new box every 30 days
Boxes are waterproof and recyclable
Offer a 2 week no-risk guarantee
Litter is dust-free, dye-free, and scent-free
The Bad
Litter is dusty when adding to box
Litter box may not keep litter inside
Not the most cost effective litter solution
Kitty Poo Club uses litter that is different than other brands claiming it is clean and healthy. All 3 litters options are made out of 100% natural, odor-destroying minerals and are dust-free, dye-free, and scent-free. The tiny micro-pores trap odors from waste and urine to leave the litter dry while being safe and non-toxic for your pets and your home. Kitty Poo Club allows you to choose from these three litters:
Silica – The silica litter is derived from natural minerals and traps odor well. It has irregular shapes, so it does not track as easily as other types of litter. The only thing you need to do is stir the litter and remove stools each day. You can also opt for the fine grain silica if you cat does not like the large pieces and/or bags of four.
Clay – The clay litter is a charcoal activated clumping litter. It is free of chemicals, dyes and scents and controls odor well. You do have the option to purchase this litter in packs of four.
Organic Soy – This is an anti-microbial, plant based litter option that clumps and controls odors. It contains no scents, dyes or chemicals and is a low tracking formula. This litter is more of a larger pellet shape that some cats may not like.
Kitty Poo Club Experience
When I received my Kitty Poo Club box it was folded flat with the bag of litter and support pieces inside. The set up was quick and simple, and I just pulled the sides up, snapped on the support pieces and placed the box into the lid base. Then the bag of litter was ready to be poured into the waterproof litter box.
I placed two litter boxes in different areas of my home but noticed right away both cats were very interested in the new addition. I left my old litter box in its usual place and the Kitty Poo Club litter box was set up in another room.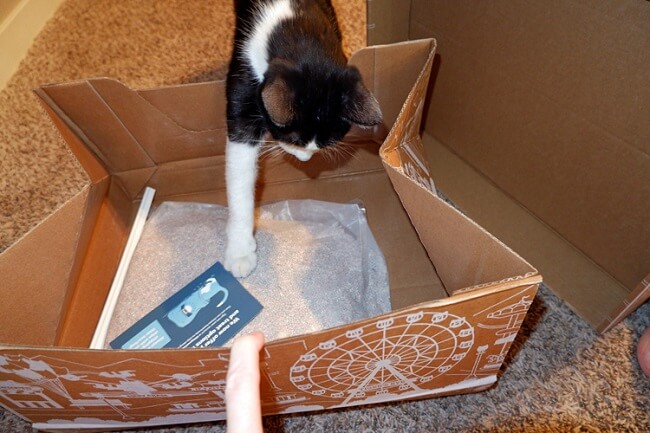 Both cats used the Kitty Poo Litter box non stop and when I went to do my daily cleaning, there was nothing in the old litter box but the Kitty Poo box was full. Needless to say, my cats were really attracted to the Kitty poo Litter box for some reason.
Odor Control – The Kitty Poo Club litter did a good job of controlling odor for the first 3 weeks. By week four, when it was almost time to toss out the box, there was definitely a bit of ammonia odor to it.
Maintenance – I clean the litter box daily having two cats and one who is very particular about his litter box. The litter was easy to scoop and clearly clumped well.
Tracking – This is where I had the most problems. The tracking around the box was terrible but could have also been from my OCD cat digging and kicking it out. Hard to know exactly how so much litter got on the floor, but it was messy.
Dust – When I initially poured the litter into the box there was some dust. It wasn't horrible and settled down in a minute or so. Other than that I didn't notice too much dust when scooping and cleaning the litter daily.
Litter Box – The cardboard litter box provided did hold up well and there was no leakage or issues with it on that end. It assembled easily and had cute designs on the outside to make it look less like a cardboard box posing as a littler box. However, this box did not work well for my cats due to the low sides and step in area. Litter was constantly being kicked out and tracked all over the floor. I have since learned you can add on a dome for the top of the box but I am not sure it would have helped much still having a low step in area.
How Much Does Kitty Poo Club Cost?
The price is based on how many cat's you own and or how many boxes you need per month. Kitty Poo Club costs $21.49 per box which includes shipping. The box is shipped through usps, and is shipped on the date of your renewal date. You get an email from Kitty Poo that allows you to track your shipment.
If  you are able to reuse the box, you can purchase separate bags of litter to refill it or you can purchase Kitty Poo Club litter in single bags for $17.99 or a 4-pack for $64.99. You can also purchase an empty litter box for $11.99.
You can cancel your kitty poo subscription at anytime by logging in to you Kitty Poo Club account on their website. If you're not 100% satisfied, they will refund a single box within the first two weeks of your first order.
Is Kitty Poo Club Litter A Good Choice?
Kitty Poo Club is a good choice for cat owners who want the convenience of cat litter delivered and throwing out the box at the end of the month. The Kitty Poo Club litter seems to do a good job of controlling odor and the boxes are recyclable which is also a huge plus.
However, if you have more than one cat, the cost of Kitty Poo Club could add up. One box is made for one cat every 30 days and if you have messy cats like mine, even that may not be enough. They do give you the option of ordering a box for every cat when you sign up or you can just plan on changing out the box every two weeks.
Overall it's an innovative idea, and may work great for some cat owners who are looking for a clean and simple way to deal with the dreaded litter box. My cats made a huge mess around the outside of the box, but I did like the fact I could throw the whole mess in the trash at the end of the month.
Where Is Kitty Poo Club Sold?
Kitty Poo Club is only sold online through the their website. You do have the option to subscribe to the monthly deliveries or just make individual purchases through the site.
*This article is for informational purposes only. It's not intended to be a substitute for professional veterinary advice, diagnosis, or treatment.