Siberian Cat Colors: From Red To Grey And Golden
This page contains affiliate links. We may earn money or products from the companies mentioned in this post through our independently chosen links, which earn us a commission. Learn More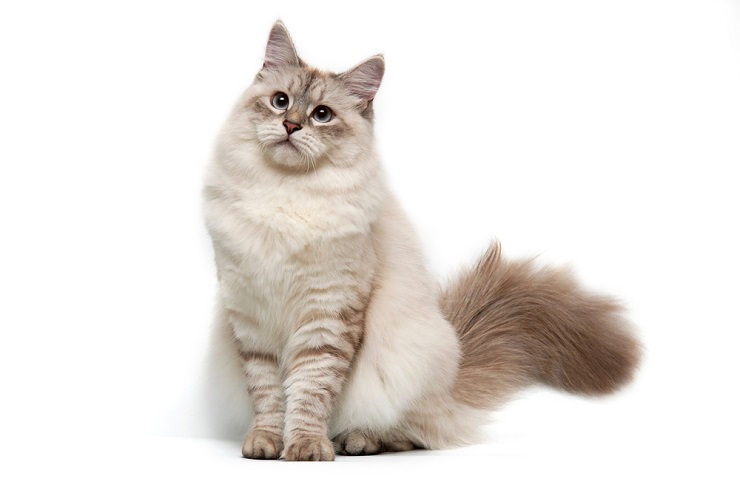 If you're new to the cat world, you might think that cat colors are a pretty simple topic. If you look at the moggies around your area, you might see some who are all black or all white, others that are black and white, maybe a ginger or two, and perhaps the odd tabby cat or tortoiseshell.
But when it comes to Siberian cats, the color varieties can seem almost endless!
Siberian Cat Coat Colors And Patterns
Siberians are a beautiful breed, with long, fluffy coats that can be of various colors. They are friendly and seem to have endless love to give, making them a great choice if you want a new furry friend in your life.
All Siberian cats are tabby when it comes to genetics; however, additional color and pattern genes can change the coat that we see. So, what Siberian cat colors and patterns are there?
Tabby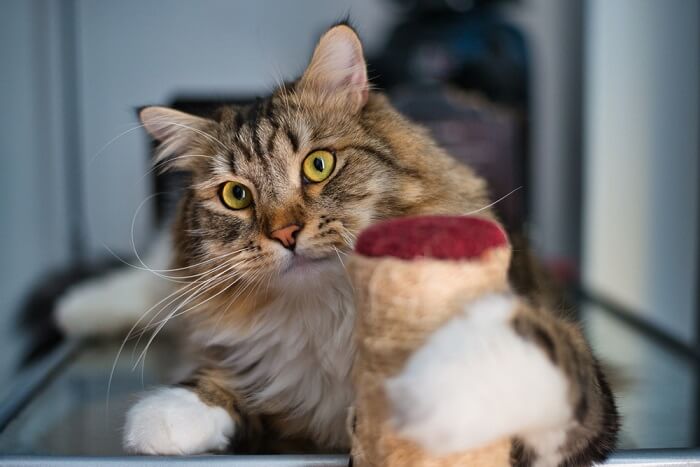 Tabby Siberian cats are very popular and might be considered the most common. Most people will be familiar with the tabby pattern, which essentially gives an all-over stripy appearance. Tabbies tend to have areas of white, often on their chin and chest.
Of course, with Siberian cat colors being such a complicated subject, there are many tabby colors and patterns, and these are summarized below:
Tabby color options:
Silver
Red
Blue
Cream
Golden
Cameo
Blue-silver
Cream-silver
Red-silver
Blue-golden
Brown patched
Blue patched
Blue-silver patched
Tabby pattern options
Classic
Spotted
Patched
Mackerel
Ticked
Solid (also known as Self)
Solid or "Self" Siberian cats are just one color with no pattern, but that doesn't make them any less beautiful! There is little to no variation in the color throughout the coat, leaving a uniform, solid color throughout.
Since there is no pattern for this type, only the color options are listed below:
Solid color options
Black
Blue
Red
White
Cream
Point
Like many cat breeds, the term point refers to a different color at the extremities, including the ears, face, nose, and tail. There's usually no pattern or shading, so the primary color is solid, and only the "points" (extremities) display the contrasting color.
This type of color pattern can be seen in other breeds like Siamese and Ragdoll. Point colors are classified by the color of the extremities rather than the primary color, and the options are listed below:
Point color options:
Seal
Blue
Cream
Red
Tortoiseshell
Blue-cream
Lynx Point
Lynx Point markings are very similar to Point markings in that the color variation occurs at the extremities like the face (mask), paws, tail, and ears. However, Lynx Points have dark, tabby-like stripes on their points rather than solid blocks of color.
Sometimes, the tabby stripes are just about visible on the cat's body, too, as very subtle markings through the primary coat color. Lynx Point Siberians can be similar colors to standard Point Siberians, as shown in the color options below:
Lynx Point color options:
Seal
Blue
Cream
Red
Tortoiseshell
Blue-cream
Bi-color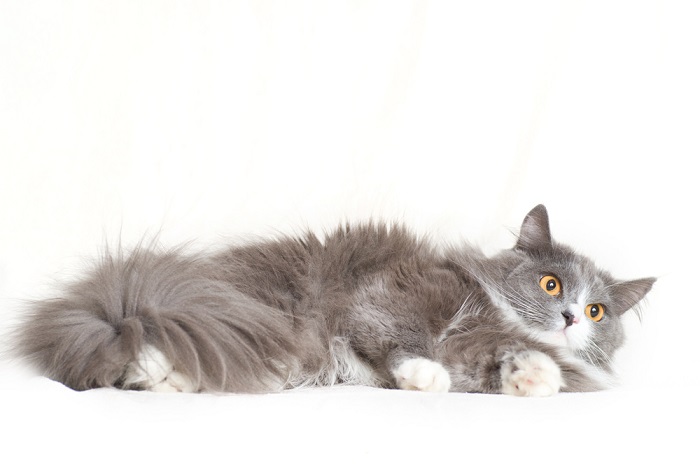 The term Bi-color refers not only to the color but to the pattern as well. So, Bi-color Siberians are a mixture of two color patterns. However, the second color pattern is always white.
The result is that Bi-color Siberians have a patchy appearance, being partly a particular pattern and partially white. Some of the pattern options and color options are listed below, but the color variations depend on the pattern.
Bi-color color options:
Seal
Blue
Cream
Red
Tortoiseshell
Blue-cream
Black
Silver
Golden
Cameo
Blue-silver
Cream-silver
Red-silver
Blue-golden
Bi-color pattern options
Tabby and white
Solid and white
Point and white
Lynx Point and white
Shaded and white
Smoke and white
Chinchilla
The beauty of Chinchilla Siberians is that they have very delicate dark markings on their legs, tail, and face, and sometimes on their sides or back.
The markings are so subtle because only the very tips of their light fur coat have the dark pigment, leaving just a tinge of gray visible. The rest of their thick fur coat is lightly colored. The Chinchilla pattern is quite rare and is available in just two colors, silver and golden.
Chinchilla color options:
The Shaded pattern is created in the same way as the Chinchilla markings, in that only the tips of the hairs show the dark pigment. However, unlike the Chinchilla Siberians, Shaded Siberians are much darker because the tipped fur is more extensive.
The darker areas can include large portions of the back and flanks and the tail, face, and legs. There are more color options than for the Chinchilla, and they are listed below:
Main coat color options:
White
Cream
Hair tip color options
Red
Silver
Golden
Cameo
Tortoiseshell
Smoke
Smoke Siberian cats almost look like they've been to the hairdressers! Although they are one color, unlike Solid Siberians, the color shade varies throughout the coat, creating an ombre or highlighted effect!
The name Smoke describes their subtle graduation in shading just perfectly! Smoke Siberians are available in many colors, listed below:
Smoke color options:
Black
Red
Blue
Cream
Cameo
Tortoiseshell
Blue-cream
Frequently Asked Questions
What colors do Siberian cats come in?
Siberian cats come in a large variety of colors and patterns, so there's plenty to choose from! Depending on which pattern you find most beautiful, some color options include red, blue, cream, black, or even silver or gold! Pattern types include tabby, solid, point, bi-color, Chinchilla, smoke, and shaded.
What is the rarest cat fur color?
One of the rarest color and pattern options is Silver or Golden Chinchilla when it comes to Siberians. However, in the entire feline world, the rarest color genetically is chocolate, an all-over shade of brown, which is very unusual.
Can Siberian cats be tabby?
Yes! In fact, all Siberians have the genetic make-up of a tabby, but other patterns and colors can hide the tabby pattern.
So, which Siberian cat is best for me?
Which Siberian cat color and pattern you think is the best comes down purely to personal choice. But with so many options available, you'll undoubtedly have a great time choosing your future feline!