Wicked Ball Pet Toy Review
This page contains affiliate links. We may earn money or products from the companies mentioned in this post through our independently chosen links, which earn us a commission. Learn More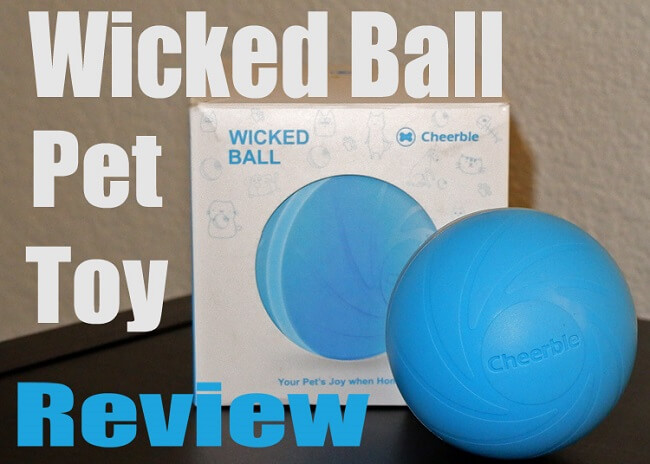 Wicked Ball is an automatic interactive smart toy that interacts with your cat to keep him entertained and active. It was specifically created to offer stimulation for your cat (or dog) while you are away, to keep him from becoming bored, anxious or frustrated.
Wicked Ball moves and jumps after sensing your cats touch with 3 different interaction modes. This innovative toy comes in four colors; blue, green, yellow and gray wool.
Quick Summary

"The Wicked Ball is a great toy for cats who like interactive and intense play. It maybe an even better toy for dogs in the same way."
How We Tested:
We purchased the Wicked Ball Pet Toy to review
We spent a week testing it on our cats
We did not receive this product in exchange for a favorable review and purchased it with our own money
About Wicked Ball
Wicked Ball was created by a company called Cheerble which is a tech startup established in 2016 and based in Shenzhen, China. The company designs and manufactures pet related smart electronic gadgets and their focus is to establish itself as the leading and premier brand for smart pet products.
Cheerble aims to solve real-world problems faced by pet parents and their pets through innovations. Wicked Ball is one of their self-developed products, among their interactive pet toy offerings.
Last year, Cheerble appeared on Kickstarter with it's Wickedbone dog toy as "World's First Smart & Interactive Dog Toy". It quickly gained the attention of around 2000 people, who ended up backing the project across Kickstarter and Indiegogo, eventually raising $200,000. To date they have raised over 1 million for their products.
How Does It Work?
To get started with Wicked Ball you need to open the outer shell by turning the two sides of the ball. Once open, you will see the motor core of the ball which is basically how it operates.
Wicked Ball uses the ARM Cortex-M0 processor, a high performance 6-axis mems motion-tracking device for touch sensing, and high torque DC motor for implementing algorithms and motion. What all that means is that it can detect your cat's touch, bites and even movement, then it processes to decide what type of motion to use to best capture his attention and keep him engaged.
To turn on the Wicked Ball, you need to hold down the on/off button on the motor core. There are different color settings for different motions, such as green for gentle play, blue for normal play and pink for active play. Once you have selected a color mode, you place the motor core back into the shell sides and twist it together. If the shells sides are not properly screwed together it will not operate, for safety reasons.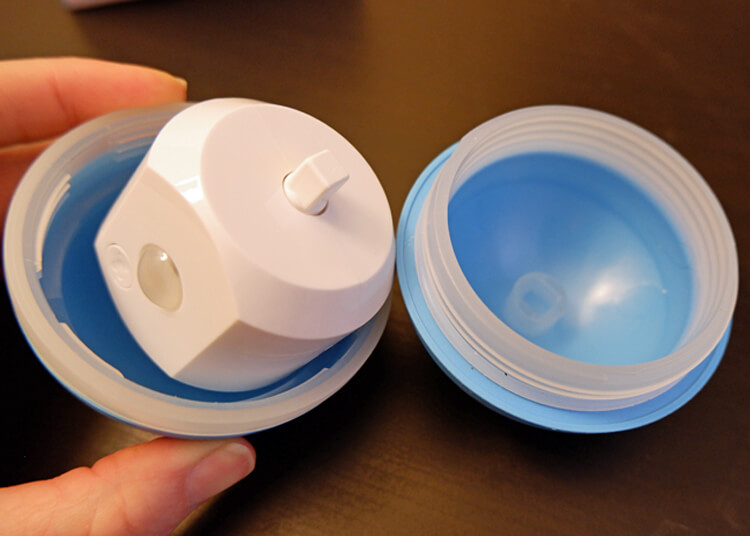 The Wicked Ball does need to be charged for an hour to run for about 8 hours of play time. When the battery is low, it will flash red or just power off entirely until charged. It charges using a USB cord and you will have to open the shell sides and plug it into the motor core.
Wicked Ball Features
This toy is 100% automated and does not need an app to program it or maneuver. As I have mentioned, the Wicked Ball comes with three color modes of play pink, green and blue depending on your cat's activity preferences. The ball is also said to never get stuck and has an obstacle avoidance sensor. So if it finds itself in a jam, it backs out and rolls on.
It is made from FDA food-grade polycarbonate cover that is replaceable. This material is also waterproof and scratch resistant, so it won't hard your floors or walls. You can opt for the wool covered Wicked Ball which is said to attract cats.
The Wicked Ball also has a small snack hole where you can stuff little treats in the bone shaped compartment to entice your cat to play.
To preserve the battery, it has a built-in intelligent play cycle mode that activates after 10 minutes of play time, then the light turns yellow and a 30-minute rest time begins. After the 30 minutes are up, it will wake up for play time.
Wicked Ball Test
After unpacking and charging the Wicked Ball it was time to test it on my cats. The instructions recommend letting your pets check out the ball prior to turning it on so they can get a feel for it, so that's what I did. After a few sniffs and a paw here and there, I turned it on.
I tried the green setting because it is supposed to be gentle and placed it on the floor. I should probably mention I do have wood floors and when the plastic from the Wicked Ball hits it, it is loud and clunky sounding. Because of this my cats both freaked out and ran to hide. After it calmed down and stopped, my more curious cat did come back for another look and pawed at the ball. This immediately set it off and it rolled across the floor. The cat followed it for a minute but was a bit hesitant.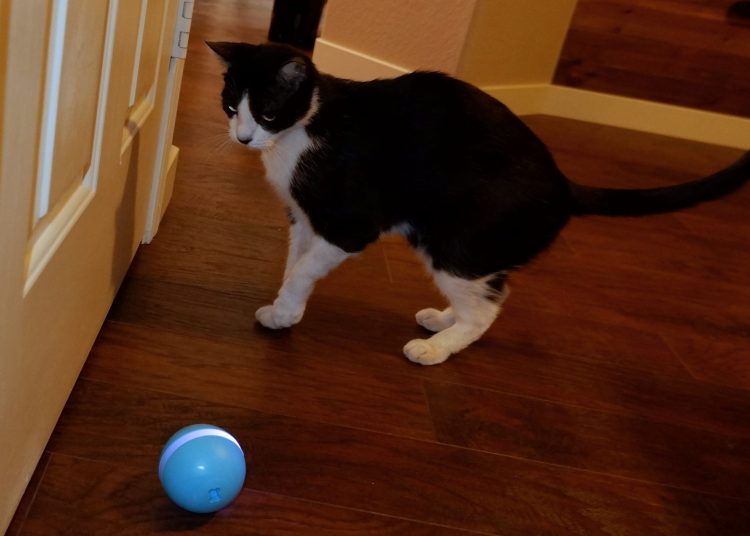 It did roll into corners and in between furniture without getting stuck, due to its obstacle sensor. It would hit an object and then roll off in another direction until it was out of the sticky situation.
To be fair I did try the other two settings on the carpet. The green setting was not aggressive enough to roll much on my carpet and the blue struggled a bit. I did put in on the pink setting and it was wild and fast. Needless to say, my cats ran and hid.
With my cats, what stood out the most is the ball is rather large for a cat toy. Also the ball moves fast and is loud when it hits walls and hard surfaces, scaring my timid cat. I did try to add a treat to the "snack hole" but its a very small hole and my cats were not willing to risk getting that close to the toy. My dog did help them out and ate the treat, but even he was not interested in playing with the Wicked Ball.
How Much Does Wicked Ball Cost?
Depending on where you buy Wicked Ball it could cost you $49. The cheerble.com website sometimes offers discounts on multiple purchases and sometimes offers special price deals. You will need to pay for shipping when you order.
The Downside Of Wicked Ball
I understand the idea behind the Wicked Ball but I am not sure it is the best choice for cats. Besides the fact it is on the large side for a cat toy, it is fast moving and clunky on hard surfaces. Maybe if there was a more gentle setting my cats would consider engaging with the toy.
While it's not the most expensive toy on the market, if your cat won't use it then it is definitely overpriced.
Is Wicked Ball A Good Toy?
The Wicked Ball is a great toy for cats who like interactive and intense play. It maybe an even better toy for dogs in the same way. While my cats don't love it, there are many reviews from cat owners whose cats do.
It seems to be a well made, easy to use and a very innovative toy for your pets. It also offers replaceable parts.
It has a good battery life and several modes for different types of play but it will all depend on what your cat likes.