Best Cat Food For Exotic Shorthairs
This page contains affiliate links. We may earn money or products from the companies mentioned in this post through our independently chosen links, which earn us a commission. Learn More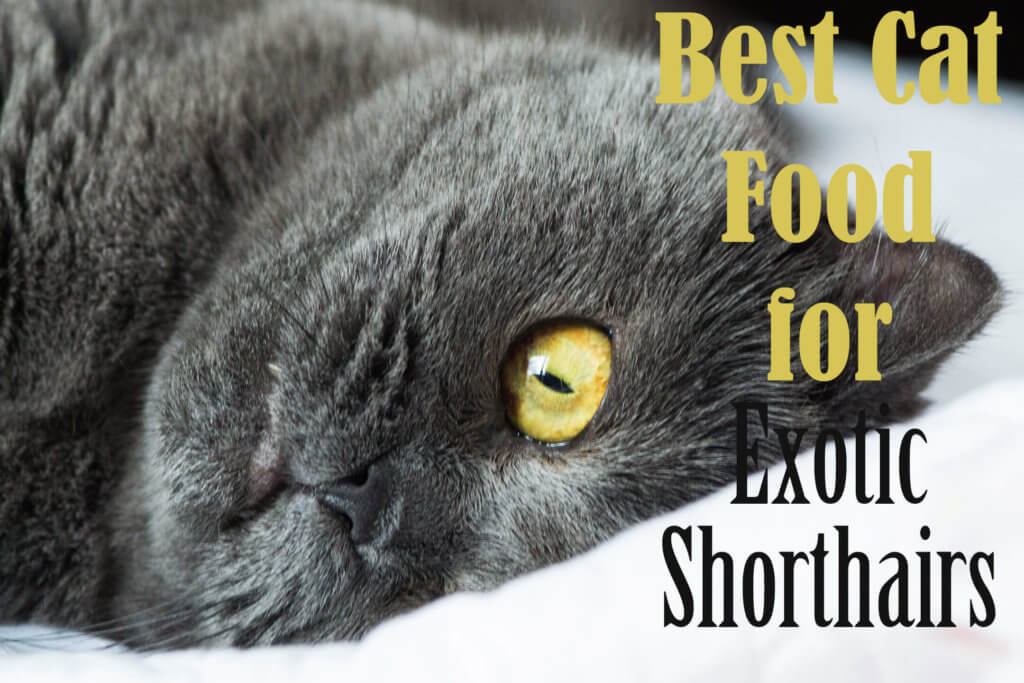 Also known as the Shorthaired Persian, the Exotic Shorthair is a popular breed for cat lovers who prefer a calm companion. This breed has only been around 50 years and was originally bred as an alternative breed of cat that was like a Persian, but with shorter hair.
Best Cat Food For Exotic Shorthairs Comparison Chart
Exotic Shorthairs have different nutritional needs than the average house cat due to their predisposition to suffer from obesity. Since these little cats tend to be less active, its easy for them to put on the pounds if not controlled and managed.
If you are the proud owner of one of these loving and loyal cats, you are most likely in search of the best cat food for Exotic Shorthairs. Look no further, and keep reading to learn what she needs to maintain a healthy, happy life.
Best Cat Food For Exotic Shorthairs
#1

Wellness CORE Simply Shreds Grain Free Wet Cat Food
Product Info:
Price: ~$0.75/ Oz
Food Type:Pouch
Made In: USA
Protein: 12% Min
Fat: 0.5% Min
The Good
High Protein
100% grain free
All Natural
The Bad
High price
A lot of gravy
CORE Simply Shreds can be used as a mixer, topper or snack to be added to a complete and balanced food diet. Each is a recipe contains 5 ingredients or less, is 100% natural, has no grains and no fillers. 
Simple protein focused recipe is made with real chicken & flaked mackerel in a broth. This formula contains only premium, all natural ingredients with no meat by-products, artificial flavors, colors or preservatives.
#2

Hill's Science Diet Light Cat Food
Product Info:
Price: ~$0.25/ Oz
Food Type: Canned
Made In: USA
Protein: 36% Min
Fat: 15% Min
The Good
Weight control formula
Keeps cats full
Low in calories
The Bad
Messy small pieces
Some cats won't eat it
Hill's Science Diet Light soft cat food is recommended for adult cats who are less active, neutered or otherwise prone to excess weight gain.
This formula is a complete and balanced nutrition, with 25% fewer calories when compared to Science Diet Adult Liver & Chicken Entrée cat food. This low calorie cat food provides a precisely balanced and complete nutrition and also contains fiber to keep cats full.
This cat food includes omega-6 fatty acids and vitamin E to promote healthy skin and a shiny coat, plus a clinically proven blend of antioxidants with vitamins C and E to support a healthy immune system.
#3

AvoDerm Wild By Nature Cat Food
Product Info:
Price: ~$0.4/ Oz
Food Type: Canned
Made In: USA
Protein: 13% Min
Fat: 2% Min
The Good
No by products
All natural ingredients
High quality protein
The Bad
Some cats refuse it
Pricey
Soupy texture
Wild By Nature's Avoderm Consommé is made with wild caught fish and is grain free. It provides a healthy balanced meal for your cat by using high quality ingredients that ensure that you are providing the optimum nutrition your cat needs.
It also has vitamins, minerals and antioxidant nutrients to help support your cat's immune function. AvoDerm Wild By Nature is formulated to be rich in high quality fats and oils with a balanced Omega-6 to Omega-3 fatty acid ratio.
These nutrients, in the right proportions, are important to keeping your cat's system healthy. Avocado and avocado oil is included and can help support the skin and coat from the inside out for the protection your cat needs.
#4

IAMS Proactive Health Dry Cat Food
Product Info:
Price: ~$1.5/ Ib
Food Type: Dry
Made In: USA
Protein: 30% Min
Fat: 13.5% Min
The Good
Helps with hairballs
Contains no fillers
High quality food for the price
The Bad
Sensitive stomachs may not handle well
Contains grains
Contains by products
IAMS is veterinarian recommended. It is formulated with essential nutrients including calcium & potassium to help keep your cats heart strong. This cat food is made for indoor cats and also controls hair loss and reduces hairballs.
High quality protein from chicken helps maintain healthy muscles and provides the amino acids essential for a healthy coat. The high fiber blend, including beet pulp, not only helps reduce hairballs but a mix of protein and carbs contribute to healthy energy levels for your cat.
#5

Blue Wilderness Dry Cat Food
Product Info:
Price: ~$0.5/ Oz
Food Type: Canned
Made In: USA
Protein: 9% Min
Fat: 2.5% Min
The Good
High Protein
Healthy carbohydrates
100% grain free
The Bad
Price on the high side
Pieces maybe very hard to chew
For cat owners who want to feed your cat high protein without grains, there's few other choices than BLUE Freedom. Free from the grains and gluten's and there is food for all ages of cats. Made with natural ingredients and a precise blend of vitamins, minerals and antioxidant-rich kibble.
It contains no by-product meals, no corn, wheat or soy and nothing artificial. It is also made with high-quality protein and natural fiber sources, meaning the BLUE Freedom recipe is made to support weight control in cats. With the addition of vitamins, minerals and antioxidants, this cat food formula is made to support your cat's healthy immune system no matter the age or breed.
Eating Habits
As mentioned, Exotic Shorthairs can suffer from obesity. These adorable cats tend to be a bit of a couch potato which means they are not as energetic as other cat breeds. Because of that, they are known to put on pounds and if not managed, which can lead to obesity. Obese cats run the risk of developing health issues like heart conditions.
Studies have shown that overweight cats have much shorter lifespans too. Your best bet is to speak to your veterinarian, who can recommend dietary requirements for your Shorthair.
Exotic Shorthairs do like to free feed at their leisure but controlled portions left out work best. It is recommended you leave out half in the morning and the other half in the evening. Always choose a good quality, high protein cat food for your cat. Some cat owners prefer raw food diets while others choose wet food.
Wet foods are preferable instead of dry because of the kidney problems in these cats which are often linked to not having enough moisture in their diet.
Health And Issues
Exotic Shorthairs have some hereditary health issues that maybe concerning. One being polycystic kidney disease (PKD), as well as a tendency to develop calcium oxylate stones in the urinary tract.
Polycystic kidney disease is a hereditary condition causing enlarged kidneys and kidney dysfunction. Cysts can be found by an ultrasound by 12 months of age but kidney failure may not occur until later in life. Tests can be performed to determine if a kitten is PKD positive.
Exotic Shorthairs may also have breathing problems, due to their flat faces and can be sensitive to heat. They should live in air-conditioned homes and be protected from hot weather. This breed is also known to suffer from eye infections.
The earlier the problem is treated, the more comfortable your cat would be. With eye infections, they tend to be much easier to treat when caught early enough. This does not mean your Exotic Shorthair cat will have any of these problems, only that she may be more at risk than other cat breeds.
Conclusion
While these food recommendations are well balanced and contain the nutrients your Exotic Shorthair cat needs, it is important that you choose one that makes her happy. Exotic Shorthairs are known for overeating which means you will have to take a firm stance and regulate her food intake.