105 Popular Names For Ragdoll Cats
This page contains affiliate links. We may earn money or products from the companies mentioned in this post through our independently chosen links, which earn us a commission. Learn More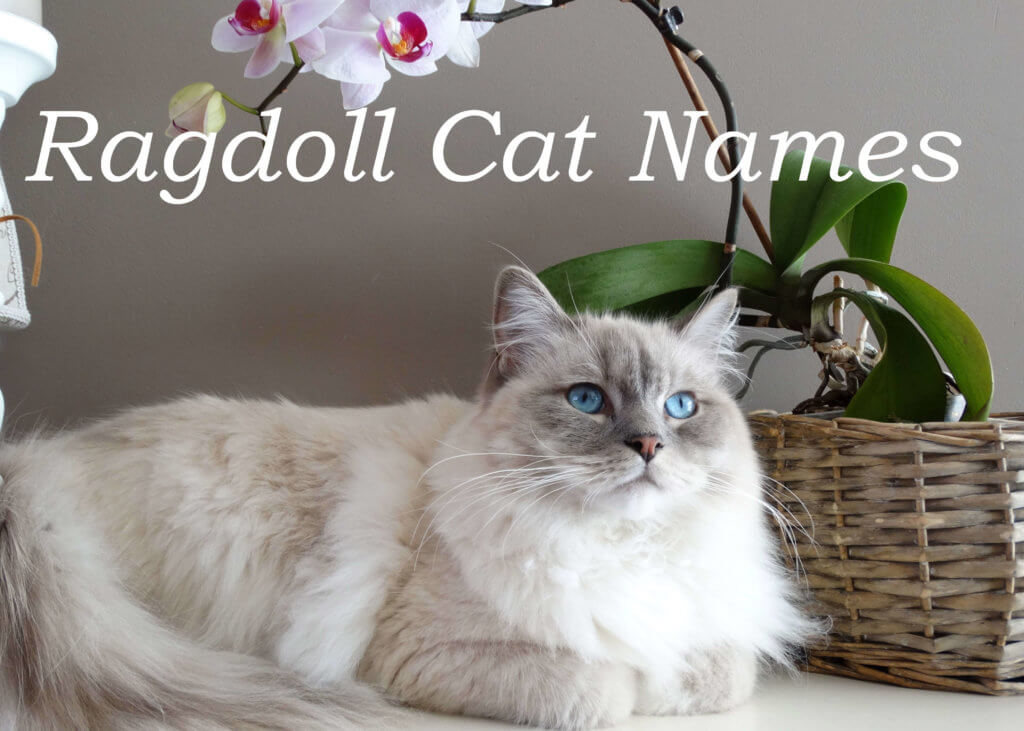 Ragdoll cats are beautiful counter-point colored cats with striking blue eyes.
They are known for their gentleness and calmness, as well as their affectionate nature, and docile temperament. They are named after the way they go limp in the arms while being held.
The names on this list were selected to suit a Ragdoll cat's unique personality, so choose with confidence.
Ragdoll Cat Names and the Meaning of Names from A to Z
Male (Boy) Ragdoll Cat Names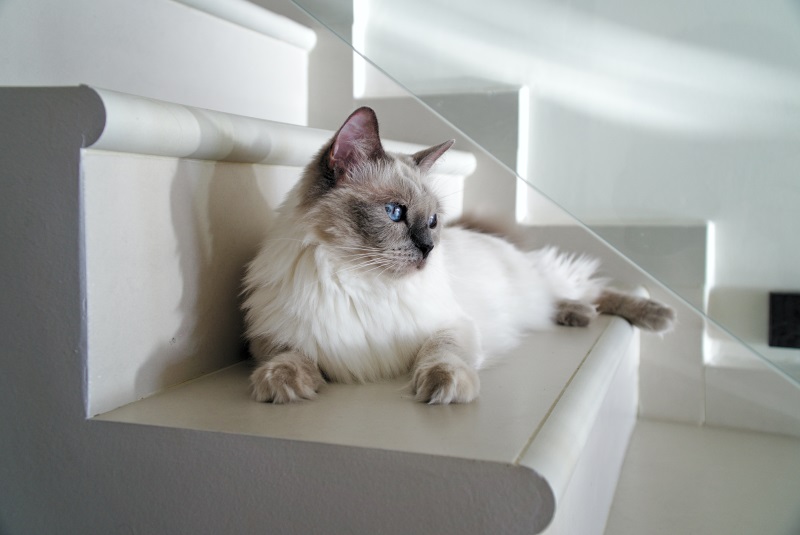 ALVIN– A wonderful and classy name for your affectionate friend
ASHTON– For a courageous ragdoll cat
AUSTIN– A diminutive of Augustine fit for a fearless cat
BAM-BAM-A wonderful name for a cat you consider a gift from the gods or for the cat who likes hitting his head
BAMBINO– An Italian name for a little cat with a kitten-like appearance
BARRINGTON– Perfectly suits a very hairy cat.
BASIL– A Greek name meaning brave and Majestic
BEANSPROUT-An ideal name for a young ragdoll kitty
BING– Name him like the fictional character Chandler Bing featuring in the television series Friends by Mathew Perry
BINKS-Based on a fictional character Jar Jar Binks from the movie The Star Wars
BOOGIE– This is a name that will definitely get the attention of your ragdoll friend
BUMBLEBEE– Name him after the character Bumblebee in the TV series Transformers
CHANDLER – The French word for candle Maker and seller
CHAZ-A manly name associated with cats that have a sense of independence
CHICKO –Japanese origin meaning pledge fir for your courageous and aggressive cat
CLUEDO – Name of a popular murder mystery game during the WW2 and the name is ideal for a cat that loves to play detective
CRUZ– Cute name for your Ragdoll pet who is funny and doesn't take things to heart
CUB– Perfect name for your playful cat that likes to roll on the ground
DANTON – Lovely name for a cherished cat who's priceless
DE VITO – Italian for a blessing from God
DINKY– An ideal name for a neat and attractive Ragdoll cat
DOT COM – Perfect and cute name for an intelligent and savvy cat or for a cat you bought online
GERBIL – Ideal for a cat who likes burrowing with his long hind legs
GIDGET – Based on a fictional character Gidget on the Novel Gidget Little Girl With Big Ideas
GIZMO – An ideal name for your handsome and strong cat
GOLLY– For a ragdoll cat who's enormous like a giant
GOOGLE – An ideal name for an intelligent cat
GUMBY– Name him after the animated film character Gumby created by Ruth Gumby
GUMMI – For your sexy ragdoll kitty
HOBBS – A wonderful name for a cat with hairy feet
IGGY– Name your cat after the Australian rapper Iggy Azalea
JELLY– A wonderful name for a restless cat
LEGO – A cute name for a cat that loves to collect things
MAKEPEACE– For your ragdoll friend who acts as the mediator amongst other pets
MARBLES– A pretty name for a lovable cat
MARLEY– Your pretty, kind and smart cat will love this wonderful name
MOJO – Cool name for your charming cat whose always in luck
MUNCHKIN– For your small, adorable and huggable ragdoll pet
NEWTON-Name your cat  who loves to wander after the famous scientist Isaac Newton
NICNAC– An ideal name for a cat who is a nuisance especially at night or for one who just can't get enough of your crackers
NIPPER– Lovely name for your fluffy friend whose always willing to help
PABLO– Perfect for your really sweet and intelligent friend
PARSON– Would fit a cat that lives in church or amongst the clergies
PEEWEE-A wonderful name for your small ragdoll cat
PEPE– If he loves to play ball name him after the famous professional footballer called Nicholas Pepe
PINKY– Perfect name for your crazy cat just like the crazy lab mouse with the same name featuring in the Pinky and The Brain cartoon
QUIMBY– For your cat who is a badass
ROGER-A German name meaning famous spearman
RUFUS – An ideal name for your red-haired and color pointed cat
RUPERT-A German name for a bright flame and its perfect for describing your Ragdoll's bright blue eyes
RUXPIN-Coined from Teddy Ruxpin animated television series Ruxpin
SCOOTER – For a  cat with Scotland roots
SHORT STOP– For your ragdoll cat who defends others in the group
SMALLVILLE – Name your hero after the television superhero series Smallville
SPROG– An affectionate name for a child
SQUIDOO – Cute name for your young ragdoll cat
TEDDY– For an adorable cat who you consider to be a divine gift
WIDGET– For your cat who is very useful in your home
WOMBLE –For your cat with a protruding belly and a colored patch on their nose
ZIGGY– For your furry friend who never backs away from a fight
Female (Girl) Ragdoll Cat Names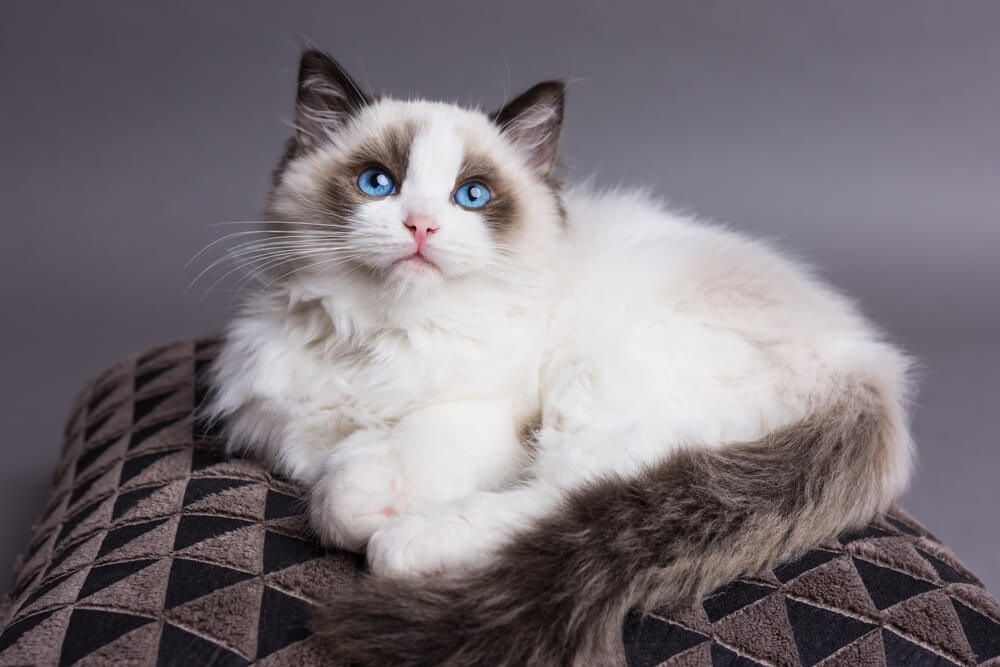 AMOR-A Spanish name meaning love and fits your ragdoll cat whom you adore
ANNIE-A diminutive of the name Hannah ideal for a gracious and favored cat
ARIEL-For your strong kitty who loves to be in control
BARBARA-An ideal name for your strange cat from a foreign land
BARBIE -Derived from Greek name barbarous meaning a foreign traveler
BETTY BOO- A suitable name for your cuddly pet
BITSY– Cute name for your short ragdoll cat
BLOSSOM– For your beautiful fluffy sweetheart
BO PEEP-Ideal for a cat that likes to play hide and seek
BONNY-For your pretty cat who is good company
BUCKWHEAT– Lovely name for your cat with curly hair
BUNNY– Call her bunny if she's pretty and adorable
CARLA-A lovely name for a beautiful ragdoll cat with bright blue eyes
CLARA BELLE-For a bright, beautiful ragdoll cat
COCO– A wonderful name for an extremely playful cat
CUPCAKE– For your sweet and adorable cat
DISNEY– A name derived from Walt Disney Entertainment Company
DIXIE– For an elegant kitty from the south
DOLLY– Perfect if you consider your ragdoll pet as a gift from God.
DUCHESS– This cute name fits the commander among the nobles
ELSIE– If she is totally dedicated to you, name her Elsie
EMILY– Adorable name for an industrious cat
FOO– A wonderful name for a cat who has brought happiness and blessings in your home
HALFPENNY– For the rare slim ragdoll cat
HOLLY–  Ideal name for the always fresh cat like the evergreen tree or shrub with the same name
JEMMA– Hebrew name meaning little dove
JOSEPHINE– Perfect name for the newest addition to your family
LADYBUG-Ideal for a ragdoll cat who brings you good luck
LITTLE AUDREY – For a gorgeous, strong cat
MELLOW-A wonderful name for a cat that matures and softens over the years
MIDGET-An ideal name for a minute cat
MITZI-For a really cute ragdoll cat who is also picky
MIU MIU-Japanese name for a cat with beautiful fur.
MOONBEAN– Lovely name for your beautiful kitty whom you compare with moon rays
MOPPET– Beautiful name for an adorable kitty
MOUSE– For a small cat who loves her freedom.
MOXIE– Consider naming your aggressive ragdoll cat Moxie
NOGGIN-Wonderful cute name for your small bright friend
NUNU-A choice name for the cat you treasure so much
PEARL– Modest and innocent name for a white or cream-colored cat with pearly eyes
PEBBLES– A wonderful name for a quirky, sweet, naïve, and outgoing cat.
PENELOPE-An ideal name for a cat with patches over her face
PET-An affectionate name for a cat you consider as family
PIPKIN-From the Greek name Philippos, meaning a lover of horses
PIPPA-A short form of Philippa meaning a horse's friend
PIXEL– Perfect for your ragdoll kitty with small illuminating eyes
POM POM– Cute name for a cat who loves to be the center of attention
POPPINS– Cute name for a hot kitty who feels good about herself
POPSTAR-Ideal for a famous cat who commands public attention
PRIMROSE– A wonderful and lovely name for an elegant cat
Q-TIP-An excellent name for a cat who loves to clean small hidden areas
SHORTCAKE-A suitable name for a sweet kitty
SKY– An ideal name for a ragdoll kitty with sparkling bright blue eyes like the sky
SUGAR– If you consider her to be sweet, name her sugar
SUGAR CUBE – No doubt this name fits your sweet little kitty
SWEATPEA – Perfect  for her if she is cute and sweet
TESS– A diminutive form of Esther or Theresa meaning a star
WILLOW-Suitable name for a caring, quiet and calm cat
WOODSTOCK– Name her after the famous Woodstock Music Festival held in Bethel, New York in 1969
YO-YO-Perfect name for your cat that loves to play with the yo-yo
Conclusion
You may want your Ragdoll cat's name to have some personal meaning, or relate to his large, lovable, regal personality in some way. If you did not find a favorite name here, consider searching under Male or Female cat names.