5 Best Fresh Cat Food Delivery Services
This page contains affiliate links. We may earn money or products from the companies mentioned in this post through our independently chosen links, which earn us a commission. Learn More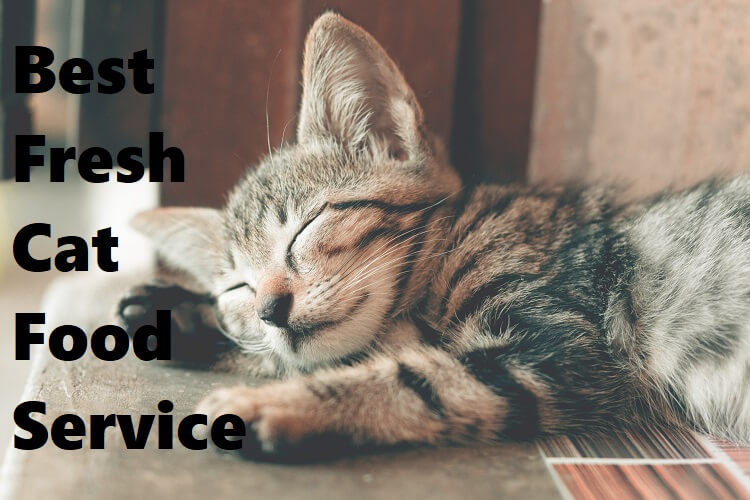 Like humans, cats love food that is made fresh. Making fresh food at home is ideal but there isn't always time for that. This is where fresh delivery cat food services come in handy. But which one is best for your cat and budget?
To get an idea of how fresh cat food services compare, we ordered, researched and tested the popular brands in this article. We will walk you through each companies sign up process, pricing, meal options, shipping, and the number of recipes they offer.
Keep reading to learn everything about these various delivery services, and if they really make your life easier and your cat healthier, without breaking the bank.
Quick Summary:

Our top pick for fresh cat service, goes to Nom Nom. Pricing is reasonable and they offer extra items like premium cat treats. They also offer more delivery choices and have a user friendly website.
How We Tested?
We purchased cat food from the fresh cat food services mentioned in this article
We spent several weeks testing each cat food service and their recipes
We did not receive these products in exchange for a favorable review, they were purchased with our own money
Quick Look At Our Picks for Best Fresh Cat Food Service:
IMAGE
PRODUCT

Pre-portioned sealed meals
Fresh to order every week
No fillers, grains or artificial flavors

Get 50% Off Your First Order →

Grain free recipes
Flexible price plans
Sourced from US suppliers

Get 25% Off Your First Order →

Available at their retail kitchens, select veterinarians and pet stores
High quality, high protein and low carbohydrate food
Made with human grade ingredients

VIEW LATEST PRICE →

Recipes for cats with special diets
Available in local stores
No subscription needed

VIEW LATEST PRICE →

Human-grade cat food
Each batch of food is tested for pathogens
They use a single animal protein source

VIEW LATEST PRICE →
How We Chose The Best Fresh Cat Food Service?
Nutritionally Complete – Cat food sold in the U.S. is regulated by the Food & Drug Administration (FDA) and the Association of American Feed Control Officials (AAFCO). Cat food manufacturers are required to properly label their products, and meet or exceed AAFCO Dog Food Nutrient Profiles or follow AAFCO procedures. This also applies to fresh cat food manufacturers.
Ordering Process – Setting up an online profile for your cat should not be rocket science. However it should allow for customization based on health issues, weight, breed and/or age. Being able to customize your cats meal plan and select the recipes based on a short question and answer form means less headaches in the long run.
Variety of Recipes – Some cats are picky eaters or can not eat certain recipes. Having the choice to change recipes or serving size is a bonus. The more recipes available means a cat food service makes it on our list.
Packaging – This is a big deal when your cat is meowing dinner demands. Having to fumble and pull on a food package is not only frustrating but it can be very messy when trying to serve. Also, the box the fresh cat food arrives in, and how cold it is is important, as well as how easy it it to unpack.
Price – Most fresh cat food delivery services are pricey and some more than others. We took this in account as well as the amount of meals each provides for the cost. The larger your cat is, the bigger the bill.
Flexibility of Delivery – Being able to decide when you want your cat food delivered or how much of it, is part of the convenience of the service. Companies that allow you to pause, cancel or change delivery service is something we definitely considered.
Advantages Of Fresh Cat Food Service
Fresh cat food delivery services are more expensive than grabbing a bag of dry kibble but, there are so many reasons to try it. Cat owners who have made the switch to fresh food claim better health and well-being as well as:
Longer life
Shiny coat
Better hydration
More energy
Improved immune system
Fewer vet visits
Less waste
Besides the health benefits, giving your kitty fresh food is personalized and made to order. This means serving sizes are already pre-portioned meals for your cats size and needs.

Fresh food also means less ingredients and no artificial flavors or dyes. If your cat means that much to you then feeding him human grade food makes sense.

Also the convenience and flexibility of choosing meals, delivery days and pausing and/or cancelling meals, makes last minute runs to the store for cat food a thing of the past.

Some fresh food delivery services allow you to stock up for vacation or have food delivered to another location.
Disadvantages Of Fresh Cat Food Service
Cost- Fresh cat food that is made to order, is not cheap. It is a bit more pricey than the kibble you maybe giving your cat currently, but again, much healthier. We will look more closely at the costs below.
Refrigerator Storage– Fresh cat food must be refrigerated or frozen, meaning it will be taking up space in your fridge. Most fresh cat food services state the food can be stored up to 2 weeks in the fridge, but any longer will need to be taking up space in your freezer. This can also make travelling with fresh food difficult.
Transitioning your cat to new food – When going from kibble to fresh food, it can be a slow process. It may take up to two weeks to transition to fresh cat food by mixing it with kibble while reducing the amount of kibble. Some cats may take longer because of texture, sensitivity or may not like the recipe. This is where a fresh food service with several recipes can come in handy.
The 5 Best Fresh Cat Foods Reviewed
#1 Nom Nom Cat Food
Available Recipes:
Chicken Cuisine
Fish Feast
The Good
Free Shipping
Pre-portioned servings
Veterinary nutritionist designs meals
Offers cat treat options
The Bad
Comparatively on the pricey side
Must be refrigerated
Packets can be difficult to open
Location: Facilities in San Francisco, California and Nashville, Tennessee
---
Overview
Nom Nom's meals are made with restaurant-quality ingredients, no artificial preservatives or fillers and portions are optimized to provide your cat with the ideal balance for his age, weight, activity level, breed, as well as any known health issues.

The recipes were developed by the company's Chief Nutrition Officer, board-certified veterinary nutritionist. The unprocessed meals are made in small batches and with whole foods, to retain more nutrients and exceeds AAFCO standards for cat food formulation for all life stages.

Nom Nom asks you to create a profile for your cat and provide their sex, breed, age, weight, body condition, and your meal preference.
Cost
The cost ultimately depends on the weight of your cat which is determine in the profile. Basically meals are portioned based on how much food your cat needs and the bigger the cat the more the cost.

Here is an estimate of cost based on a cats weight:
2 – 7 pounds – $14- $26 weekly or $2 -$3.75 a day
8 – 9 pounds – $18-$30 weekly or $2.60 -$4.30 a day
10 – 13 pounds – $23 -$34 weekly or $3.20-$4.90 a day
14 – 20 pounds – $26- 38 weekly or $3.80 – $5.50 a day
Delivery Options
The weekly deliveries come with a shipment of 14 meal packs (two meals per day), bi-weekly deliveries come with 28 meals, and monthly deliveries come with 56 meals. The more food you order at a time the bigger the discount. If you have multiple cats, Nom Nom offers discounts for multi-pet families. 

Managing your account is easy and you are able to pause/skip up up to four future deliveries if needed.

When your Nom Nom delivery arrives you will find all meal packages neatly organized with rubber bands inside of the box and chilled with dry ice. Your first order will contain a bonus like jerky treats and a booklet on transitioning your dogs food.

If you need to cancel your subscription you will need to contact customer service via email or by phone. You are also able to request extra meals for travel or even have meals delivered to a different address.
Summary
Your Nom Nom subscription will be determined ultimately by the weight of your cat, which is all calculated when you create your cat's profile.

Nom Nom provides 2 meal choices for cats which include chicken and fish recipes. You are able to receive both recipes in your order of change recipes if your cat prefers one over the other.
#2 Smalls Cat Food
Available Recipes:
Turkey Recipe
Beef Recipe
Chicken Recipe
The Good
The meat and produce are sourced from US suppliers
Grain free recipes
Plans for every budget
Free shipping
The Bad
The food must be refrigerated
Website is hard to navigate
Food packaged in large portions
Location: Chicago, Illinois
---
Overview
Matt Michaelson and Calvin Bohn created a simple and wholesome cat food in their East Village apartment in New York.

They wanted a basic, fresh food with whole ingredients to become their simple recipes for cats. They outcome was Smalls food for cats that is prepared with 100% human grade ingredients.

Smalls wet food recipes were developed with the help of Susan Lauten, Phd, who owns a Pet Nutrition Consulting firm. All of the ingredients are human grade, and meat and produce are sourced from US suppliers. All Smalls foods meet AAFCO standards.
Cost
The price of Smalls depends on your cat's needs, the recipes you choose, and your delivery schedule. With this in mind you will be paying about $2.00 to $3.89 per day per cat depending on the plan you choose and not entirely on cat size.

Their goal is to provide cats with a meal plan that is good for both nutrition and affordability. Smalls offers plenty of options to customize your cat's meal plan to keep you on budget.
Delivery Options
To sign up with Smalls, you will need to create a profile for your cat with the ability to add up to 5 cat profiles. You will be asked to provide each cats current age, health goal, current food type and recipe selection. You also have flexibility on your budget and what you are willing to pay.

Next you will be provided with a recommended meal plan for your cat. You are able to customize your plan if you don't agree with their selection.

Depending on the plan you choose, you will be given a delivery schedule which is usually every 4 weeks. Your first box will be a taste sampler, if you chose more than one type of food or recipe. You can then change your cats preferences before your next delivery.

Each pack of food you receive is about three days worth of food, so you will want to start defrosting a pack for your cat once your box arrives. You can skip, pause or cancel orders for the month through your account when needed, as well.

Smalls also includes bonus gifts like bone broth or bonito flakes which can be added to food to entice picky cats.
Summary
Smalls offers premium-quality recipes right here in the USA. Not only are their products made with fresh ingredients, they are prepared the same day they are purchased and frozen at the peak of freshness.

Smalls currently offers only three different recipes that include protein sources from beef, turkey and chicken. They also provide customers with many meal plan options for those who are on a tight budget but want the best for their cat.
#3 Just Food for Cats
The Good
No subscription needed
Available in local stores, vets and retail kitchens
They use human grade ingredients from natural sources
The Bad
Only one recipe available for cats
Must spend $100 to get free shipping
Packaging is not user friendly or resealable
Location: USA
---
Overview
Just Food For Cats falls under the brand "Just Food for Dogs" and was founded by Shawn Buckley in 2010 with four core values: truth, honesty, reason and fact. His intention was to offer human-grade, all-natural food for cats and dogs as well as aim to improve the quality and length of life for as many pets as possible with healthy and balanced meals.

Just Food For Cats offers only one type of cat food currently, Just Cats Fish and Chicken. They also offer Salmon Bark Treats for Cats.

The brand is the top vet-recommended fresh pet food on the market, and two independent universities conducted year-long trials proving their recipes boost the immune system of pets in a healthy way.

Just Food For Cats makes all its food in USDA-inspected kitchens, which are in California, New York, and Washington, and are staffed by full-time food safety experts and nutrition consultants. who can help you choose the best food for your cat. Each recipe includes USDA inspected and approved meats, as well as quality ingredients intended for human consumption. These ingredients are even supplied by the same farms that provide the food we eat at home and sold at restaurants.
Cost
Just Food for Cats fresh-frozen cat food costs $11.45 for one 18-ounce package and the Salmon Bark Cat Treat bags cost $12.95 each. If your cat is between 2 and 10 pounds like mine, this can cost you approximately $2.86 to $3.81 per day.

Remember you need to spend $100 to get free shipping when ordering from the Just Food for Dogs website.
Delivery Options
Just Food for Cats has a website with several options for ordering your cat's food and having it delivered to your doorstep. You can choose to make a one time purchase or sign up for auto ship and have your cat's food delivered every 1 to 8 weeks at your choosing. You can change or cancel your auto ship at any time.

Just Food for Cats cat food is available on their website at www.JustFoodForDogs.com. You can also buy it directly at their retail kitchens, select veterinary clinics and hospitals, and Pet Food Express stores in California and save 5% off your purchase.

You might also find Just Food for Cats food in some Petco stores across the United States. You can check their Find a Location tool to find a local store near you that carries the Just Cats food.
Summary
Just Food for Cats recipes are all made with human grade ingredients that meet the nutritional requirements established by the AAFCO and every recipe is formulated with USDA ingredients and comes from natural sources.

In addition to high quality, high protein and low carbohydrate food, they are completely transparent and list all ingredients right on the packaging. They also offer a detailed description of each ingredient on the website and explain the benefits of each, for your cat.

If you're not satisfied with Just Food for Cats, you can return it for a full refund at any time. However, the shipping and delivery fees are non-refundable.
#4 Freshpet Cat Food
Available Recipes:
Vital Grain-free
Natures Fresh
Freshpet Select
Select Complete
The Good
The meat and produce are sourced from local US suppliers
Most recipes are low in carbohydrates
Available in local retailers
Recipe choices for cats with allergies, health problems and food sensitivities
The Bad
Some plant ingredients are used as fillers and proteins
The food must be kept cold until served which makes travel difficult
Some recipes have high fat content
Location: Bethlehem, Pennsylvania
---
Overview
Freshpet set out on a mission to revolutionize the way all pets are fed by making fresh, natural food. They put together a team of the best in both pet and human food and in October 2006, they were cooking nutritious, fresh meals for pets. Today over one million pet owners in North America alone, serve their fur-babies Freshpet foods.

Freshpet vows to never use meat meals, powders, preservatives, or additives in their foods. They also partner with shelters and rescues to increase their visibility and provide the pets in their care with the food and resources they need until they find their forever homes. All Freshpet poultry, beef and fish ingredients are sourced from USDA registered suppliers who follow all USDA regulations for safe handling. The poultry used in their Nature's Fresh recipes are antibiotic and hormone free.

Unlike traditional shelf-stable pet foods, Freshpet ingredients are cooked only once at lower temperatures. In addition, the food does not contain any processed meat meals or by-products, and is made in small batches to preserve the natural goodness of the ingredients.
Cost
Most Freshpet recipes cost around $5 a bag or roll. A 10 pound cat may run you about $4 a day to feed Freshpet food if you follow their feeding guidelines.
Delivery Options
Fresh Pet has a website with several options for ordering your cat's food and having it delivered to your doorstep via third party services. If you choose to use their website, there is a handy tool called product selector. This questionnaire will take you through a series of questions about your cat, asking for name, sex, weight, energy level and dietary needs.

Otherwise you can find Fresh Pet in big box stores, pet stores and some grocery stores.
Summary
Freshpet cat food is an average "fresh" cat food and a decent protein source. There are several product lines and recipe options for cats with health issues, allergies or just picky eaters.

What I like about Freshpet cat food is it is available in many retail stores and you do not need a subscription to buy the food. You may have a hard time finding a store that could keep it stocked.

While most of the recipes have a good amount of protein, there are some questionable ingredients, such as pea protein and natural flavors.
#5 Raised Right Cat Food
Available Recipes:
Turkey Adult Cat Recipe
Chicken Adult Cat Recipe
The Good
Human-grade cat food
Each batch of food is tested for pathogens
They use a single animal protein source
The Bad
Only two recipes available for cats
Meals aren't pre-portioned
Very pricey
Location: USA
---
Overview
Raised Right is proud to call their pet food human-grade. Every ingredient passes the same standards necessary for human consumption and their products are lightly cooked in USDA-inspected human food facilities. Every batch is lab tested for safety and quality before leaving the production facility.

Working alongside renowned veterinarian Dr. Karen Becker, they designed formulas that deliver complete and balanced nutrition without any unnecessary additives. All of Raised Right's pet food products are made with human-grade ingredients in USDA-inspected facilities. The food is cooked at low temperatures to kill food-borne pathogens without destroying the nutrient content of the raw ingredients or affecting their moisture content.

What sets Raised Right apart from the competition is the fact that they're the first company to voluntarily submit a recipe to be tested by Check Your Pet Food. In submitting their Turkey Adult Dog Recipe, Raised Right received confirmation that the guaranteed analysis of the product matches the label, and the nutritional analysis meets AAFCO standards.
Cost
Raised Right is priced at $19.99 for 2 pounds, making the per-pound price about $9.99. You have the option to purchase a sample box of two 2-pound bags for $19.99 each plus $9.99 shipping. Another option is to purchase a full box of eight bags for $19.99 each with free shipping.

You can also enter your cat's details into their website to get an idea about how much a custom meal plan would cost you.
Delivery Options
You can purchase Raised Right cat food through the brand's website. You have the option to build your own box of eight bags of food or a sample box of two bags. The other option is to use the custom meal planner to create a meal plan of 100% Raised Right, 50%, or 25% Raised Right.

You can also purchase Raised Right through Amazon. There you can choose a full box of eight 2-pound bags or a smaller box of two 2-pound bags.
Summary
Raised Right is raising the bar for quality cat food, offering customers the option to build their own box or create a custom meal plan tailored to their cat's needs and preferences. They have a simple mission: to provide human-grade pet food to cats in the USA.

They make sure all their ingredients in their recipes pass the same standards necessary for human consumption. The goal is to provide a home-cooked style, Raised Right's meals are lightly cooked, then frozen before pet owners serve the fresh food to their cats.

Raised Right offers two different recipes for cats; Turkey Adult Cat Recipe and Chicken Adult Cat Recipe which they will ship right to your door.
Fresh Cat Food Cost Comparison
| | | |
| --- | --- | --- |
| CAT FOOD BRAND | CAT SIZE | MONTHLY COST |
| Nom Nom | 7 to 20 Pounds | $ 104.00 to $ 152.00 |
| Smalls | 5 to 20 Pounds | $ 60.00 to $ 117.00 |
| Just Food for Cats | 2 to 10 Pounds | $ 85.00 to $ 115.00 |
| Fresh Pet | 2 to 10 Pounds | $ 80.00 to $ 120.00 |
| Raised Right for Cats | 2 to 10 Pounds | $ 95.00 to $ 120.00 |
Bottom Line

All of the above mentioned fresh cat food delivery services offer healthy options but each one has their pros and cons. Each offers free shipping when purchased directly through them, and most offer gluten/grain free meals and meet AAFCO standards.

If we had to pick one fresh cat food service, it would be Nom Nom. They offer several different shipping options and two quality recipes for your cat. Their website is easy to navigate and you are able to make changes or pause shipments when needed.

Smalls is also great if you are on a tight budget but want the best for your cat. They also include bonus food items in your shipments to entice picky eaters.

Just Food for Cats maybe preferable for cat owners who live close to a kitchen or retail store that carries the brand, or just want a flexible delivery plan offering a high protein and low carbohydrate food.

Related Articles